Sportsnet's Kristina Rutherford sat down with Calder Trophy hopeful Johnny Gaudreau of the Calgary Flames.
Sportsnet: Most people know you as "Johnny Hockey." Do you think some don't know your actual last name?
Johnny Gaudreau: I never really thought about it like that. Maybe. I mean, hopefully they know it.
SN: You were a fourth-round pick. Would you say you're a steal for Calgary?
Gaudreau: Not sure. When I was [17], I wasn't the best player. I was really small. I was like 120 lb. If I was a GM, I'd probably be thinking you can't be drafting someone this size and this weight much higher. I was thinking they'd draft me a little bit later.
SN: How tall are you?
Gaudreau: I'm five-foot-nine.
---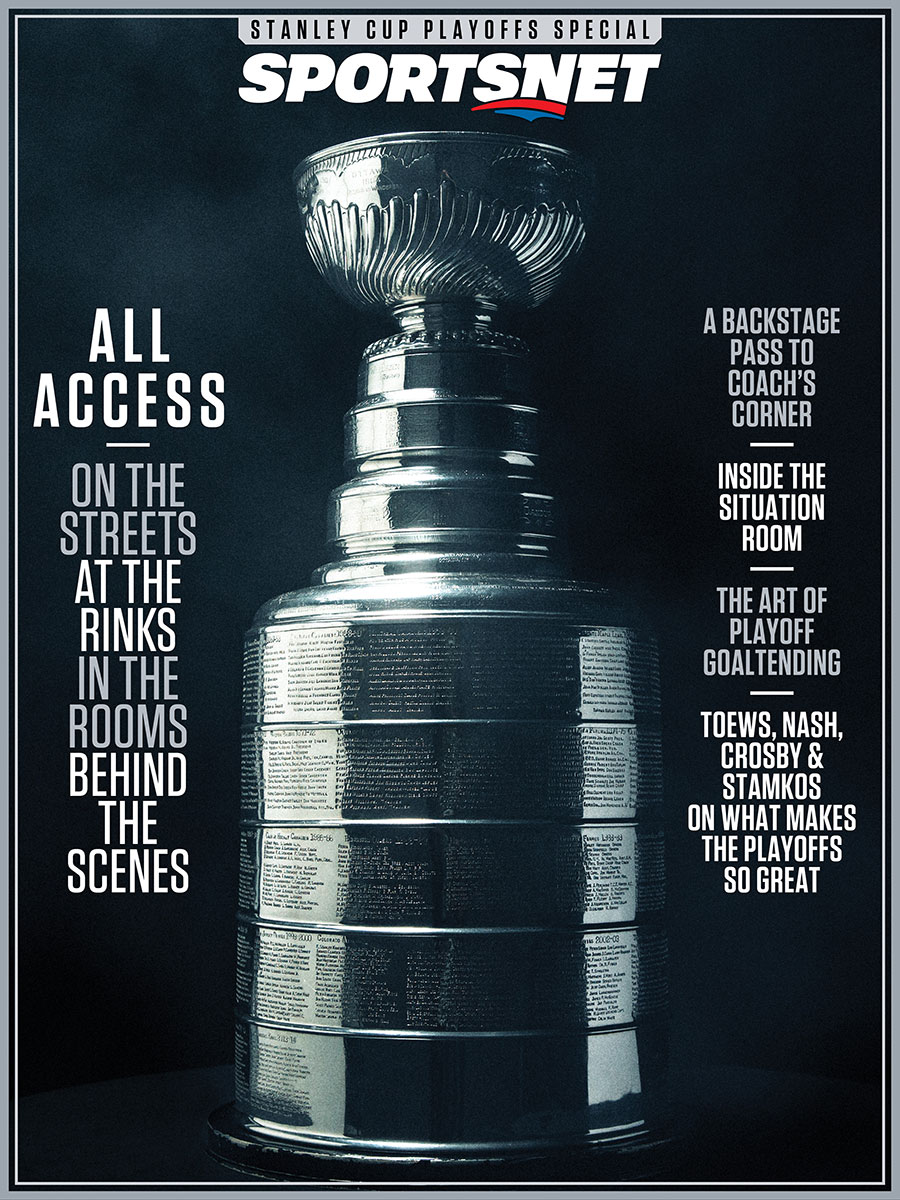 Sportsnet Magazine: An all-access pass to the Stanley Cup Playoffs, including a behind-the-scenes look at Coach's Corner and exclusive camera angles in Montreal. Download it right now on your iOS or Android device, free to Sportsnet ONE subscribers.
---
SN: A lot of articles say you're listed as a "generous" five-foot-nine. So I thought I'd ask. But you're sticking to it.
Gaudreau: [Laughs.] Yeah, five-foot-nine.
SN: Are you tired of talking about your size?
Gaudreau: Not really. It's one of the characteristics I have. I can't do much about it.
SN: Did you pound protein powder as a kid to try to get bigger?
Gaudreau: Yeah, definitely. My dad tried feeding me four, five meals a day, making me different protein shakes. And whenever I wanted something to eat, he'd go out of his way to make it, just so I would eat. That was the trend growing up in my household.
SN: How about today? Do you eat constantly?
Gaudreau: I still eat as much as I can to try to gain weight. But I don't have my dad around as much because I'm living by myself now. It's a little bit harder to get meals whenever I want.
SN: Has anything about being an NHL player surprised you?
Gaudreau: The amount of free time I have. After practice, I have the whole day to figure out what I'm gonna do.
SN: Did you expect your rookie season to go so well?
Gaudreau: No, not at all. I'm really fortunate I got to make the team right out of camp. I've been playing with some really good players here who helped me my first season.
SN: Even you underestimated yourself?
Gaudreau: Yeah, I think so. You always gotta believe in yourself, but there's that thought that you may not make it. I wanted to make sure it was in the back of my mind so I wouldn't get too upset if I didn't make the team right out of the gate.
SN: You scored a natural hat trick against L.A. What was that like?
Gaudreau: It was exciting. I was thinking after the game that it took me a hundred and something games in college to score my first hat trick. It only took me 30 or 40 games here. I tried to take it all in and say, "Wow, this is something pretty special for me." It's a game that I'll remember for the rest of my life.
SN: Let's hear about your idea for the NHL skills competition.
Gaudreau: Me and Gio—[Mark] Giordano—were getting ready to go to the rink, and I wasn't sure what I was gonna do. We thought about how we played for the Flames—something with fire. He said he'll bring a bucket of gasoline up to me, I'll put my stick in, he'll light it on fire and I'll go down and shoot. Player Safety said we needed to practise it a few times first. We didn't really have time to do that, which kind of stinks. But they said maybe next time.
SN: I hope we get to see that. What was your childhood like?
Gaudreau: When I was growing up, I played hockey, soccer, baseball, basketball. It was more making sure that I stayed healthy and in shape and getting fresh air rather than sitting at home playing video games or something. That was my childhood, right there.
SN: You might've been able to keep some weight on if you played video games, though.
Gaudreau: [Laughs.] Yeah, probably. That would've been the smarter idea.
SN: Your dad coached you. Do you still talk to him after every game?
Gaudreau: Pretty much. He gives me a call, says hello and talks about the game a little bit. It's good to have a coach-slash-dad.
SN: Does he ever rip your performance?
Gaudreau: Yeah, he still criticizes me all the time. It's good. Shoot the puck more, be better defensively. Little things. He'll watch the game and have something to tell me. But there are a lot of games where he's really happy for me. And he's really happy for me so far this year.
SN: Have Johnny Hockey and Johnny Football ever spoken?
Gaudreau: Nope, never.
SN: We should set that up.
Gaudreau: Yeah, that'd be pretty cool. Maybe we could.
SN: What are the differences between you and him?
Gaudreau: I'm sure there are a lot of differences.
SN: You've never lit money on fire at a strip club or ridden an inflatable swan, have you?
Gaudreau: [Laughs]. No, I've never done any of those things. Thankfully.