MONTREAL — Everyone has a Jean Beliveau story.
On a Tuesday afternoon Air Canada flight from Toronto to Montreal, an attendant said he once helped upgrade Mr. Beliveau to first-class. A few weeks later, he ran into Beliveau at a local steakhouse.
"Mike," the Hall of Famer said, "good to see you again."
No reason to remember the name. Beliveau just did.
---
Live on Sportsnet Wednesday:
1 p.m.-4 p.m. ET: Jean Beliveau funeral coverage
(On Sportsnet ONE, Sportsnet East, & streamed here on sportsnet.ca)
---
It's been an emotional week in this city. The Canadiens say they did not count the number of people who came to pay respects Sunday and Monday. It was a constant flow, stopped only by the Beliveau family asking for a break every once in a while.
There was a kneeling Guy Lafleur, in what is now one of the most iconic photos of our lifetime.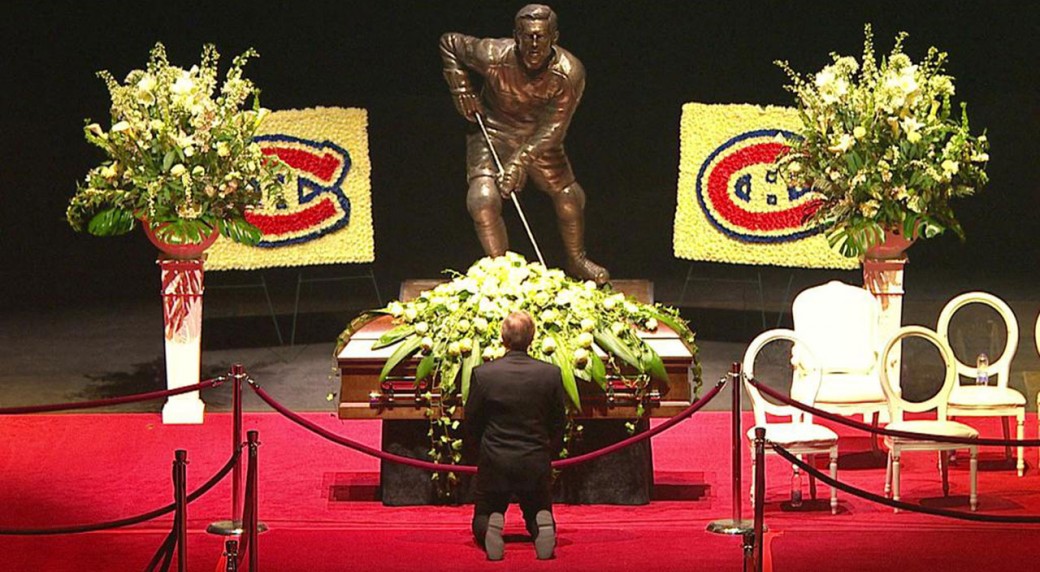 There were the Vancouver Canucks, Tuesday's opponents. There were Canadians of all shapes, sizes, ages and backgrounds.
And, waiting to greet each and every one of them was Elise Beliveau.
In his autobiography, My Life in Hockey, Jean Beliveau describes the night he met the former Elise Couture. He was still playing for the Quebec Citadelles, and joked that his friends "despaired of a tall, young man whose only pursuits seemed to be hockey and books."
As he tells it, the Gagnon family, who lived not far from him, invited Beliveau out because, "We have a nice girl we'd like you to meet."
"What impressed me the most about the pretty, bilingual blonde was that she knew absolutely nothing about hockey. She'd never been to a game and had no idea what the fuss was all about…Before long I realized that this was a strong-willed young woman, one with clear convictions and opinions, and that I would like to get to know her better."
They were married 61 years before Jean's death separated them. What we learned this week is that "strong-willed" does not do Elise Beliveau justice.
We all know a couple, whether our parents, grandparents, other relatives — even neighbours —who have been married that long. You've seen the hurt and the pain when one is lost. The Beliveaus were very much a love story, and you can only imagine how Elise feels inside.
And yet, at 82 years old, she spent 16 hours greeting people who couldn't possibly hurt as much as she did. She was comforting them as much as they were comforting her.
"Isn't she amazing?" Hall of Famer Jim Gregory said Tuesday night.
Doug Risebrough, who played eight years in Montreal, told a funny story about seeing the Beliveaus one night in the alumni room, asking if they were going to Florida. Before Jean could answer, Elise said, "I know I'm going."
Her passion was in full display as the Canadiens held another one of their incredible ceremonies, prior to the game against Vancouver. After a video tribute, the spotlight shined on Jean's empty seat, three rows behind the Montreal bench. When the camera pulled out, there was Elise, in her usual spot, with her daughter and grandchildren next to her.
As the ovation grew from loud to deafening, for the first time in public, Elise Beliveau broke. She tried to hold it, but couldn't. She held her hands to her face as the tears fell. This didn't stop the crowd. The noise continued, louder than before, everyone in attendance seemingly saying, "Somehow, you've been there for us. Now, we're going to be there for you."
Elise Beliveau rallied. She motioned for more. It was really something.
No one would have said anything if she decided to go home and rest up for another emotional day, Jean's Wednesday afternoon funeral. But, there she was, waving her fist in her seat as Brendan Gallagher opened up the scoring at 6:56 of the second period.
When it was over, she led the cheers, dancing in her seat, smiling broadly as Tomas Plekanec handed the game puck to the family. It was an awesome scene, a great woman laughing in the face of adversity.
Michel Therrien praised his team for playing its best game of the season on a night Elise Beliveau deserved no less. But Max Pacioretty put it best.
"No one needed to say anything tonight. We knew what we had to do."
In Montreal and Quebec, they will say, "We knew this about Elise Beliveau." That's probably true. But, now, the rest of us know, too.
"When you have a great man," Risebrough said, "You usually have a great couple."
Damn right.