This season's NHL All-Star Game has changed formats, giving fans a 3-on-3 tournament instead of a typical, 5-on-5 game. Naturally, you might wonder which players are most effective in that format with players like Erik Karlsson topping the list if you assume that speed and skill kills.
Unfortunately the sample sizes we have for 3-on-3 hockey just aren't very big, with the players who have played a lot at 3-on-3 sitting at around 7-12 minutes of ice time. That isn't enough time to make even the most general of predictions, but we can look at which players have produced the most in that situation.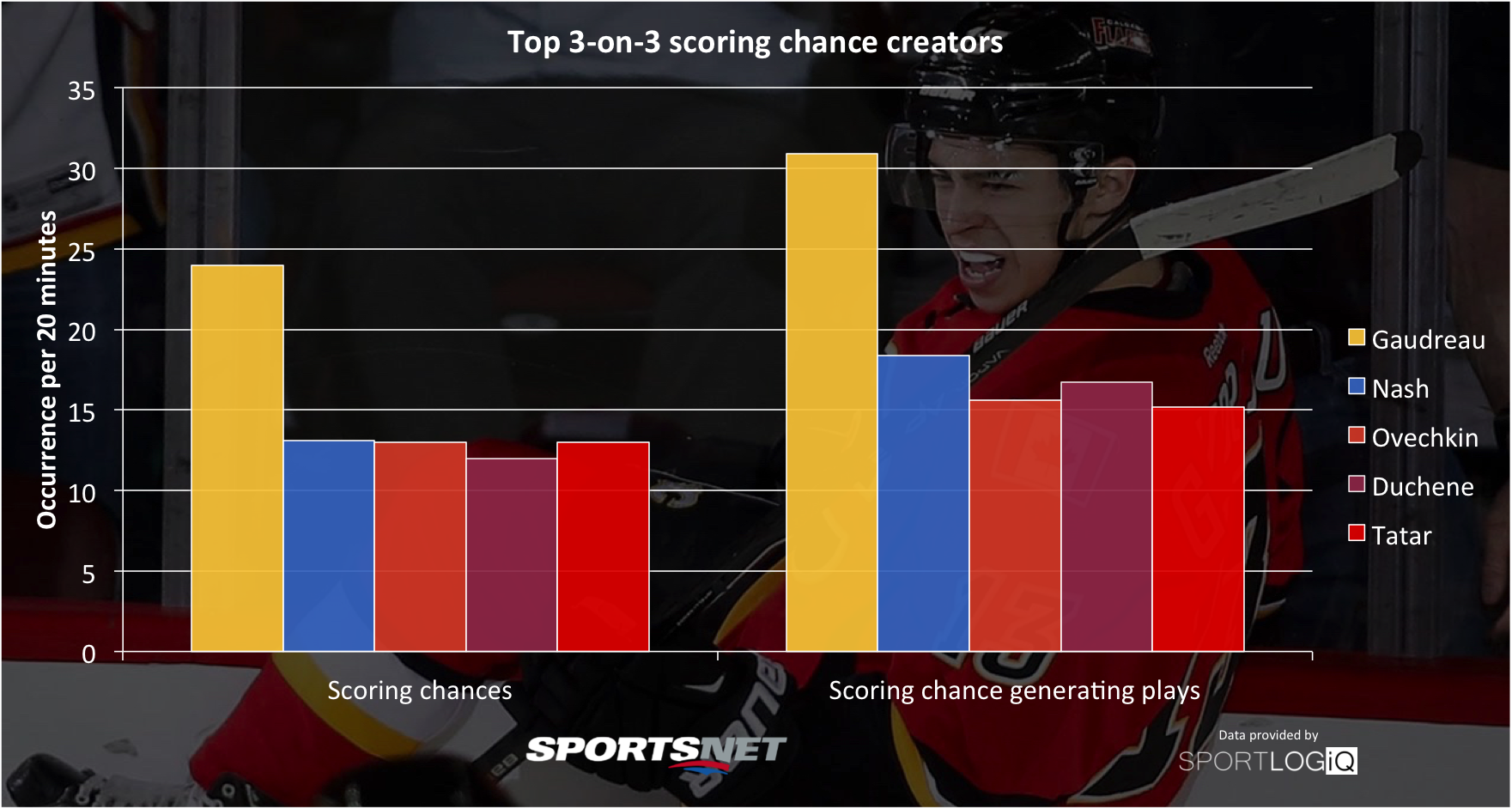 Looking at the top five scoring chance producers in the NHL with more than a few shifts of ice time at 3-on-3, no one has outperformed Johnny Gaudreau of the Calgary Flames.
Obviously from this amount of ice time we can't extrapolate out to say Gaudreau will continue to be the best player in 3-on-3, but the gap between him and the NHL's other top 3-on-3 stars is impressive.
We can also see from the kind of players showing up among the top chance producers that speed is definitely important, but so is the ability to deke through traffic. That may seem a little backwards with all that space, but it's surprising how well teams can defend and angle opponents off. You need players who can deke and get into open space in the middle of the ice.
You may also notice that no defencemen are among the top players in generating chances, which isn't that surprising considering how most teams operate. Even at 3-on-3, defencemen need to be a little bit cautious and be ready to defend if or when the puck gets turned over.
Talking about the All-Star Game specifically, defending is less of a concern, so look for defencemen who like to rush the puck to be much more involved in the scoring, namely guys like Karlsson, P.K. Subban, Kris Letang, and Mark Giordano.
No one knows exactly how things will shake out with the All-Star Game shifting to 3-on-3, but it certainly adds a wrinkle of intrigue.