"This or That?" is an ongoing feature at Sportsnet.ca that pits two players with obvious—and sometimes, not so obvious—ties and attempts to answer the basic question, "Who would you rather have?" Readers can offer their two cents by answering the poll at the bottom.
They're two Americans born a year apart who play right wing and even share the same initials. Still, mention Patrick Kane and Phil Kessel in the same sentence and people are far more apt to forcefully talk about differences as opposed to similarities.
---
For a limited time get Sportsnet Magazine's digital edition free for 60 days. Visit Appstore/RogersMagazines to see what you're missing out on.
---
It's worth a reminder, dear reader, that this feature isn't meant to be a referendum on which player has had a better career. If it was, Kane would have as much trouble scoring a knockout win as he had racking up points in the beer league game he tore up this summer.
But set aside the team highs Kane has experienced and ask yourself how different these players really are. Both could be described as A-plus offensive wingers who will never compete for the Selke Trophy. Because he plays on a fantastic team—made that way in no small part because of his own contributions—Kane has been placed in countless high-pressure situations and shown a penchant for big-game heroics. But if Chicago's success is the crux of your argument for why Kane is a vastly superior player to Kessel, maybe our next "This or That" feature should pit Tyler Bozak against Jonathan Toews. Or Dion Phaneuf against Duncan Keith.
You get the point.
Kessel will turn 27 in October, while Kane hits 26 in November. Which player would you consider a bigger gift to your team?
The case for Kane: In addition to his sublime skills, Kane loves the spotlight. The guy is a star, pure and simple, a fact exemplified by his Cup-winning goal in 2010 and his Conn Smythe performance in 2013. On the ice, his playmaking and vision are what really set Kane apart. Just seven NHLers have registered more total assists than Kane since he entered the league in 2007–08 and only three of those players—Sidney Crosby, Evgeni Malkin and Marty St. Louis—also have more goals. The Buffalo native may possess the softest hands on earth and when you combine that with the audacity to attempt ridiculous plays, you get things like his shootout winner against poor Niklas Backstrom of the Minnesota Wild. A born showman with talent to match; sometimes Kane makes it seem like things just aren't fair.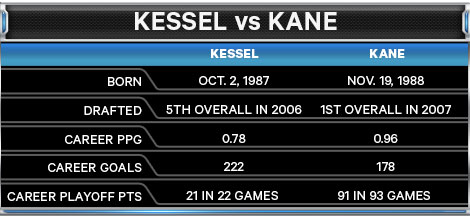 The case for Kessel: It really starts during the 2011–12 campaign, when Kessel became the point-per-game player he's been for the past three seasons. He also hasn't missed a game since November of the 2009–10 season, his first year with Toronto. That ability to avoid injury contributes to Kessel's standing as one of the surest things in the league. With the Leafs the past few years, you've really never known what might happen from one moment to the next. But the one thing you could count on was Kessel showing up to the rink, skating really fast down the right side of the ice and firing deadly wrist shots to all parts of the net. In the past three seasons, the list of guys who've scored more total goals than "Phil the Thrill" is limited to Alex Ovechkin, Steven Stamkos and Corey Perry. Additionally, Kessel's playmaking abilities are often overlooked, as he's racked up 120 assists in that same stretch. Of those three superstars who've outscored him the past three years, the closest anybody comes in the helper category is Perry with 83. There are a lot of areas blame can be placed for Toronto's ineptitude over the years, but it's hard to lay any at the fast feet of Kessel.
Verdict. Kane, obviously. What are you, crazy? OK, we're jesting, but the hold-your-breath factor when Kane has the puck is off the charts. (How's that for scientific analysis?) And while it can't be the sole factor in elevating his status relative to other stars, Kane has turned a few too many big games to ignore.
[polldaddy poll=8268398]