This or That? is an ongoing feature at Sportsnet.ca that pits two players with obvious—and sometimes, not-so-obvious—ties and attempts to answer the basic question, "Who would you rather have?" Readers can offer their two cents by answering the poll at the bottom.
They were the masked men driving two of last season's biggest surprise teams.
The Colorado Avalanche finished with the NHL's third-highest points total during the 2013-14 campaign despite the fact the team's goalie, Semyon Varlamov, faced more shots than anyone in the league. Varlamov's .927 save percentage was the best mark of his career, and he finished second to Tuukka Rask when votes for the Vezina Trophy were tabulated.
One spot behind Varlamov in best-goalie balloting was Tampa Bay stopper Ben Bishop. The Bolts weren't expected to do a whole lot of anything last year, and many assumed they'd bottom out when Steven Stamkos was lost early in the season to a broken leg. But Bishop, in his first full season as a starter, was fantastic, registering a .924 save percentage and stingy 2.23 goals-against average as the Bolts finished with the third-best record in the East.
---
For a limited time get Sportsnet Magazine's digital edition free for 60 days. Visit Appstore/RogersMagazines to see what you're missing out on.
---
While both goalies had offered some indication of their abilities previously, it's fair to say last season was, by far, the high watermark in their respective careers. That said, neither puckstopper concluded the year in glamorous fashion. Bishop was forced to miss the playoffs with a late-season elbow injury, while Varlamov's save percentage dropped 14 points from his regular-season mark during Colorado's first-round loss to the Minnesota Wild.
Now, both goalies are tasked with proving last year was no fluke. Which one stands a better chance of repeating his success?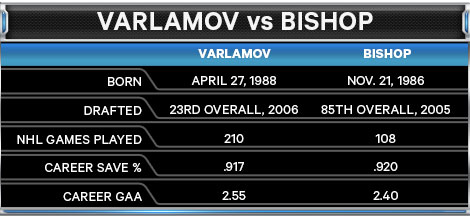 The case for Varlamov: The 26-year-old Russian wasn't just in the Vezina mix; Varlamov actually finished fourth in Hart Trophy balloting behind Sidney Crosby, Ryan Getzlaf and Claude Giroux. Not bad company to keep.
Varlamov's first NHL crack came with the Washington Capitals and, not surprisingly, he often seemed overwhelmed as a goalie in his early 20s playing for a team that could be generously described as defensively loose. During his final season with the Caps, Varlamov posted a .924 save percentage in 27 games, which offered at least a small glimpse of his potential.
His first two years in Colorado were rough, as he struggled to inflate average-to-bad teams. But last year, on a club that could score with anybody, Varlamov thrived under the workload of seeing 30-plus shots a night. If the NHL handed out a Biggest Bacon-Saver award, it would go on Varlamov's shelf.
The case for Bishop: The more you examine Bishop's past, the more last season seems like a natural blossoming rather than an out-of-the-blue breakout. During the first two stops of his NHL career, Bishop—who turns 28 in November—was buried under solid goalie tandems in St. Louis and Ottawa. During his final full AHL season of 2011-12, the American posted a .930 save percentage.
The next year, he split time between Ottawa and its top farm team, registering a .928 mark in the minors and .922 save percentage with the Sens. But with Craig Anderson and Robin Lehner shining, Bishop was the odd man out. The move to Tampa late in the lockout-shortened season finally afforded him a chance to be the man, and he's responded with a .923 save percentage in 72 games with the Bolts. His hulking six-foot-seven frame may get most of the attention, but Bishop's quick reflexes and strong focus in the crease will also play a huge role in any future success.
Verdict: It's tempting to go with Varlamov because he has a bigger body of work, but we'll put more stock in Bishop's gradual rise through the ranks and say he stands a better chance of sustained excellence.
---