TORONTO – The heated competition for the Toronto Maple Leafs' third-pairing left defenceman gained some clarity Thursday, but this lineup race will come down to the wire.
"Some of the guys that made our roster in the past, they were at a lower level than the players who have to now make the roster – they were just given minutes. It's not like that anymore; it's too competitive," head coach Mike Babcock says.
"Especially on defence, the competition is better than I expected. The players are better than I expected. So, that's been really good."
Twenty-five players, including eight defenders, skated with the core group at MasterCard Centre Thursday. Barring more additions to the injured reserve, that group must shrink to 23 next week.
Toronto's top four is written in stone: Rielly-Hainsey, Gardiner-Zaitsev. The thinness of the club's right side assures Connor Carrick of the fifth spot. But who will skate on Carrick's left side opening night?
NHL hopeful Travis Dermott was demoted to the Marlies skate Thursday, leaving Martin Marincin in the mix with a pair of intriguing Swedish free-agent signings, Calle Rosen, 23, and Andreas Borgman, 22.
"The best players are going to play on the team," Babcock said. "We might not always get it right in the short term, but we'll get it right."
As Toronto's final cuts loom like a guillotine with just two exhibition games remaining in camp — the roster deadline is Tuesday at 5 p.m. ET — we sat in the stall next to Carrick, as thoughtful and insightful of a player you'll find, to discuss his mystery partner.
He uses a meatloaf metaphor.
SN: In a perfect world, what attributes does your defence partner possess?
Carrick: I've played with a lot of different players. I've never walked into the coach's office and had him say, 'All right, here's all the nameplates. Pick your guy.' In my career, I've had to adjust. There's been times where the puck's always been on my tape and the other guy's been looking to get it to me. I've also played with really strong puck-movers themselves, and they want it.
So whoever lands to your left next week, you'll need to adjust?
Carrick: Adjusting is part of the skill of making a career. I played my off side [left defence] my first year in the minors. I've played in the top slot where I skated 26 minutes. My first year at [AHL] Hershey I played 12 minutes with a full two minutes on the power play. The luxury, if you're good enough, is you can climb above all that and the coach thinks, 'Who can I put with you to make you better?' But there's a meatloaf scenario in the NHL: If you get caught up in it, you'll get switched around. I've played with them all. Played with John Erskine my first year, played with Jake Gardiner last year. Very different styles of players, so you adjust on the fly.
How quickly do you know if you have chemistry with your partner?
Carrick: The idea of "what's working" depends on what the coach expects out of that pair: Who are you playing up against? Are you in a shutdown role? Does he want you carrying pucks? Every coach has his idea of how the game should be played. As a defenceman, it's your job to give him that. What was your identity may [need to become] one of multiple pieces.
How do you notice a poor fit?
Carrick: Look at a pair. Are they both up in the rush? Are both looking for big hits? Probably not a good idea. Usually when guys think the game similarly, they make a strong pair. That's kinda where the game's going. Or when they're vastly different. Ron Hainsey and Morgan Rielly are completely different players, whereas Jake and myself last year, there's some similarities in what we're trying to do. He was a better puck carrier.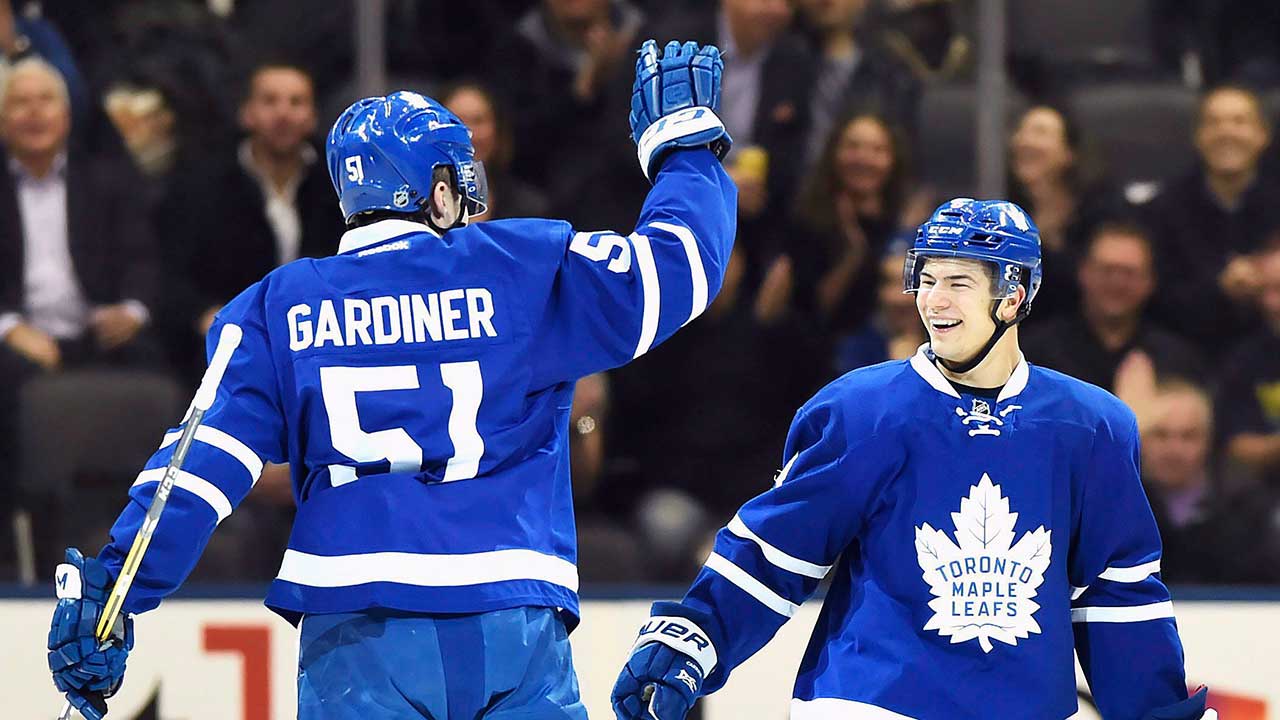 What does the coach want?
Carrick: The expectation of every defenceman is getting more and more the same. They're looking at the big, lengthy D-man and saying, "That's great, but you gotta make plays." They're looking at the skilled two-way guy and saying, "That's great, but you gotta play defence."
The job of the Maple Leafs' third-pairing defenceman is… what?
Carrick: They need somebody who's reliable, someone who can play top minutes on the road when you're out there, and add an offensive element. The guys they're looking at in the mix are all mobile. You need to be gapped up. I wouldn't say the expectation in terms of habits is any different from Pair 1 to Pair 3. The lines in which they're asking you to do that against is what's different. We're at home? [The opponents'] top line goes out, our top D go out. But on the road? Sometimes you gotta play ice hockey, and gotta play high-end talent. Those nights are confidence builders when you have success.
Rosen versus Borgman: What is the difference?
Carrick: I haven't played a ton with Borggy just yet. Rosie is very lengthy, a very smooth skater. Borggy, too, but a different style. We'll see going forward. They're going to give them both a good look. They certainly look the part of real NHL players, but the game is very different once it starts. Pre-season is a different animal.
How so?
Carrick: After my first NHL regular-season game, I called my dad. He asked if the game was different. I joked, "Yeah. The guys decided to tie their skates tonight." Like… way faster.
Your coach has talked about wins and losses this pre-season, but how can a veteran really get geared up for an exhibition game?
Carrick: I can imagine that [would be difficult] for the guys who've been doing this for 10, 14 years. But by the same token, you don't last that long not taking these things seriously. The guys that don't take it serious get whittled out quickly. It's a good filter. I don't think it's difficult to manufacture the intensity. With that said, there is an added intensity when there's 10,000 more fans in the stands and the points are written with permanent marker. I remember one pre-season I had a ton of points. I looked up on Day 1, I had zero. That's the way it goes. It meant everything until it meant nothing.