Hockey in small sample sizes is pretty crazy, but once we get deep into the season the big aberrations don't show up as much in the standings. At the beginning of the season though, we get a lot of randomness that people mistake for trends due to that small sample size being the only games that have been played.
So a couple weeks into the season, which teams are seeing this unsustainable randomness determine their early season in ways that won't continue?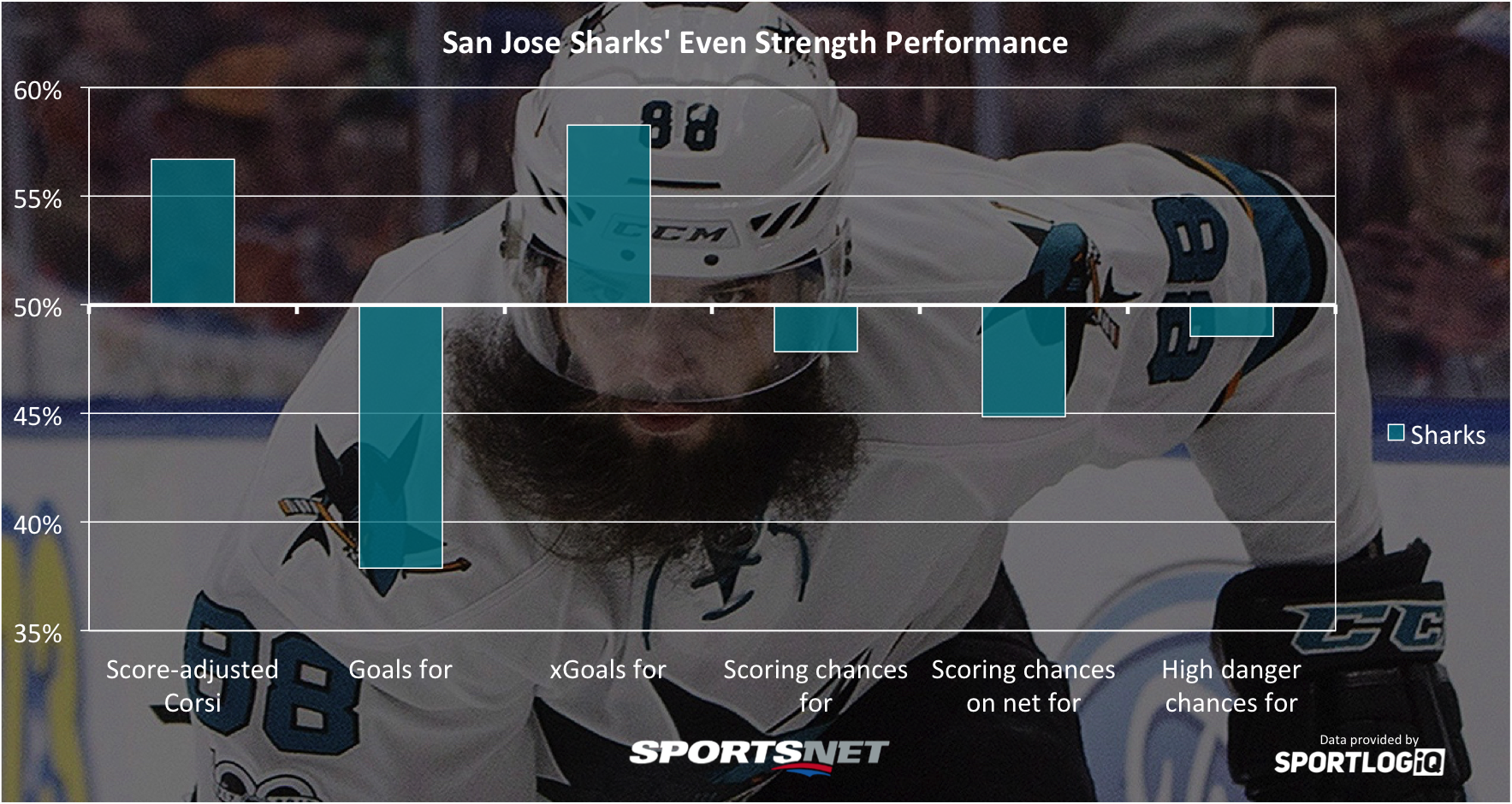 Corsica's expected goals model has the Sharks rated pretty highly at 5-vs-5, similar to their stellar score-adjusted Corsi. Sportlogiq's scoring chance data doesn't like them nearly as much, but they're much closer to average than their actual goal differential so far this season.
At even strength the Sharks have scored just 37.9 per cent of the goals in their games, lottery team numbers, but all indications are that this is a short-term problem that will sort itself out so San Jose will be closer to average. So far the Sharks are a fairly low event team, generating relatively few scoring chances and allowing very few as well.
Reigning Norris Trophy winner Brent Burns has been particularly victimized early with a terrible goal differential and zero goals on his first 20 shots of the season. Just like the Sharks should round into form soon, so too will Burns. The Sharks probably aren't a Cup contender anymore despite those gaudy shot attempt numbers, but they're playoff competitors and a couple of small tweaks could make them dangerous.
[snippet id=3637277]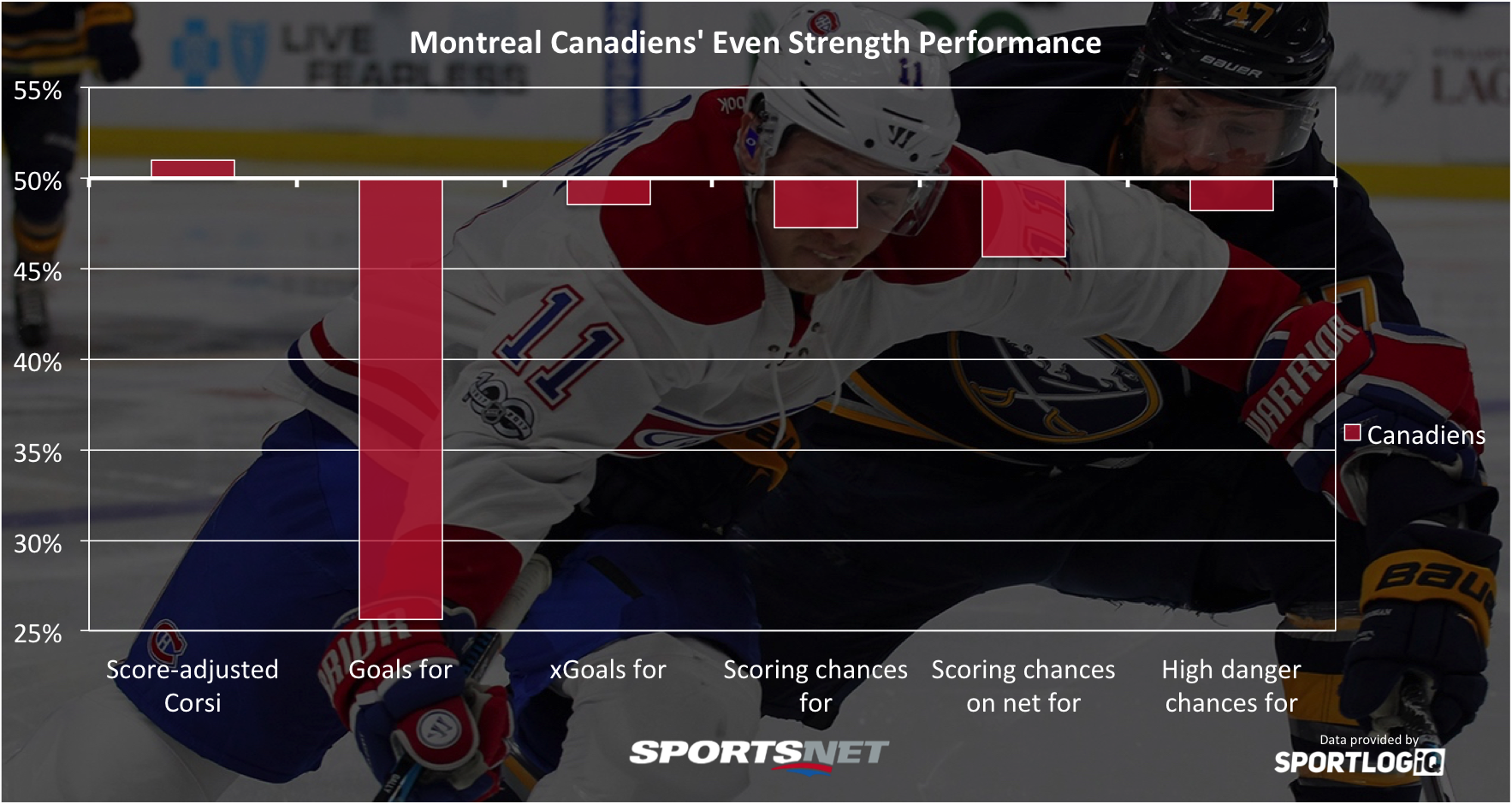 Like the Sharks, you can't really say the Canadiens are playing well, as they're barely above average in shot attempts and below it by all measures of scoring chances, and Corsica's expected goals model. However, those numbers are all very close to being an average team, whereas their actual 5-vs-5 goals for percentage is a crazy 25.6 per cent, which is probably what you would expect if you dropped an ECHL team into the NHL.
The Canadiens have their issues up the middle and on defence, but they're not an ECHL team, and call me crazy but I don't think Carey Price is a .885 save percentage goaltender going forward.
The Canadiens were playing much better the first four games of the season, but the last three against tougher teams they've been outclassed pretty severely, and they look like they believe their own bad press a bit too much. A shakeup of some sort might be necessary to wake some players up, but patience will probably still see the Canadiens in the playoffs by April, though likely just for April.
[relatedlinks]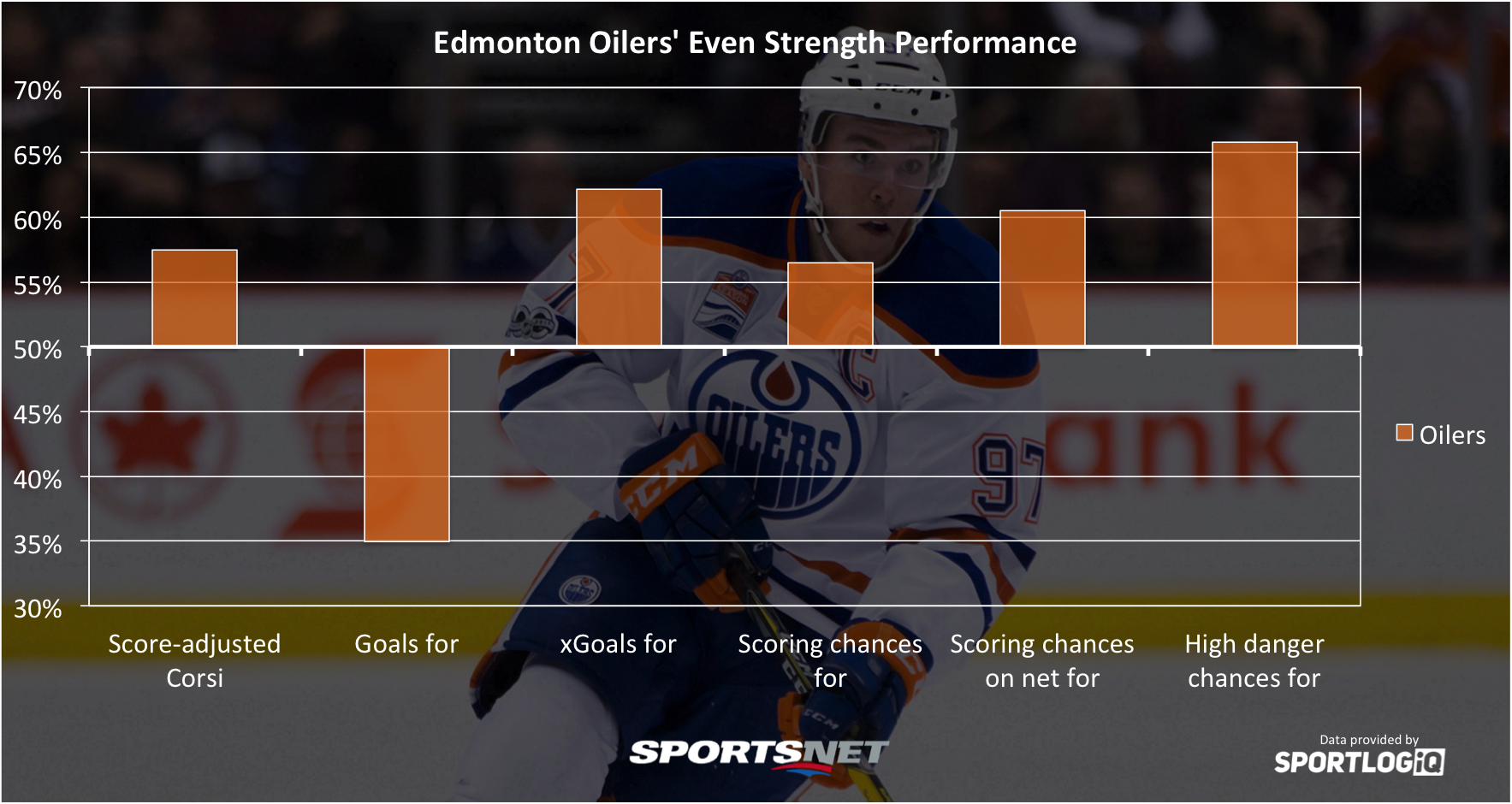 Oilers fans are understandably frustrated right now, with Edmonton struggling to score and win, and now Leon Draisaitl's status is concerning, with vision problems and concussion symptoms. However, it looks like Draisaitl won't be out for too long, and the Oilers' play without him has been incredibly strong.
Yes, the goals haven't been in their favour, everything seems to be going wrong at once, but the Oilers are first in the NHL in Corsica's expected goals model and Sportlogiq's scoring chance data likes them just as much.
Compared to recent years, the Oilers have done an incredible job defensively, allowing the fewest high-danger chances against in the league so far. The goaltending has been porous so that probably sounds like a lie, but the Oilers have improved big time.
This is a team that has been stung badly by poor luck, but every indication we have says they're bound to be not just good, but excellent. This is without a top defenceman in Andrej Sekera, and with Draisaitl missing a couple games as well. There's too much good stuff going on in Edmonton to get bogged down in their record after just five games.