With the Montreal Canadiens just six points out of a playoff spot with 23 games remaining on the schedule, it seems a little early to do a post-mortem on the season. But to many, the possibility of the playoffs is long gone, and this season just needs to be played out.
At the conclusion of the season, it's fair to say most people expect Michel Therrien to be let go. The biggest collapse in Canadiens franchise history isn't all on Therrien – he couldn't have predicted Carey Price would slip on a puck in Edmonton and be out most of the season – but he has played his part with a series of grievous mistakes that go back further than this season. For the purposes of brevity, let's look at the top three mistakes that have led the Canadiens to where they are now.
Consistent misjudging of talent/Avoiding young players
Ever since the 2005 NHL lockout, the trend around the league has been towards youth and taking advantage of players on entry-level contract to provide scoring depth. Yet with Therrien at the helm of the Canadiens, only three prospects have graduated full time to the roster: Brendan Gallagher, Alex Galchenyuk, and Nathan Beaulieu.
Of those three, only Gallagher has been trusted consistently with a large role in his natural position, likely because while Gallagher is very skilled, his style of play resembles a grinder.
Meanwhile Galchenyuk, a natural centre, was kept on the wing the first three seasons of his career. This season, he excelled at centre to the point where he was 17th in the entire league in even strength points per 60 minutes, but was given third and fourth line minutes before ultimately being moved back to wing in January.
What's most odd about the Galchenyuk situation is that Marc Bergevin has given Therrien tons of leeway to develop him at centre, repeatedly insisting last season was a transition year.
Nathan Beaulieu was kept off the roster in 2013-14 in favour of players like Douglas Murray and Francis Bouillon, who were at the ends of their careers and by then, a detriment to the team. Beaulieu was clearly bored in the AHL by that point and needed a challenge to improve, but it wasn't until the team was facing elimination against the Boston Bruins that he was put in the lineup and he ended up being instrumental in winning that series.
Yet, two seasons later, Beaulieu has still been made a healthy scratch and plays most of his time on the third pairing, despite being an objectively better player than some who get more ice time.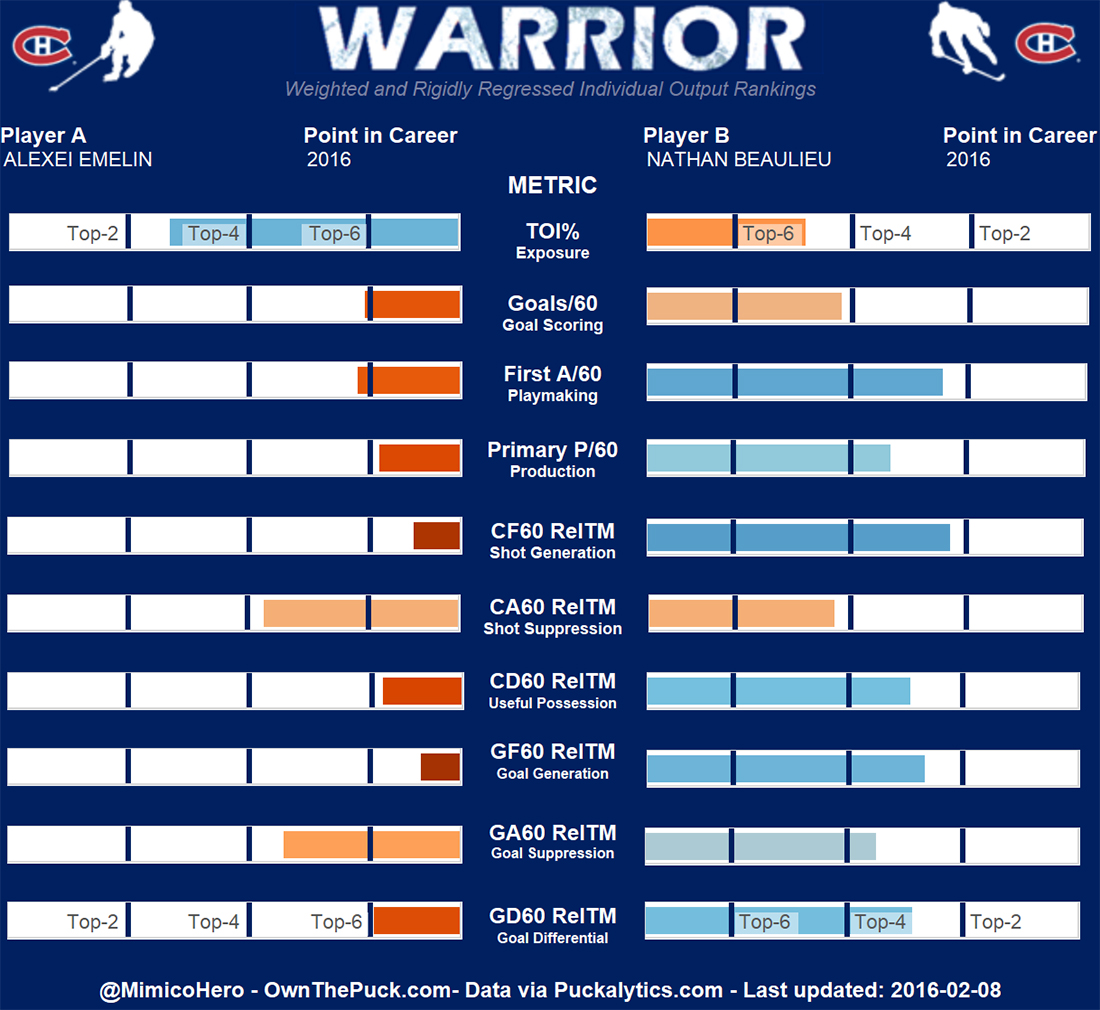 And those are three players who eventually cracked the lineup. The Canadiens also have prospects such as Sven Andrighetto and Daniel Carr who have outperformed veterans in both scoring totals and scoring chances, but been given little to no chance on top lines. These two were even sent down to the AHL during a scoring drought.
This consistent mismanagement of young players has the Canadiens not really knowing what they have in terms of young talent and being forced to over-rely on underperforming veterans.
Systemic failure
There's a clip from the Canadiens' self-produced behind the scenes television show "24CH" from two seasons ago where Therrien angrily tells his team that they're being too fancy by trying to cycle the puck down low. He said they needed to go wide when breaking in off the rush, shoot from bad angles, and crash the net for rebounds. He finished by saying "We're a grinding team, accept it", which is an odd strategy to push on one of the NHL's smallest rosters.
To this day that attack strategy is very evident when you watch the Canadiens and it's a big reason for their lack of goal scoring. Purposely shooting from wide angles in order to engage in a net-front puck battle that attacking teams lose 80 per cent of the time is an inefficient strategy.
The Canadiens have developed into one of the NHL's best forechecking teams, and Therrien deserves credit for that, but no team uses the boards more often. As a result, they have trouble generating high danger scoring chances.
The Canadiens suffer from the same systemic inefficiency on defence, where they choose to dump the puck out of their own zone more than anyone else, despite an extremely mobile defensive group that has more than enough talent to skate or pass it out.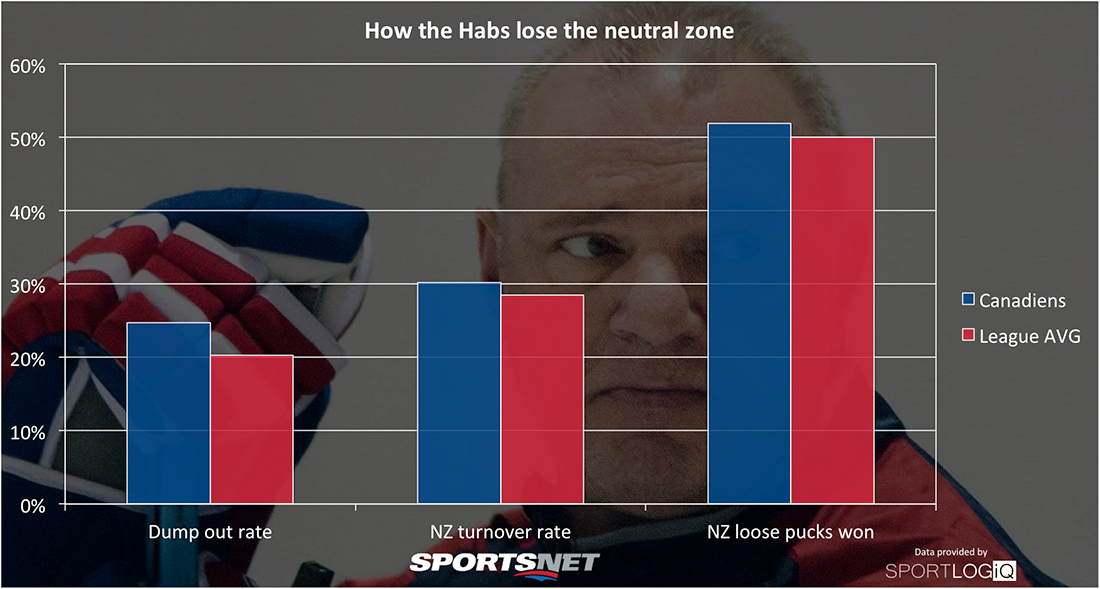 Despite the fact Montreal wins a higher percentage of loose pucks in the neutral zone than average (one of the highest marks in the league) their neutral zone turnover rate is still the ninth-highest in the NHL, which leads to more time spent defending in their own zone, and more chances against off the rush.
Owning the neutral zone has always been important in hockey, but while the trap was a defensive strategy to clamp down there, focusing on controlled zone exits has been the new way to generate offensive transition. If you would like an example of how effective that can be, look no further than the Carolina Hurricanes. Carolina is one of the least talented rosters in the NHL, yet they've been one of the hottest teams in the league for three months because they play smart and own the neutral zone.
Carey Price has papered over the faults in Therrien's system for years, but without him in net, the problems are there for all to see.
Picking the wrong fights
From the moment Therrien was hired by the Canadiens, there were misgivings about how he would get along with their budding superstar defenceman. Therrien was a well-known critic of P.K. Subban in local media before he was hired, and his vow to make Subban a better person was odd to say the least.
The relationship likely wasn't helped when Subban's contract negotiations dragged into the 2012-13 season. Subban was given far less ice time than expected and played over a third of it on the third pairing with Francis Bouillon, while his penalty killing minutes were taken away.
Subban didn't complain. Instead, he tore up the score sheet and won his first Norris Trophy. After that, it became difficult to deny Subban minutes, but there has always been some lingering tension there.
Just recently, with the team in freefall, Therrien has specifically called Subban out twice. The first was after a back-to-back set of games against the Columbus Blue Jackets, both of which the Canadiens lost 5-2. Subban was questionable for both games with a severe flu, but recorded one goal and three assists.
However Subban also turned the puck over a few times and that led to a couple goals against, which was what the coach chose to focus on instead of a sick player trying to put the team on his back.
Then came the game-winning goal in Colorado this week, which has been dissected too many times already. What ultimately needs to be taken from that whole episode is that the coach decided to call his best skater selfish.
Subban, for his part, insisted he made the right play, confidently recorded two assists and was named the first star in the very next game. Most criticism rolls off Subban's back, but the coach has taken a stand, perhaps a stronger one than he initially thought, and if the choice this summer is Therrien or Subban, it's not a tough call.