After taking the positive route and looking at a group of star players who have been underperforming in terms of production but are due to rebound as the season goes on, it's time to do the opposite and look at some players whose performance isn't likely to be sustainable.
In order to produce a lot of points, even over a small 50-game sample size, you have to be a pretty good player, so the point isn't that players listed here are necessarily bad, just that their performance level to this point is beyond what their skill suggests they're capable of long term.
Each player's situation is different, so like last time we'll go over them individually.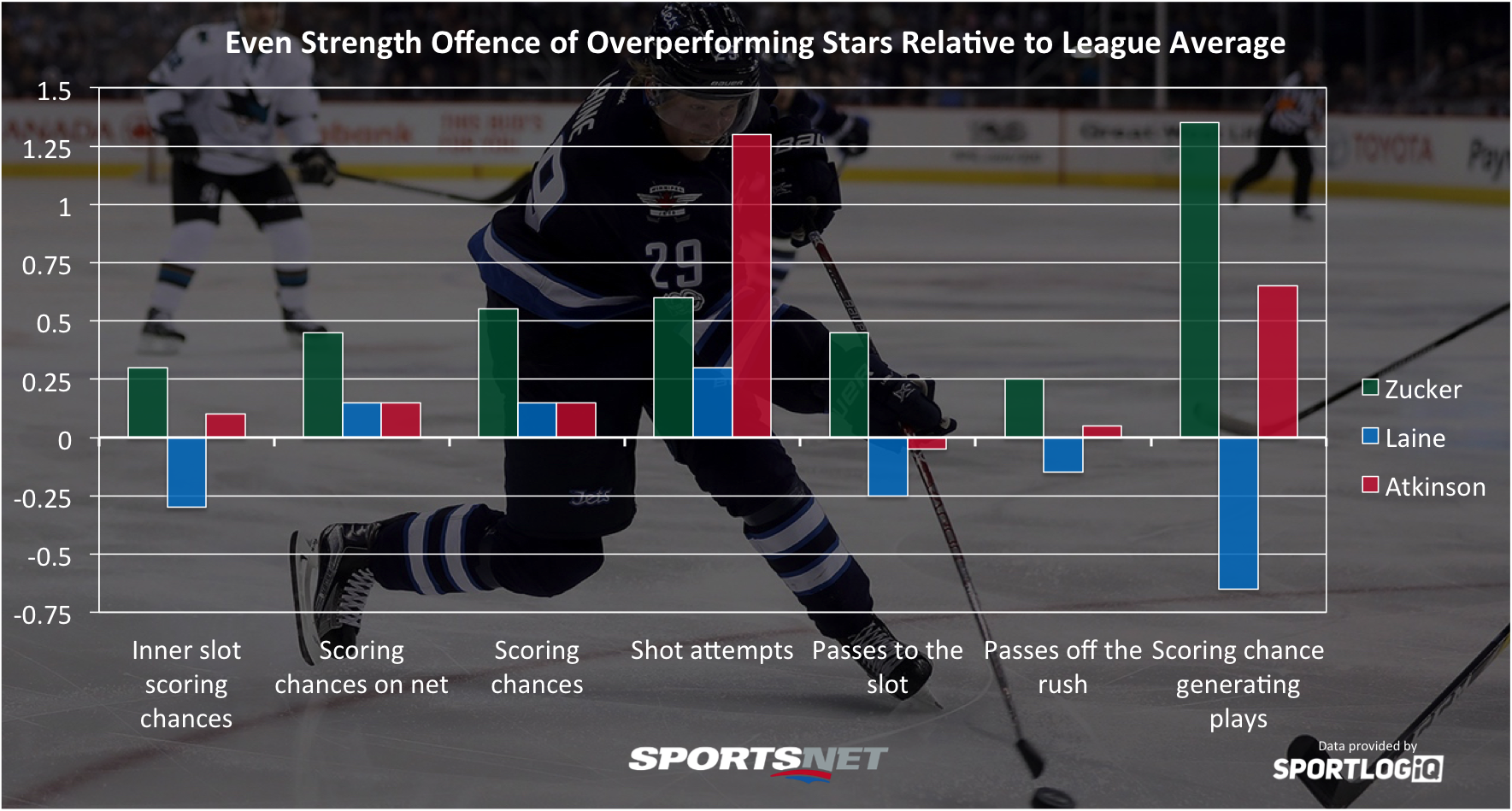 Jason Zucker
Of these three players, Zucker is the one who has earned his production the most. He's been legitimately good in every way offensively, but while he's good enough to play on a first line, he's not good enough to be tied with Evgeni Malkin for seventh in the NHL in even strength points.
With an on-ice shooting percentage of 13.78 per cent, Zucker has been the luckiest player in the NHL in terms of goals going in while he's on the ice, and is a full percentage point ahead of Kevin Hayes, who has the second-highest on-ice shooting percentage among forwards.
Zucker has also scored on more than 15 per cent of his even strength shots, which he also did two seasons ago, but because of the high on-ice shooting percentage, he's also racking up assists to go with it.
What's confusing for Zucker is that while his even strength production is stellar, he hasn't had much power play time. He has played just 12:13 with the man advantage all season, recording a single point. If he were to get more power play time, I doubt a regression at even strength would even be noticed in his overall production, but since he doesn't, he should tail off quite a bit.
Patrik Laine
The rookie phenom had some people questioning whether he should have been taken first overall earlier in the season, but as Auston Matthews' production caught up to his scoring chance numbers, that all quieted down. Laine is one of the weirdest cases I've seen in years, because in terms of overall offensive creation, he's been a third liner, but he's scoring like a superstar.
Playing between two legitimately elite offensive players in Mark Scheifele and Nikolaj Ehlers likely helps, and Laine is undoubtedly in possession of one of the best shots in hockey, but even then, you have to wonder how much of an impact that can have long-term.
League average expected shooting percentage is at eight per cent this season, but the expected shooting percentage of Laine's shot locations is closer to 6.2 per cent. Is his shot literally three times better than league average? That would be an unprecedented level of shooting skill in hockey.
Laine also has the fourth-highest on-ice shooting percentage in the NHL at 12.46 per cent, so you have to wonder how much of his rookie season offence is legitimately sustainable production. It's possible, even probable that this will be the kind of production expected of Laine through his career. But this season I'm extremely skeptical.
Cam Atkinson
A sleeper pick for a few years now, Atkinson has always stuck out to me as an underrated top-six forward, but this year's level of production has been obscene. However, Atkinson hasn't overperformed at even strength — at least not by a lot.
Atkinson's even strength production is almost identical to last season, though he is getting points on 80 per cent of the goals he's on the ice for, slightly more than his usual 70.8 per cent. He hasn't been absurdly lucky in terms of on-ice goals though, with an on-ice shooting percentage of 8.45 per cent, easily sustainable for a strong offensive player.
Where Atkinson has severely overperformed is on the power play, where he's scoring on 28.12 per cent of his shots on goal on the Blue Jackets' top power play unit, which as a group is scoring on 21.54 per cent of their shots.
There's no denying that the Jackets' top unit has been lethal in terms of puck movement, and smartly deployed, but scoring on more than one in five shots doesn't sound like a sustainable source of production by any means.
Atkinson is a great player who is seemingly in his prime, so 60 or so points seems easily within his reach this year and for several more years. But the near point per game pace he's enjoyed so far is unlikely to hold up.
[relatedlinks]