One of the biggest storylines coming out of Game 2 of the Western Conference Final was penalties and how the Blues needed to watch their discipline and stay out of the box to keep the daunting Sharks power play off the ice.
Well, the Blues did a good job staying out of the box overall in Game 3. Still didn't matter in a 3-0 loss.
Now the conversation is turning to the goalies and the overwhelming dominance the Sharks are displaying. San Jose is throwing three generations worth of talent at the Blues, a goalie on a franchise-record playoff hot streak and they'll still be at home in Game 4.
With what we've seen so far this series, Ken Hitchcock is right — the Blues are lucky to even have one win against the Sharks so far.
So where does this series go from here? How do the Blues beat the Sharks? Here are three things we learned.
THE PUPS ARE A-OK
Logan Couture leads the Sharks (and all NHL skaters) in playoff scoring. Brent Burns leads all NHL defencemen in playoff scoring. Joe Thornton, as always, has been a possession monster in the offensive zone. Joe Pavelski and Patrick Marleau have double-digit scoring totals, too.
As much as the Sharks are getting out of their go-to players, a couple of youngsters took centre stage in Game 3. While Thornton and Marleau represent the old leadership group and Pavelski and Couture represent the new leadership group, guys like Joonas Donskoi and Tomas Hertl are a part of the next generation.
This team looks as good as any recent Stanley Cup champion right now.
Hertl and Donskoi combined for all three goals for the Sharks on Thursday night, with Pavelski, Couture and Thornton earning the assists. The Sharks carried the play virtually all game long, but Hertl's second goal really felt like the one that put this game away.
Hertl's eight points in 15 games in these Stanley Cup Playoffs are good for sixth in team scoring and he could have even more. The two goals he scored in Game 3 seemed almost overdue with the kind of chances he's been getting all playoff long.
Would it surprise you to learn that, among all players, he's had the most scoring chances from the best areas on the ice?
They say defence wins championships, but really, depth trumps all. If you can keep throwing dangerous players over the boards over and over, you'll eventually wear down a team with a weaker or even marginally thinner lineup.
The Blues came into this series with what we thought was one of the deepest lineups in the NHL. And that's certainly still true.
It's just that fact makes the clinic we're seeing the Sharks put on in the Western Conference Final all the more impressive.
A TALE OF TWO GOALIES
Let's first say this: both Martin Jones and Brian Elliott have done about as much as you can ask of a goalie this series. They've just had, shall we say, different workloads.
The Blues haven't scored a goal since midway through Game 1, which puts Jones' shutout streak at 150:45 heading into Game 4.
Jones does have lots of work to do to break the longest playoff shutout streak though.
Elliott, meanwhile, hasn't been bad; he's been battered by a relentless Sharks attack that really is having no problem carving through St. Louis' defence.
We've asked this before in St. Louis' run, after they dropped Game 6 against the Dallas Stars: do they have to think about moving to Jake Allen? During the second intermission of Thursday's game, Sportsnet's Nick Kypreos said that if Elliott allowed one more goal, he'd pull him.
And you know what? That's exactly what happened. San Jose's third goal — the dagger goal — resulted in Elliott getting pulled from the net.
So what to do in Game 4? You have to think Elliott's pull in Game 3 was more a message to the rest of the Blues roster than the goalie himself. Sure, the Blues held the Sharks to 16 shots on goal (seems weirdly low, right?) but they only mustered 22 the other way. The Blues have been thoroughly outplayed for about seven of the nine periods in this series so far and have showed no signs of a pushback.
Elliott is the guy who got the Blues to this point. His 31-save win in Game 7 against the Blackhawks was one of the biggest wins in franchise history.
What would you do?
JOE THORNTON KNOWS HE'S GREAT — DO YOU?
We know Thornton as one of the best passers — if not the absolute best passer — of his generation. His threading of the needle to Hertl on the third goal was incredible.
But Thornton, of course, is also tremendous at controlling the puck. It actually may be his best asset because he's so dominant at it.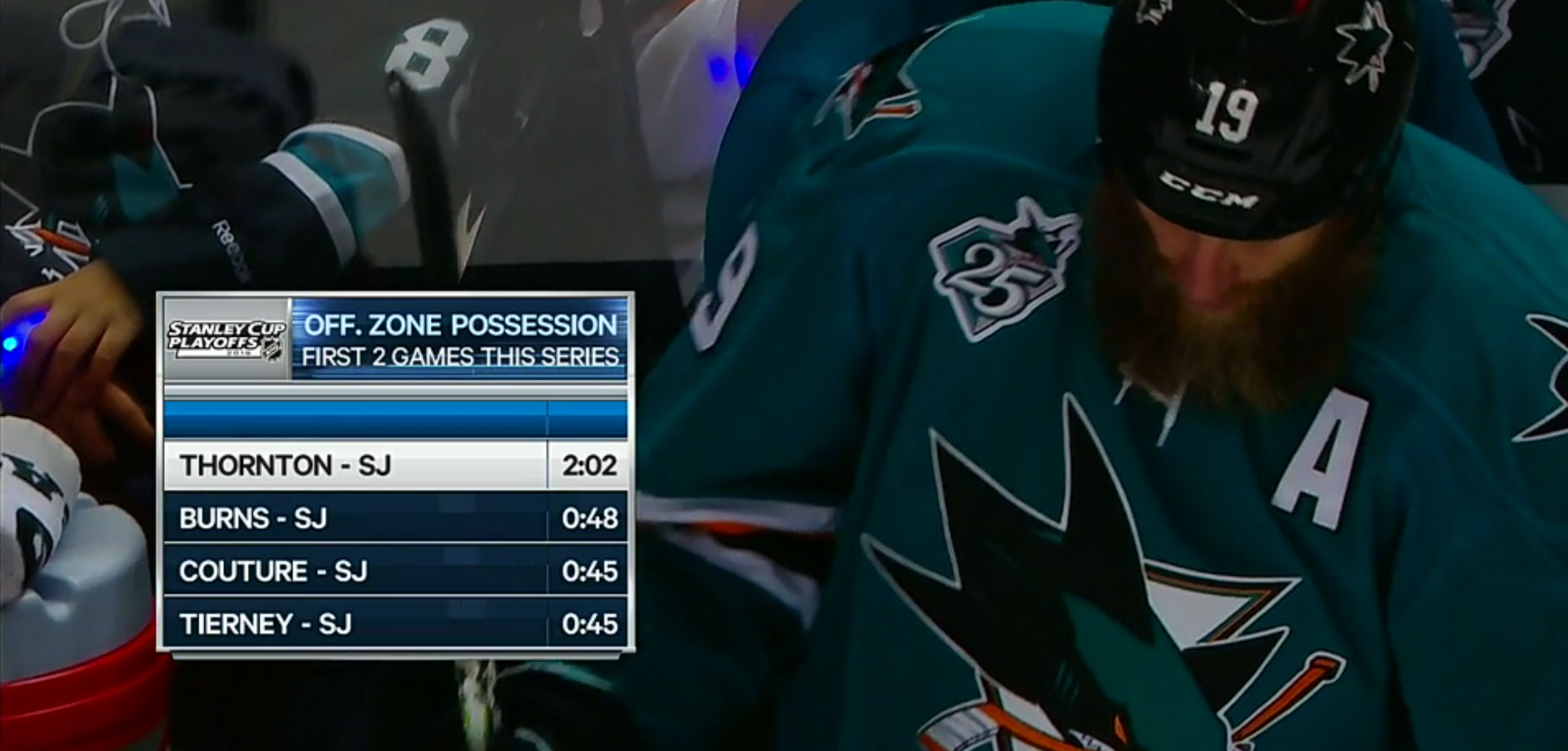 There was some question whether or not Thornton injured his hand in Game 2, but he sure showed no signs of it in Game 3. He was everywhere yet again, earned two assists and was named the game's third star.
If you still aren't convinced Thornton is a playoff player, or even a great player, it's OK. He knows it.