Tie Domi won't stop punching me.
The fightingest fighter in NHL history, even at age 46, is a visceral bundle of energy, all up in your face. The messages he delivers are punctuated by  unexpected lefts to my torso and forearm. Sometimes he slaps the desk. Other times he sharply knocks my knee with his own. The only player with 333 NHL fighting majors is sitting close enough to jersey me.
Domi interviews in the same manner he played: full contact, wholly involved, colourful, and on his own terms.
He maintains eye contact the entire time and laughs often, revealing his mouthful of fake teeth. When a question is ducked, it's quickly countered with a fistful of something — an anecdote, a plug, a message — he'd rather deliver instead.
My exchange with the infamous winger takes place inside a mobile shrine to himself. A transport truck plastered with the image of his new autobiography, Shift Work, is filled with photos and sweaters and sticks from his 1,020-game career. Video screens play his highlights on loop, and there is a life-sized, three-dimensional photo cutout.
You can pop your head through a hole and get a selfie of Domi pounding your right temple with his knuckles. So I did.
It is in this arena that Domi is signing copies of his book, trumpeting the old-school values of humility and treating people with the same kindness anyone would expect in return.
The "Domimobile" gives the impression he's going on the campaign trail, not a book launch.
A Toronto rapper, Tona, immortalized Domi in song earlier this year, spitting, "I'm closer to Tie Domi than I am to being your homie."
Thing is, Tie Domi is your homie. And mine. And Mark Wahlberg's and Michael Jordan's. The punches delivered to me are soft and playful. The tough-guy stuff was just a job, he wants you to know.
I request a solo photo of him for this article, but he insists I be in the shot. He greets every single person with a grin and a warm handshake. Later, Domi says his walls are sky high, that like another famous Toronto icon, he needs no new friends.
When he's not following around his super-rookie son, Max, Domi lives in New York City where his girlfriend resides and where he can blend in.
"I come to Canada, everybody knows this big melon," he laughs (and jabs). "The coffeeshop guy, the bellman, the waiter, the shoeshine guy, TSA guy, cabdriver, parking lot lady at the ACC—that's why I did the book."
Domi says his publisher, Simon & Schuster, wanted the fight tales and the inside-dressing-room stuff, but the player fought them. The only way he'd write the book is if he could include the chapter about tipping the equipment guys and being friendly with airport staff.
"It's the smallest chapter in the book, but that chapter is the reason," Domi says. "That's the message you have to understand: I'm sticking up for the everyday person."
Domi says people now want the rights to the movie of his life, which is rife with confrontation and loss, celebrity encounters and wild swings in fortune.
His childhood alone, as he writes it, feels like a superhero origin tale. A young Domi gorges on spinach, arm-wrestles adult men and never locks his locker because no one would dare cross him.
"The stories I put in there?" Domi smiles. "I got way more."
Over the course of a 45-minute, hands-on chat, we asked him to share a few….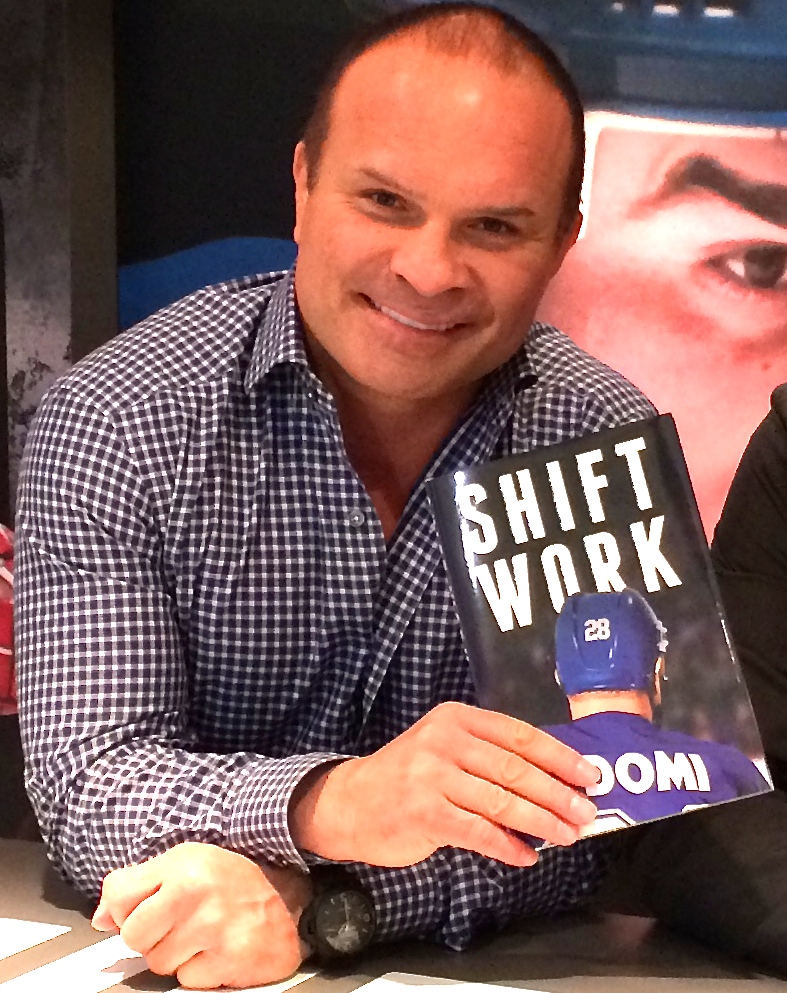 SPORTSNET.CA: Mario Lemieux says you're the best teammate he never had. Give me the best Mario story that isn't in the book.
TIE DOMI: We're like brothers. He's coming to the book launch in Toronto and the one in New York. He's my only friend who's coming to both. He said, "Just send me the dates." That's the type of friend he is. First-class guy. We've been through a lot together. I went through a lot of tough times in my life, and he was always there for me.
That's a side of Mario people don't know. He's very private. Like with me, there's no grey: I'm either black or white. That's why he's one of my best friends. Him being an owner, he deserves it all. He played for it; he earned it. Unfortunately the team went bankrupt, but good things happen to good people.
What's the best vacation you took with him?
Going to Italy. We had a lot of fun. When I introduced him to Mats (Sundin), that was special. We go away a lot. We go to every Super Bowl together. We go to the Bahamas. Mario is a private, but special guy.
Does Mario let loose on vacation?
Yeah! [laughs] I told him and Mats they were lucky to be in my book. I tease all my friends, right?
"That's the benefit of being a hockey player: Play long enough, you get a brand-new rack when you're done."
You didn't want to talk about fighting during your career. Why not?
It's part of my job. Having so many fights, that was to protect my teammates. When I retired, it was becoming more evident that fighting was declining. When I had the most fights, every year they kept coming back at me. Guys started getting more concussions and serious injuries. When deaths like Wade Belak and Bob Probert happened, people always try to point to fighting. It's something about fighting. After their deaths, it made me really want to write a book, to have messages that can help people from all walks of life.
Why do you think the enforcer role has diminished?
(My record) definitely won't be broken now. That's why I didn't want to talk about having the most fights. It speaks for itself. I wanted to be the best at what I did. I was a smaller guy. If I lost any (fight), I lost less than five. Nobody ever hurt me. Guys may have thought they got the better of me, but nobody really hurt me ever. Dave Brown hit me hard. Probie hit me. But Probert said I was the toughest he fought and the hardest he was hit.
Those moments I had with Bob Probert were special. The bonds I have, the role I did, including the tough guys I fought, every one of those guys can relate to the mental side of what I say in there. Everyone of those guys are the only ones who will understand. Maybe I'm the high-profile one because I did it the most, but they all did it the same.
The chapter in the book where you describe speaking at Wade Belak's funeral in Nashville and note how few of his Leafs teammates attended — just you, Bryan McCabe and trainer Scott McKay — really struck me.
It struck you? It struck me. I did the job, right? Flying home, Brian Burke was on the plane, and he didn't even know Wade. Wade never played for him. I got a lot of respect for Brian Burke being there. We flew in and flew out on the same flight. I was able to make it, Brian Burke was able to make it, and when I got back, I saw a lot of people who played with him that were at an engagement party that night.
Did you confront them?
They all knew. They all knew. I said it, but they all knew my point. In certain situations I never said names (in the book). I just want people to learn from the stories.
What was the best chirp ever directed at you?
In New York, the hot place was the China Club. In Winnipeg, it's a country place called the Palomina Club. We're playing Jersey a week after I got traded to Winnipeg – best thing that happened in my career—and I hear at the face-off: "Hey, Domi! How's it feel going from the China Club to the Palomina Club?" I turn around and see an empty space on the Devils bench. I peer down and it's John MacLean pretending to tie his skates. I saw him a few years later at a golf tournament, and my buddy Kirk Muller is like, "Oh, Johnny Mac got you!" So I walk up to John pretending I'm seriously mad. But that was a good one.
"Some guys were terrified of their own shadow, let alone their wives." — Domi on credit card roulette

If Probert was your toughest opponent, who was second?
Him and Dave Brown. Dave Brown hit me the hardest, for sure. Nobody ever hurt me, right? I started fighting real young, street kid. Fourteen years old I'm playing Junior C fighting 19- and 20-year-olds. Fifteen years old, fighting 19- and 20-year-olds, I had 315 penalty minutes.
Sense fear or intimidation? Feel like a bad guy?
No. Guys who tried to talk to me, I knew I was in their kitchen right away. I fought a lot of guys, but none of them hit hard. Fought Rob Ray. Probie knew he couldn't hurt me. Rob Ray knew he couldn't hurt me. I was always confident I'd win. Didn't matter the size. I always went in thinking I was going to win. Nobody ever hurt me.
What's the most scared you've felt on the ice?
Never.
Never once?
Never, ever.
How is that possible?
The way I was brought up. I was one of those fearless people. The path. When I was in that laundromat with my dad (in a rough area of Detroit) and he said, "Make sure you don't show you got money in that bag," I could barely walk, but I did it for my dad. It was very heavy, but I had no choice. I had to do that for my dad and I was 12 years old. I lost my dad at a young age. Anybody who loses their dad can relate to this book. You remember the things he tells you. I was able to have him around until I was 21. Some people don't even have a father. Even though my mom was the rock of the family, my dad was the one who taught me to treat people how you want to be treated. That's what I taught my kids.
The stories from your childhood are remarkable. You smashed your own front teeth out on your bike handlebars just so you'd look like Bobby Clarke. What was going through your mind?
Not much. How did I survive my two parents? It's that picture of Bobby Clarke holding the Stanley Cup missing two front teeth. He's the captain. He looks so cool. I loved the way he played.
It went from Clarke to Mark Messier—that's the kinda guy I admired. They know how to win, and they were mean too. That's the player I wanted to be. I did it with one of my hockey teammates. He was in dead shock. It's a crazy thing, right? It was my real teeth. I got a full new rack now. That's the benefit of being a hockey player: Play long enough, you get a brand-new rack when you're done.
I was looking at this wall of photos with you smiling alongside all these celebrities. The one of Shaq towering over you and Mark Wahlberg is great.
Mark was doing a movie promo for TNT, the basketball station. Me and Mark hang around a lot when he's in New York, and I asked Shaq if he'd mind taking a picture. There's a lot of pictures of Mark and I, but the one with Shaq is cool. You appreciate how big the guy is.
Is there anyone you'd like to meet that you haven't?
I've met almost everyone I want to meet. I met Jean Beliveau. When he was doing a book signing in Winnipeg, I lined up to get his autograph. The rest of my career, anytime I played Montreal and he was in the Forum, he came over to the dressing room before the game. Pulled me out. Toronto-Montreal, Saturday night. He and Dickey Moore would come talk to me every time. He never forgot me waiting in line for his autograph in Winnipeg. He thought that was really cool, that I would wait in line for him. People say Jean Beliveau is the classiest guy. My experiences with him go beyond that. Classiest of the classiest.
"If I didn't knock him out, he'd be fine." — Domi on Scott Niedermayer

There's some fun stuff in here, too, like playing credit card roulette after huge team dinners. Who reacted best to getting their card plucked?
I didn't mind. Some guys were terrified of their own shadow, let alone their wives. Some guys were as cheap as they come. So when they're down to the final few, that's the best part: seeing their reaction. You know how cheap they are, so when they're down to the final three, they start turning colours (laughs). I don't wanna name names, but there's a handful who admitted they were cheap, and it was fun to make fun of them. Guys who are cheap and admit it? God bless 'em. Makes it more fun.
Biggest team dinner bill ever?
I don't even want to repeat that because it's embarrassing to say.
$10,000?
I'm not even guessing.
You regret your hit on Scott Niedermayer that knocked him out in the 2001 playoffs. Your story about the incident ends with you apologizing and him not accepting your apology. Have you seen him recently?
That was real difficult. I was playing the best hockey of my career. Still doesn't make sense why I did it. I didn't mean to knock him out; I just wanted to give him a shot. By the way, nobody saw it. If he didn't get knocked out, we would've been fine. We woulda had a two-on-oh, Shayne Corson and I. Pass to Shayne Corson, and he didn't score anyway. Refs didn't see it! If I didn't knock him out, he'd be fine.
I hit him right in the button, that's the reason. The whole place is chanting my name. Don Cherry and Ron MacLean are waiting for me to be first star of the game. (Coach) Pat Quinn hears the crowd chanting, "Domi! Domi!" so he threw me out there. After the game, Pat says, "I knew it when I saw (Niedermayer) out there. I knew I shouldn't have put you out."
Pat knew (Niedermayer) cross-checked my face — got me good, no penalty. This scar right here above my nose — that's him.
"Sports or business, you're in it to win. Whatever it takes, you do it."
Would you make it as an NHLer today, with the lack of fighting?
I would probably be a better player in today's game than when I played. I was a fast skater. I was able to get in and forecheck. I played with skilled guys. The game would be unbelievable for me, because no one could get a stick on me in the neutral zone. I'd be on that forecheck quick. I like to take pride in having the second-most playoff games for a right winger in Maple Leafs history, next to George Armstrong.
People remember me as a playoff player, which is nice. Elliotte Friedman introduced me at a function as "the guy who's played the most playoff games for the Maple Leafs in the last four decades." Oh, my God. It was a big compliment, right? That's my claim to fame now.
Besides Max's, whose game do you respect today?
I respect the game itself.
Fine. But are there certain players, maybe not superstars, whose style of play you admire?
I love Crosby and Toews, but these kids now… P.K. Subban. (Brendan) Gallagher I love in Montreal. Love that kid. He's a serious, hard-nosed player. Little guy. Fearless, too. He's like Donkey Kong—gets hit and gets right back up. I saw Chris Neil's 900th game in Ottawa. Chris Neil can play, too. I wish he got more ice time. He makes things happen.
And Neil was a goal-scorer in the OHL.
Weren't we all? I played with Mike Ricci. Once you're pegged, you're pegged.
I'm sure you saw Connor McDavid's injury. How well do you know him?
Very special kid. Close friends with Max. Seeing what he and Max went through at the world juniors, they have a special bond. I did see the replay. As much as headshots are bad, the stick between the legs is just as bad, especially with the speed of the game. That was pure speed. That's the only way someone can stop him—stick in the legs. That's what I caught. That's a no-no. They have to watch for that.
Guys who can't handle the speed—and I don't blame them—they do what they have to. You have a generational player coming 100 miles an hour, he lets his guard down… you have to let the game come to you more. Connor's like Max: they only know one speed. It's unfortunate. But (Brandon Manning's) stick between the legs caused the whole thing.
When you're full speed and your legs get tangled, that's what happens. That's a penalty! When we played, it was a penalty, but guys used it as leverage. That's got to be addressed. It has to take a kid like that to get hurt. You're totally vulnerable.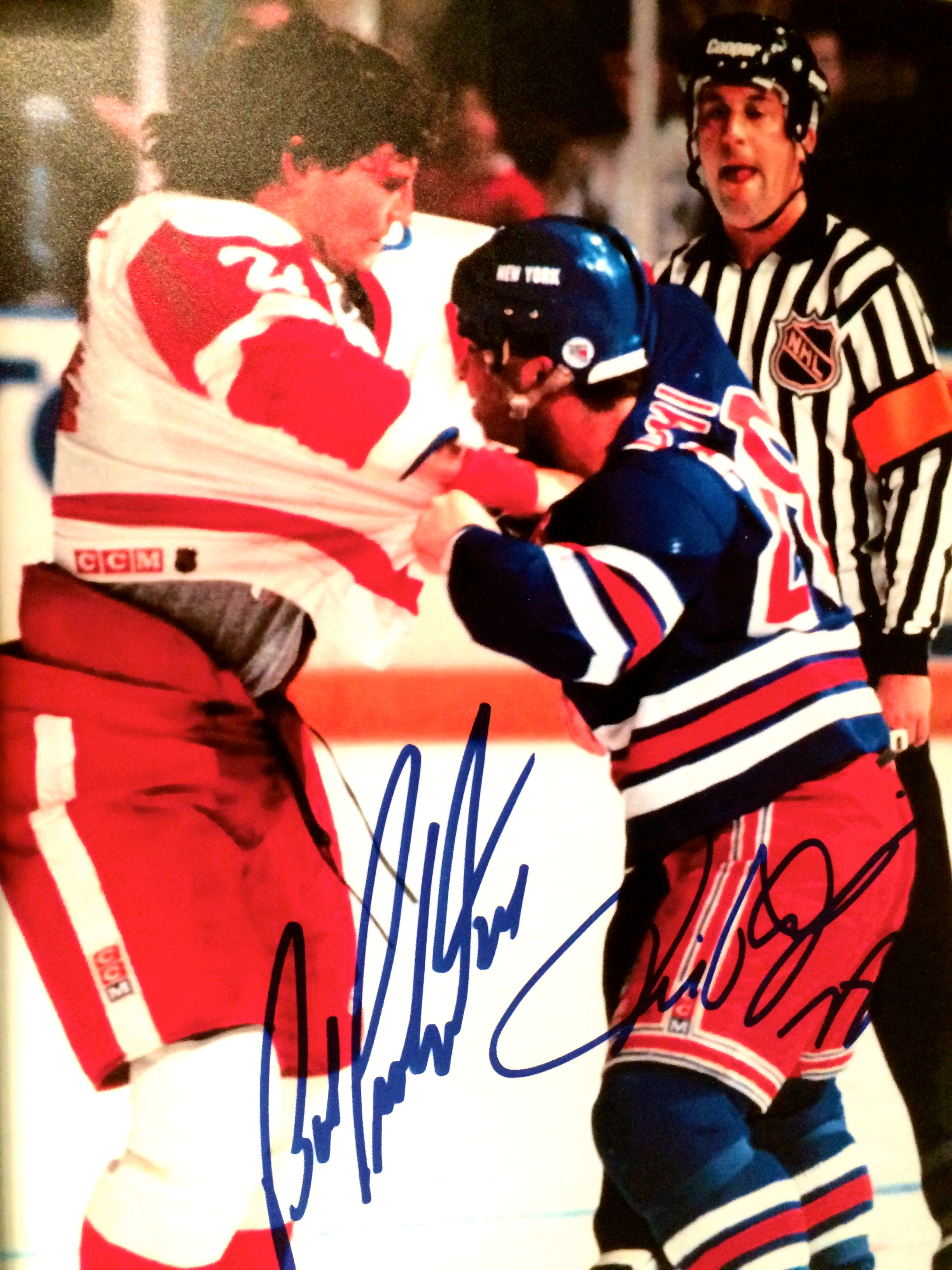 What do you make of these 2015 Leafs? Even though they know the big-picture plan, will the losing eat at them?
When you're on any team, and you're paid, you're obligated to earn that paycheque. All they can do is play as hard as they can every single shift. If a team plays every shift, they have a chance to win in this age of hockey because there's so much structure. It's a game of mistakes now. That's why guys with speed are separating themselves.
The standing-still trap thing works sometimes, but teams are breaking it now with speed and skill. You have to adjust. Pat Burns was so far ahead of his time, everybody's coaching like Pat now. He broke down everything. I was really impressed when I first got to the Leafs how much time he spent on structure, being an ex-cop.
And you were in both Burns and Quinn's good books.
Having Pat Burns and Pat Quinn, they were old-school guys. You play hard every shift for them, they'll reward you. I had that every-shift thing in my blood. If the Leafs worry about themselves and do their jobs, they'll be much better. Now they've got a coach that'll make them accountable. If they're not, they're not gonna be around long.
He's the best coach in the world for a reason. You don't have to love your coach, and the coach doesn't have to love you, but lemme tell you something: I played with a lot of guys who the coaches weren't crazy about, but if you played hard for them, you're their meal ticket. They want to win. Mike Babcock demands respect. He didn't want best friends in Detroit. He wanted to win. Sports or business, you're in it to win. Whatever it takes, you do it.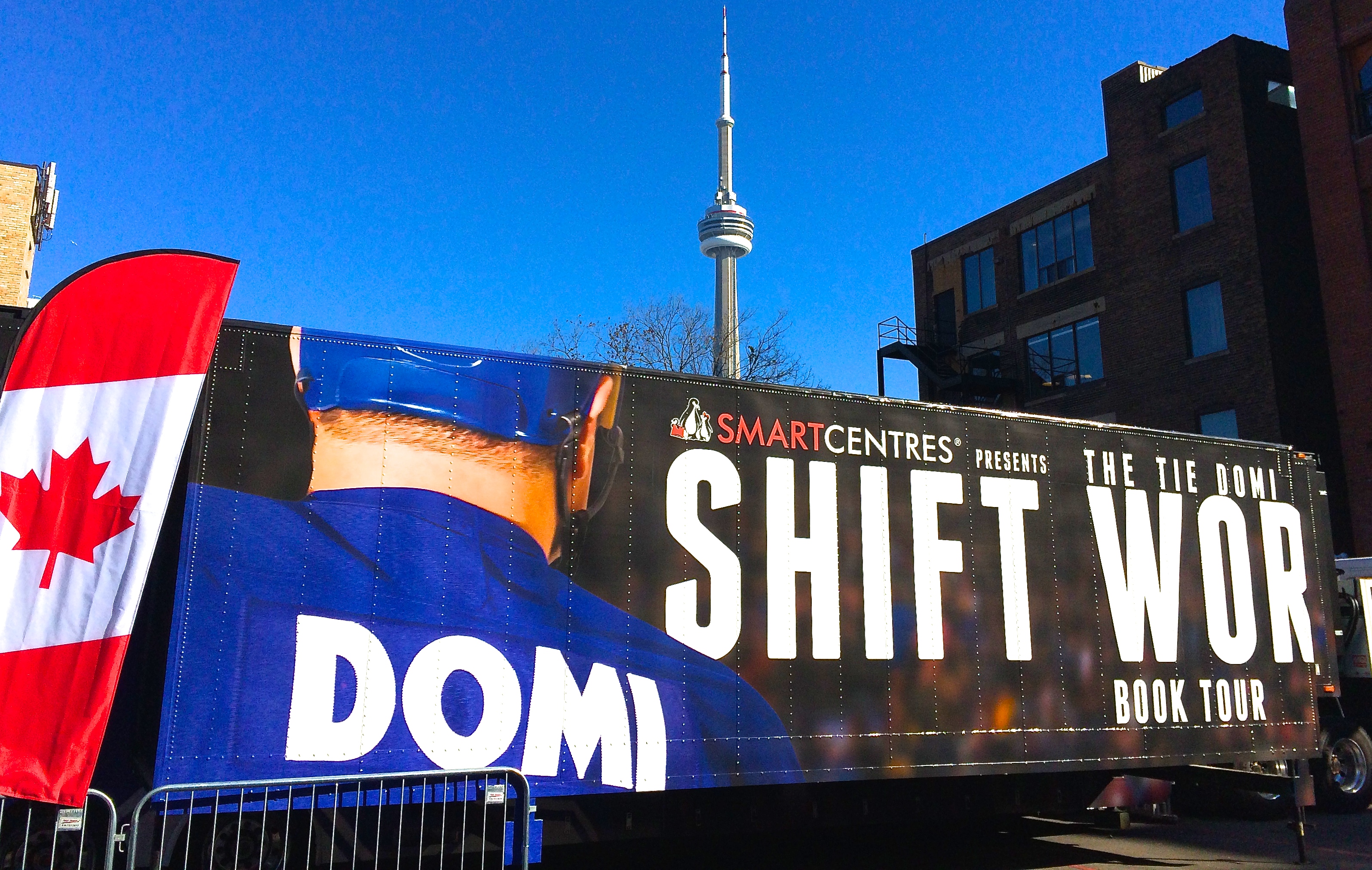 (Fox photos)