The story becomes more of NHL Draft folklore as years go by.
Yes, the Toronto Maple Leafs are the only team in NHL Draft history to select three players from the same team in the first round.
And yes, I was the general manager of the Leafs when we selected those three players from the Belleville Bulls in the first round of the 1989 NHL Draft.
How was that even possible? Well, as legendary newscaster Paul Harvey used to say, here's "the rest of the story."
Leading up to the 1989 NHL trade deadline, I was busy working the phone lines from my home, hotel rooms and our modest Leaf executive offices at Maple Leaf Gardens.
Senior Writer Ryan Dixon and NHL Editor Rory Boylen always give it 110%, but never rely on clichés when it comes to podcasting. Instead, they use a mix of facts, fun and a varied group of hockey voices to cover Canada's most beloved game.
It was clear that I had one strong card to play. Ken Wregget had been our No. 1 goaltender for about five years. He remains one of my all-time favourite Leafs since we drafted him in the third round of the 1982 Draft. Whatever success we had over those few years, he was a big part of. But, for many reasons, it was time for a change of scenery for the tall, personable goaltender from Lethbridge. I had made it clear to all general managers that we were only interested in prospects and/or draft picks for Wregget. A fair amount of time was wasted with GMs that were simply trying to dump a player for our No. 1 goaltender.
Three teams had significant interest. Gerry Meehan of Buffalo, David Poile of Washington and Bob Clarke of Philadelphia were seriously interested and I talked extensively to those three in trying to procure the best deal as we got down to the final days before the deadline. It was two days before the deadline that Clarke broke the logjam when he said: "I know my scouts are going to kill me, but we have Calgary's first-rounder as well as ours and I would give you those picks for Wregget."
I spent the next 24 hours consulting with our small front office staff and as well working Meehan and Poile one more time. Even though the 1989 NHL Draft was not considered deep (something Clarke was obviously aware of), this was by far the best offer and we consummated the trade with Philadelphia the next day, March 6, 1989, a day before the actual NHL Trade Deadline.
THE DRAFT
Obviously we were excited as an organization to arrive in Minneapolis in June set to make our three first-round selections. I don't remember even once discussing the possibility of drafting three players from the same team. The Regina Pats would also have three players selected in the first round that year (Mike Sillinger, Kevin Haller and Jamie Heward).
We were set to select third overall with our own pick, 12th overall with Philadelphia's and 21st overall with Calgary's.
The one Belleville player that we really liked was Rob Pearson. We really liked that he played a physical game with some grit and edge with an ability to score as well. He had missed most of the season in Belleville due to injury, so he was considered a bit of a wild card as to where he might go in the draft. If he had played the full season we didn't think he would have got out of the top 10. Now we hoped to have an opportunity to get him at No. 12.
Mats Sundin was clearly ticketed for the Quebec Nordiques first overall. After that, the next three picks were also forwards: Dave Chyzowski (to New York Islanders) from Kamloops, where he was coached by Ken Hitchcock; Scott Thornton (to Toronto) from Belleville and Stu Barnes (to Winnipeg) from Tri-Cities. We really liked Chyzowski if he were available. He had a breakout year with 56 goals, 48 assists and 104 points. Though the joke later became that the Leafs' scouting budget only allowed their scouts to travel as far as Belleville, I had actually made two special trips to watch Chyzowski play one game at home and one game on the road in Portland.
I shared our scouts' enthusiasm.
The NHL Awards had been a few days before the draft and I had been seated, by coincidence, next to Cliff Fletcher, then general manager of the Calgary Flames. Those casual conversations that evening led us to acquire Rob Ramage for a second-round pick from Calgary the next day.
From there I headed to the draft in Minneapolis. The night before I had a scheduled early dinner with David Poile. Having fallen short of acquiring Wregget months earlier, he was still looking to shore up his goaltending and he was interested in Peter Ing, a draft pick of ours who was graduating from London after a great final year in the OHL. Though we couldn't reach a deal on Ing, we did chat about journeyman Lou Franceschetti, whom I would acquire from Poile a week later for a 1990 fifth-round pick. Poile would address his goaltending the next day, selecting Olaf Kolzig and Byron Dafoe in Rounds 1 and 2.
Back at our hotel, we had one final, large meeting with our scouting staff and hockey personnel. The thinking remained that the New York Islanders would be selecting Chyzowski at No. 2, which was a disappointment to us. So we spent the bulk of our time debating the merits of Scott Thornton and Stu Barnes. We had Thornton rated just above Barnes, and after much discussion and a little debate, that is where we still had them ranked following the meeting.
The next day, draft day, we went ahead and selected Thornton third overall after Sundin and Chyzowski. Then we waited hoping Rob Pearson would still be available at No. 12. Stu Barnes went fourth overall to Winnipeg. The New Jersey Devils surprised many by taking Bill Guerin, a U.S. high school player, fifth overall. We liked those picks because any little surprise in the top 11 likely enhanced the chances of Pearson still being available. As we would come to learn, Guerin would end up being the second best player selected in the first round of the 1989 draft after Sundin.
Adam Bennett of Sudbury went sixth to Chicago. Doug Zmolek (another bit of a surprise as a high school kid) went seventh to Minnesota. Jason Herter from North Dakota went eighth to Vancouver. Jason Marshall from the B.C. Junior League was ninth to St. Louis and Bobby Holik from (then) Czechoslovakia went 10th to Hartford. The Leaf table let out a collective sigh of relief when Detroit took Mike Sillinger 11th overall.
We were thrilled to get "our man" Pearson at 12th overall, from Belleville.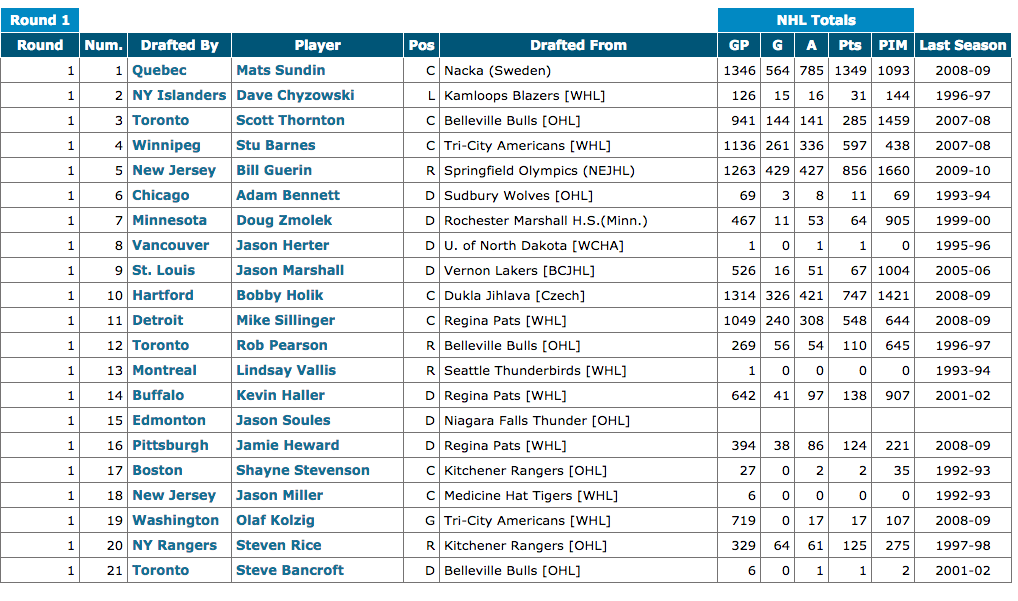 Draft board via hockeydb.com
We had a few balls in the air as we now watched things continue to unfold as we prepared to make our 21st overall selection. Lindsay Vallis of Seattle was 13th overall to Montreal. Kevin Haller, the second Regina Pat to be selected, went 14th overall to Buffalo. Jason Soules went 15th to Edmonton. A guy we really liked as a possibility with our next pick, Jamie Heward of Regina, went 16th overall to Pittsburgh. Now we had a bit more clarity with our pick now five spots away. We were leaning towards selecting a defenceman, having used the first two picks on forwards.
You know that feeling when you are in a regular season hockey pool or a hockey playoff pool? Well, elements of it are no different then being in a "real" NHL Draft scenario. When the New York Rangers selected Steven Rice 20th overall, we had that same feeling you have when the player you covet is selected immediately before your pick. The excitement we had with Pearson being available at No. 12, was matched by the disappointment of just missing out on the guy we coveted 21st overall.
Now we had to decide what direction to go in. We had three players in play. Two were from Cornell University. Kent Manderville was our top-ranked forward still on the board while his teammate (and later brother-in-law) Dan Ratushny was one of two defenceman we were considering along with Scott Bancroft from Belleville. We stuck with our decision to go with a defenceman.
One of our Ontario scouts was a huge Bancroft booster and that was a big part in our decision. It was really then, just before we were to announce the pick, that we realized we were about to select a third Belleville Bulls player in the first round. We really didn't know what to make of it in those few minutes. Was it a good thing or a bad thing? It really hadn't been an expected thing. And anyway, we had more immediate business in formally making the selection and then welcoming Bancroft and his entourage to his table.
In the end, three Belleville and three Regina players had been selected in the first round, along with two from Kitchener and two from Tri-Cities.
Our three picks from Belleville became an obvious storyline, but it was a story that had never initially been pitched to a publisher as a possibility.
AFTERMATH
Scott Thornton would have a decent NHL career, playing 941 NHL games with Toronto, Edmonton, Montreal, Dallas, San Jose and Los Angeles. He would be a key part of the Leaf trade with Edmonton that saw Toronto acquire Grant Fuhr and Glenn Anderson. Fuhr would later be flipped to Buffalo for Dave Andreychuk.
Rob Pearson actually played the role we had hoped he could in his first NHL season in 1992-1993. He was fourth on the Leafs in goals (23) behind Nik Borschevsky (34), Doug Gilmour (32) and Dave Andreychuk (25). Pearson also led the Leafs in penalty minutes that year with 211. By the end of that season — that glorious playoff run in 1993 — he would be playing a lesser role and injuries would be beginning to take their toll. He would play a total of 269 NHL games with Toronto, Washington and St. Louis.
Steve Bancroft is a neat tale of perseverance. A career minor leaguer, he would play one NHL game with Chicago in 1992-1993 and then hang around long enough to play five more NHL games with San Jose in 2001-2002.
Mats Sundin became captain of the Toronto Maple Leafs following a trade from Quebec in 1994 and is now a member of the Hockey Hall of Fame.
Dave Chyzowski had an injury-plagued career and played just 126 career NHL games.
The 1989 draft in Minneapolis would be my last as a member of Toronto Maple Leafs management. It would also be Harold Ballard's last as Leafs owner as he would pass away the following April. The Minneapolis draft had also cemented for me the idea that Ballard's wrath for me had overtaken my long-time status as the "fair-haired boy" with him. I knew that was a given at some point with him.
Seven weeks later I would leave the Leafs and join the New York Rangers (Steven Rice's home) as Neil Smith's assistant general manager. Ballard would soften his stance on me once he heard I was leaving, and we parted on good terms.
Cliff Fletcher would become Maple Leafs general manager in 1991. David Poile would later interview to replace Fletcher as Leafs GM, but he opted to sign on with the expansion Nashville Predators instead.
I once ran into Scott Thornton in Collingwood, ON during a glorious Thanksgiving weekend. During some small talk he shared that the thing he gets asked about most often is what it was like to be one of the three Belleville Bulls selected in the first round of the '89 draft.
We both smiled at the memory, or maybe half-smiled.
And as Paul Harvey used to say, "Now you have the rest of the story."