If you believe the rumour mill, a year ago at this time the Ottawa Senators balked at the idea of trading Cody Ceci for Jonathan Drouin, valuing the then-22-year-old defenceman more than a potential star forward. Now, I don't know if I buy that — while NHL teams do usually overvalue their own drafted players, they don't regularly scoff at offers to pick up players like Drouin.
Even if that rumour isn't true, though, it does seem like the Senators have placed a little too much value in Ceci. The reasoning behind it is understandable: Ceci is six-foot-three, skates extremely well, and had a great junior career in his hometown, which happens to be Ottawa.
And yet, in his fourth season in the NHL, Ceci doesn't seem to be making any sort of progress as a top-four defenceman, and in some ways looks to be regressing compared to last season.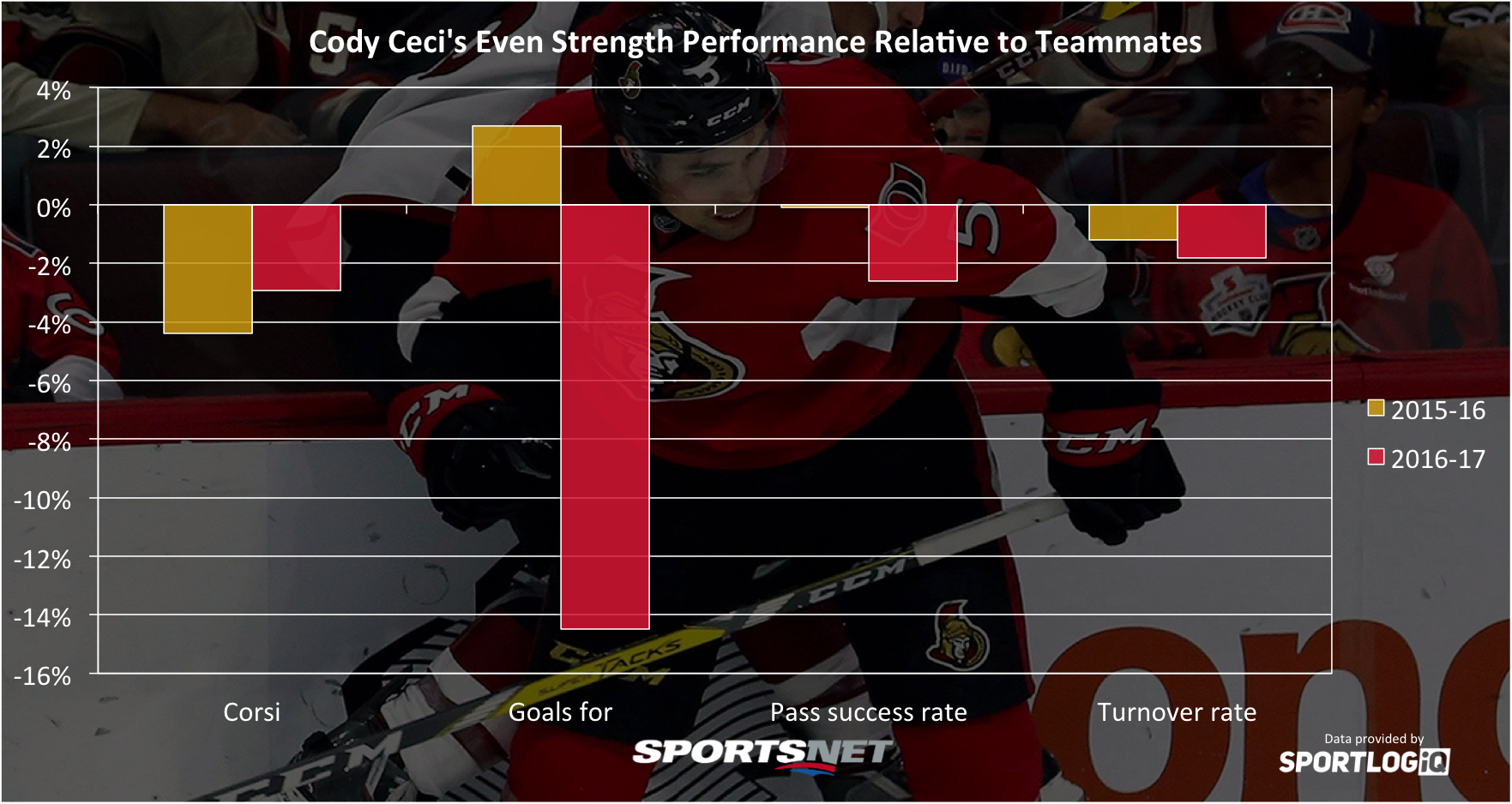 Ceci has made minor improvements in his on-ice shot differential relative to his teammates, but has seen his on-ice goal differential plummet through the floor of replacement level.
Part of the reason for Ceci's drop in relative goals for has been a poor PDO, but his play is part of the reason the percentages aren't going in his favour. Specifically, he has gone from being slightly below team average in terms of pass completion and turnovers, to way above team average.
A half-season's worth of games isn't enough to say his current play is the new normal, but his performance level hasn't been up to snuff for a player who is supposed to be part of the future core of the Senators.
It may be tempting to blame some of Ceci's struggles this season on his partner, Dion Phaneuf, who has been on a steep decline for a number of years, but it's actually Phaneuf who looks to be the superior player when the two are split up.
What's most worrying about Ceci as a prospective top-four defenceman is that Ottawa's defence isn't very good to begin with. Erik Karlsson is the best defenceman in the NHL, but outside of him, the group the Senators have is among the worst in the NHL. To be below team average in a group like that is a huge red flag, and time is running out for the 23-year-old Ceci to go from developing to developed.
The book isn't closed on Ceci yet, but if the Senators fall off in the standings and decide to become sellers, he may net a nice package from a team looking more for promise than performance. It's something Ottawa should consider.