The temptation is there. Within the Toronto Maple Leafs front office it's likely bordering on something near a compulsion: We must trade Dion Phaneuf or Phil Kessel—and ideally both—before the 3 p.m. Monday NHL trade deadline.
I'm here to say don't do it. This is not the time to shed the Leafs' best forward and best defenceman.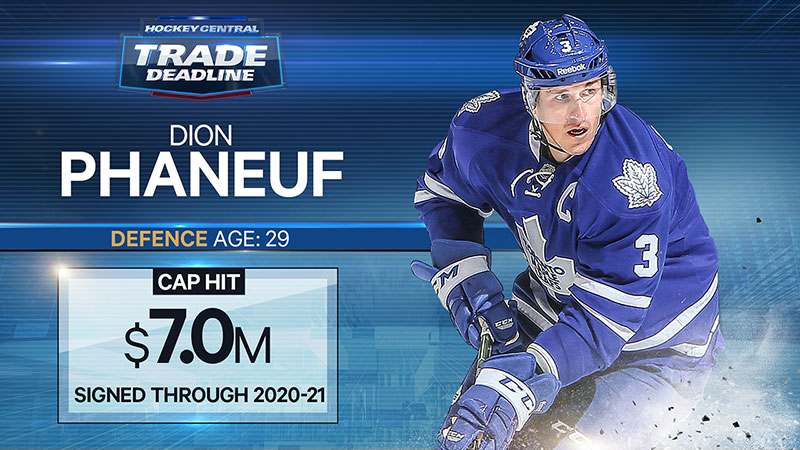 The reason is simple: The Leafs don't know if they're going to draft Connor McDavid yet, and won't until the NHL draft lottery is held after the regular season ends.
Drafting McDavid could change everything, including the potential roles for the likes of Phaneuf and Kessel. At the very least their value doesn't diminish between now and then.
The case for getting rid of the pair is obvious: They are symbols of a maddening, bloated, rotted present and relics of a failed past, full of wrecked transport trucks and seasons that start out full of promise before crumbling under the weight of their own analytics.
Both are veteran players in their mid-primes that are on long and expensive contracts. Even if they weren't tainted by the Leafs' recent rot it would be reasonable to wonder what use they would have on a team that is staring at a rebuilding process that could stretch on for four or five years.
But trading one or both of them now could prove to be a significant mistake.
The single biggest determining factor in the short- and long-term future of the Leafs isn't what happens at the trade deadline, but what happens when the ping pong balls settle at the NHL draft lottery.
As it stands, the Leafs have a 9.5 percent chance to land the No. 1 overall pick that will almost certainly be the Erie Otters phenom.
If the Leafs' number comes up, their rebuild could be on a much faster track than could otherwise be expected.
For good reason McDavid is hailed as a generational talent. When Sidney Crosby was in his draft year, he rolled up 2.71 points per game in the regular season for the Rimouski Oceanic. This season in Erie—despite missing six weeks with a hand injury—McDavid has averaged 2.61 points per game in what is typically considered a tougher, deeper league.
McDavid got his hand out of a cast and helped lead Team Canada to World Junior gold over the holidays. As a double under-ager at the U18 Ivan Hlinka tournament in the spring of 2013, McDavid put up numbers that surpassed what Crosby managed as a 16-year-old or John Tavares did as a 17-year-old. He was—arguably—better, younger than anyone has ever been.
It's not for nothing that Leafs fans, management and ownership hope and pray that they are lucky enough to draft McDavid. A player of his pedigree changes everything. It changes everything so drastically that trading Phaneuf and Kessel now—before the trade deadline—makes no sense.
Players like McDavid can turn a franchise around far faster than any carefully crafted rebuilding plan.
As a rookie in 2005-06, Crosby scored 102 points on a team that finished last in its division. The next season the Penguins were in the playoffs and Crosby won his first scoring title and his first Hart Trophy. A season later and the Penguins were in the Stanley Cup final.
It's sacrilege to compare anyone to Wayne Gretzky, but McDavid deserves to be in the conversation based on his resume to date. Like Crosby, No. 99 reversed the fortunes of his woeful team at lightning speed. The Gretzky-led Oilers were under .500 for his first two seasons before turning into a 111-point juggernaut in year three, a precursor to their dynasty years.
Great players change things quickly. Alexander Ovechkin scored 65 goals, won a Hart Trophy and earned the Washington Capitals a division title in his third season. Steven Stamkos helped the Tampa Bay Lightning to the conference finals in his third year.
Perhaps a warning sign for what happens when an elite talent is drafted into a truly hopeless environment is the struggle Mario Lemieux had trying to lift the lifeless Pittsburgh Penguins early in his career. The well in Pittsburgh was so dry that Lemieux only enjoyed one winning season in his first six, but talent is talent: in year seven he led the Penguins to the first of two consecutive Stanley Cups.
But with more help, perhaps Lemieux and the Pens could have won bigger, sooner.
All of which isn't to argue that the Leafs should be forever married to Phaneuf or Kessel. Their roles as the foundation pieces of houses with leaky basements and walls that curve shouldn't be overlooked.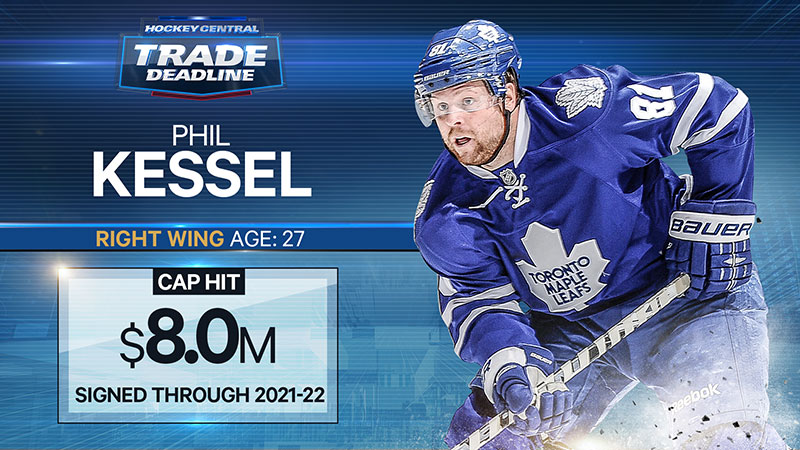 But their biggest failing isn't that they aren't quality NHL players; it's that they've failed in their role as franchise players.
There's only a 9.5 percent chance that the Leafs will get their hands on a player like that this summer. But should the heavens part and the hockey Gods decide it's time for five decades of Leafs' misery to end, the more quality NHL talent around McDavid the better.
The Leafs' most crying needs are a true No. 1 centre and an elite defenceman. By far the brightest spot in an otherwise miserable season so far is that, at age 20, Morgan Rielly is showing signs that he might be the kind of minute-hogging, puck-lugging defenceman that the rest of a blueline can be built around.
McDavid would obviously fill the Leafs' gaping hole up front.
It would be a shame for the Leafs to empty the cupboard of useful talent, just as the star talent they have long needed is finally in house.
Phaneuf and Kessel are on the trading block because they're part of the Leafs' failed past. But trading them before the deadline—and, more importantly, before they know if they have a chance at drafting McDavid—could mean pushing their future further out than it needs to be.