ST. LOUIS – Wearing a red Flames fleece as she pieces together a snack platter for a guest in her immaculately kept kitchen, Chantal Tkachuk proudly points to The Album.
Sitting alone on a spacious granite island with the name "Matthew" embossed on the front, it contains close to 100 priceless photos that shed light on the person and player their oldest son has become.
Many aspiring hockey players spend their youth dreaming of the day they'll walk into an NHL dressing room. Matthew Tkachuk literally grew up in one, as did his younger sibling Brady.
The Album is filled with proof of their lifelong association with a league their father, Keith, played over 1,000 NHL games in. His career opened the door to a world that helped teach both youngsters how to conduct themselves, not mention how to play the game. It also gave them keepsakes and memories they'll forever cherish as the two beaming brothers are pictured in NHL dressing rooms with a who's who of hockey over the last handful of decades.
At various ages in their childhood, there they are wearing gap-toothed grins bigger than their dreams, while nestled in the arms of everyone from Gordie Howe, Mark Messier, Mike Modano, Joe Sakic and Brett Hull to Chris Pronger, Scott Niedermayer, Rick Nash, Vincent Lecavalier, Roberto Luongo, Steven Stamkos, Jonathan Toews and Patrick Kane.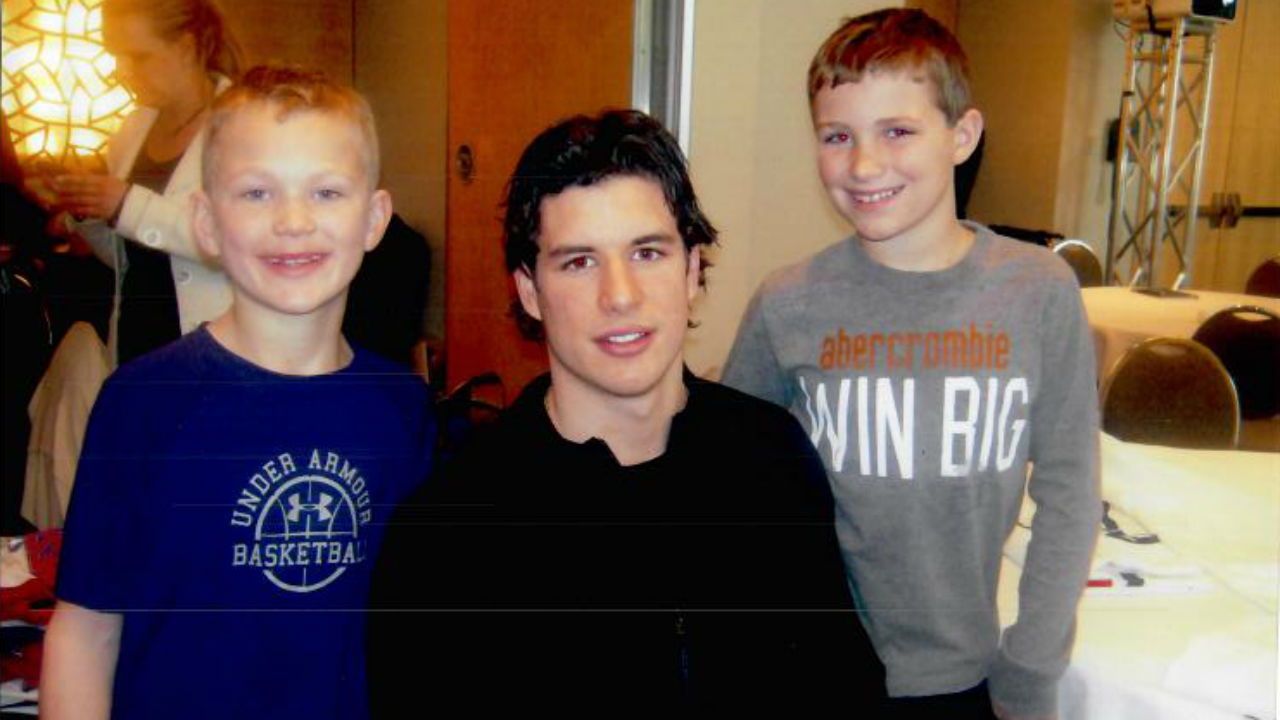 "They were young, so what they would do is terrorize the room," said dad Keith, now 46, who took every opportunity he could to expose his two sons to his hockey brethren. "They would go in and the first thing every kid does when they go into an NHL dressing room is they know where the gum is. They would take it, eat it and leave the wrappers like every other kid would.
"Then they'd play mini sticks. They met so many great players when they were younger by coming down to the rink that it doesn't faze them. I mean, they respect everybody and respect the game, but I don't think it fazes them when they walk into a rink or a dressing room or are in pre-game skates and looking at the crowd."
Matthew acknowledges his experiences at the rink and with the game's biggest stars throughout his life do well to explain how easily he and Brady have adjusted to every new level, including the NHL where both debuted right after being drafted as teens.
Heck, in just his second NHL game Brady scored twice and added a helper for his Ottawa Senators Wednesday night while a large family gathering cheered wildly in their St. Louis home.
In town for his Flames showdown with the Blues Thursday night, Tkachuk illustrated perfectly just how much he learned from dad by inviting the Flames' roving support staff, trainers, doctors and a few young teammates to his home for dinner and plenty of laughs while watching Brady's breakthrough.
"You really can learn so many life lessons along the way in that dressing room as a youngster," said Matthew, 20, recently awarded alternate captaincy for being the ultimate team player, much like his dad. "For example, from an early age I learned how you were supposed to treat the trainers and your teammates and what team camaraderie is supposed to be like.
"My dad was obviously an unbelievable person and player and a lot of people loved being around him. He was a fun guy. It allowed me to see how guys were around him and how he treated people – the trainers, his teammates and the media. In school or how I treat people now at the rink stems from life lessons learned at a young age."
Not many kids grew up hanging with a neighbour like Bobby Orr at their summer home in Cape Cod, or with a team trainer in Phoenix (Stan Wilson) who changed his diapers while dad practiced.
"When Matthew was a toddler the only time he'd sit down and really be engaged with something was when he would be watching the Teletubbies or hockey," laughed Chantal, who wrote "Welcome Home Matthew" on the kitchen chalkboard, complete with a heart.
"It was like my babysitter to send them to the rink with Keith. Jim Schoenfeld would put a helmet on him and let him sit on the bench and he'd stay there the whole time watching practice. Joel Quenneville did the same. We were lucky.
Armed with the gift of gab from his father, Matthew has become one of the best interviews on the Flames.
His ability to read games, agitate opponents, swing momentum and dominate at times with his skill and physicality all stem from knowing the game's nuances inside out. Being a rink rat paid off.
Matthew thinks the world of his photo collection, praising his mom for capturing the type of pics that would be once-in-a-lifetime moments for many.
With itty-bitty Brady almost always by his side, he's got photos as a youngster with Jarome Iginla, Evgeni Malkin, Shane Doan, Dany Heatley, Zach Parise, Joe Thornton, Shea Weber, Zdeno Chara, Ryan Getzlaf and Daniel Alfredsson.
Some of his most prized pictures are with Sidney Crosby, Alex Ovechkin and Evgeni Malkin.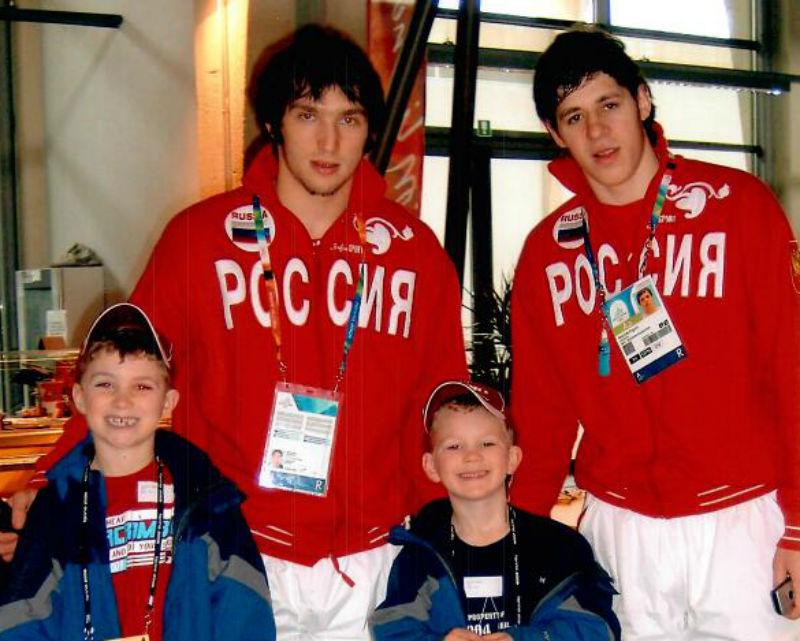 The long list also includes baseball players like Albert Pujols, David Ortiz, Coco Crisp and Tony La Russa as well as renowned weatherman Al Roker, several Olympians and even an autographed pic of Ronald McDonald.
Moms.
He was always comfortable meeting his heroes in a setting he felt at home in – an environment he thrives in as one of the game's best young players. Brady doesn't appear to be far behind.
"I understood how cool it was going to be years later to have pictures with the famous athletes at NHL or Major League Baseball all-star games," said Tkachuk whose family was afforded unfettered access to some of the world's biggest athletes who came through town, played in all-star games he attended or even the Olympics his dad played in.
"To see how many cool pictures I have looking back with Gordie Howe or the one with David Ortiz – those are two of my favourite athletes. Even back then I was thrilled and excited to be taking those pictures. I wasn't complaining – maybe Brady was."
The sibling rivalry continues
For years Matthew had the 8 x 10 keepsakes all over his bedroom walls in suburban St. Louis before a family move to a nearby neighbourhood prompted Chantal to put them in the book.
Even on this day a flip through it prompts Keith to snap pictures to send playfully to former teammates.
"When I was growing up the four jerseys I had up in my room were Ovechkin, Tom Brady, Crosby and maybe a Malkin, all signed," said Matthew, whose bedroom wall now includes the Brady jersey and an Entourage poster.
"I still think, because we don't play them as much, it's still crazy for me to lineup against Crosby and Ovechkin. I'm kind of used to it now, but playing against them two times a year still gets me pretty juiced up."
Keith knows the feeling.
"It's like when I first played against Wayne Gretzky and Mario Lemieux – I'm like, 'are you kidding me right now?'" chuckled the Blues scout, who delighted in watching his daughter, Taryn, play varsity field hockey alongside Matthew Wednesday. "You just want to rub up against them and hope somebody took a picture. I think Matthew is the same with Crosby too."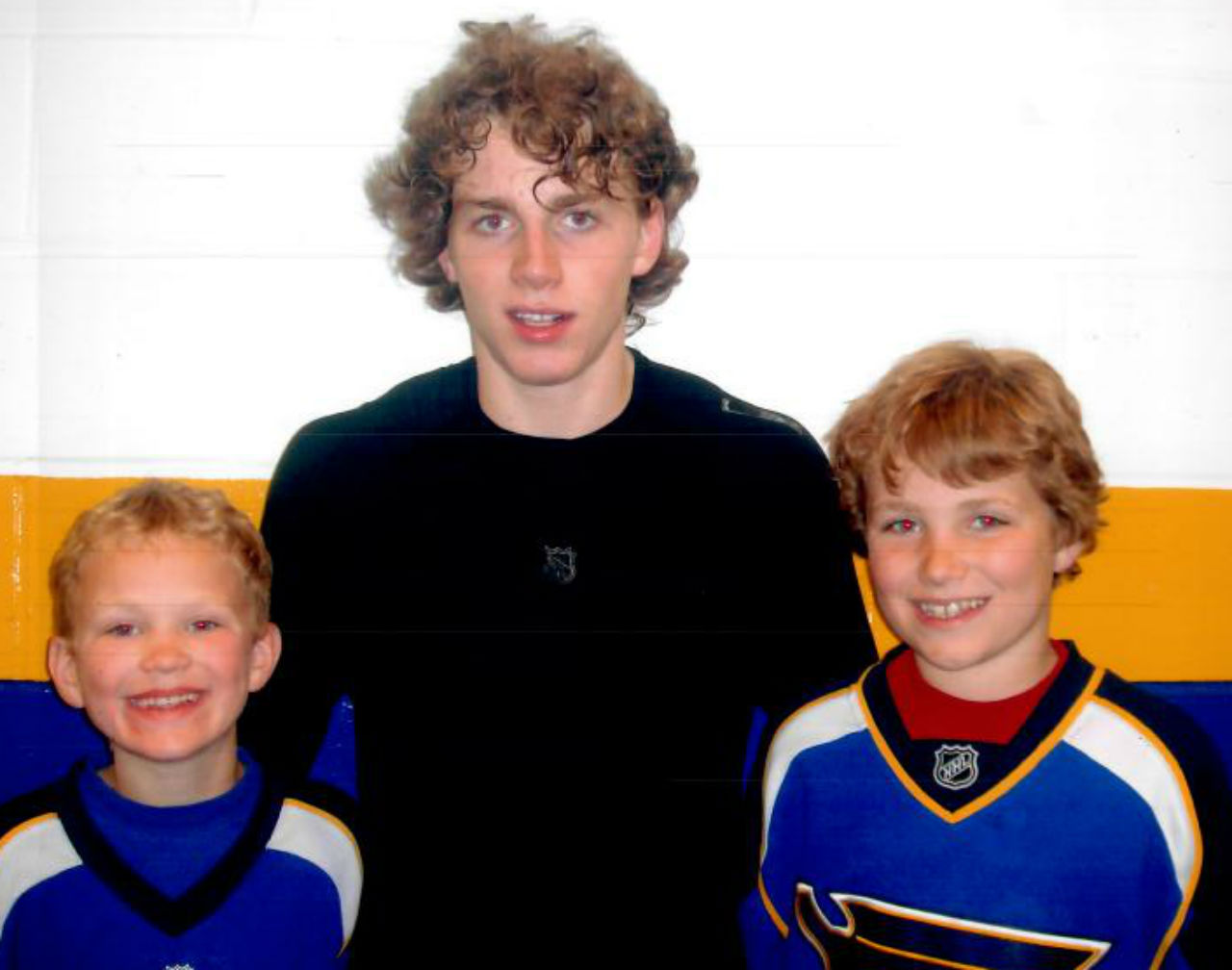 Is there anybody left he hasn't been pictured with?
"Tom Brady and LeBron (James) are two of my favourite athletes, but I can't picture running into them just yet," said Tkachuk, who still collects mementos from current players.
"Those are probably the only two on my list left to grab. If I run into them down the road I'll get one."
On the ice and off, his knack for running into people continues.