On Wednesday, the Chicago Blackhawks announced that they have signed Jonathan Toews and Patrick Kane to eight-year extensions with identical $10.5-million cap hits beginning in 2015-16. These represent healthy raises over the $6.3-million cap hits the two will carry for the 2014-15 season. It's a lot of money. But is it worth it?
#8MoreYears pic.twitter.com/vBpiOVOMBW

— Chicago Blackhawks (@NHLBlackhawks) July 9, 2014
For the purposes of this piece (which is subject to draconian word limits), I'll take a look at the Jonathan Toews contract. Toews is a first-line centre and, presumably expected to be one for the life of this contract, which covers his seasons from age 27 to 34. He might be slowing down by the end but it's certainly not an unreasonable expectation to have.
The first question you need to ask yourself is what a first-line centre costs. I took a stab at identifying each team's top pivot for the 2014-15 season, which I've summarized along with their cap hits for 2013-14, 2014-15 and 2015-16.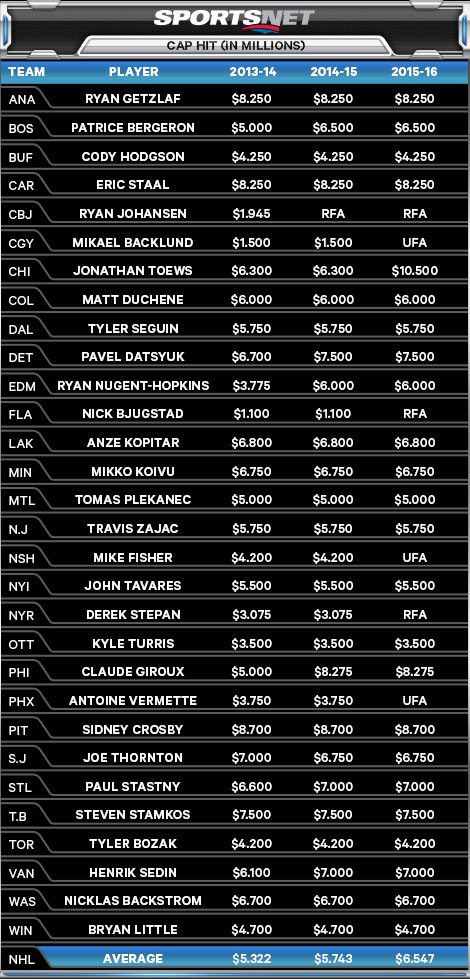 We can quibble about who a team's first-line centre will be in some cases—with Mike Fisher injured, Nashville's best remaining option might be Seth Jones—but it shouldn't change the numbers too much. The average salary will come down a bit for 2015-16 once some of the unsigned players sign contracts but it's likely going to be north of $6 million.
Patrick Kane and Jonathan Toews will each receive signing bonuses of $7 million and salaries of $6.8 million for 2015-16 season #Blackhawks

— Chris Kuc (@ChrisKuc) July 10, 2014
As an aside, it's interesting to note that Toews will make about $600,000 more than the average team spends on its top centre in 2014-15. When he and Kane signed their contracts after Chicago's Stanley Cup win in 2010, they were big-money deals that forced the Hawks to endure some short-term pain. Now? About 10 percent above the average price for a centre. One of the things to remember with long contracts for stars in their prime is that the contract gets closer to the league average for players in first-line roles with every passing year.
In light of this, we can say that Toews has to be worth $4.5 million more than the average first-line centre in order to be worth his money in the first year of his deal. Hockey, unfortunately, does not yet have a stat like Wins Above Replacement (WAR) in baseball that distinguishes a player's contributions and makes it easy to put a dollar value on them. But what we can do is look at how the average team performed when one of the first-line centres identified above was on the ice and how Chicago performed when Toews was on the ice.

Toews played 1128.4 5-versus-5 minutes last season. What I've done is taken the average shots-for percentage and goals-for percentage for all first-line centres and looked at how they would have done in terms of shots for and against over the minutes that Toews played. It is pretty telling.
The swing in terms of shots is huge. When Toews was on the ice last year, Chicago got 58.6 percent of the shots. The average No. 1 centre saw his team get 51.8 percent. Now, you can argue that Toews plays with better players and that Chicago has a better defence, but the SF% Rel column, which looks at how Chicago did with Toews on the ice compared to when he wasn't, suggests that Toews made a great team better than the average first-line centre who, by definition, plays on the average team. It should be harder to have a noticeable impact on a great team, but the impact that Chicago saw when Toews was on the ice is quite large.
Unsurprisingly, a bigger edge in shots turns into a bigger edge in goals. The average top pivot with Toews's 5v5 time on ice would be plus-10; Toews was plus-20. As a rule, a 2.5- to 3.0-goal difference is worth an extra point in the standings, so you can reasonably conclude that the Blackhawks with Toews on the ice earned an additional three or four points over what they would have earned with an average first-line centre on the ice, just at 5v5.
Toews probably gets to play with better players than the typical No. 1 centre, so some of the credit for that extra goal difference would go to them. But, when we look at how players on Chicago did with Toews on the ice at 5v5 versus without him, he has a significant impact. I've assembled a table of the Corsi% for everyone in Chicago who played at least two hours with Toews last season, it shows how they did with him and without him. Toews comes off pretty well.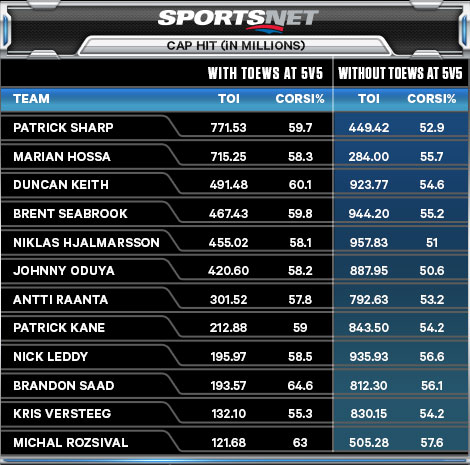 The Blackhawks can quite reasonably assume that Toews is driving a lot of the success they're having when he's on the ice at 5v5. He bumps up the shot attempt share for these players by an average of five points each, which is a lot.
Special teams are a bit more difficult to work through, due to sample-size issues and the fact that it's harder to suss out the impact an individual player has. That said, Chicago's special teams haven't been anything special over the past couple of years, and it's hard to give Toews any particular credit relative to the average first-line centre for them.
Still, if Toews is a world class 5v5 player and an average top-line centre when it comes to special teams, he's an extraordinarily valuable player. And while $10.5 million is a large cap hit, there simply are not a lot of players available who impact the game at 5v5 the way he does. He's certainly worth a premium on what the average No. 1 pivot makes.
It's hard to see this contract as anything but a good one for Chicago. The Hawks will have to spend their money more efficiently elsewhere in the short term—they can't afford any more Corey Crawford contracts—but this looks like a pretty defensible deal. As with most things in life, it's hard to go wrong if you spend for quality.