One of the dominant story lines entering the Eastern Conference final was the goaltending matchup. Although the Bruins series also featured elite goaltending, the shot quality project had questions about Rask's greatness, questions no one has through close to 4,000 shots with Henrik Lundqvist.
Although the Western Conference final is considered by many to be the true Stanley Cup final, any team backed by a Lundqvist or a Price would have a puncher's chance. Of all the goaltenders I have reviewed, they top the list.
Stylistically, Lundqvist takes a deeper approach to the position, something that I delved into in February. That allows for shorter routes to pucks and easier recoveries on backdoor attempts. We can see this in the data sets as Lundqvist maintains a significantly higher save percentage on lateral feeds. Price's more conservative depth makes him more effective on clean looks and his outstanding footwork along the ice made him more effective on rebounds. Essentially they are equals against a league-average workload; Lundqvist edged Price out by .922 to .921.

It was an amazing matchup, almost like an arms race. The Canadiens were able to match the Rangers in goal, so the outcome would be slanted by the skaters. Then Chris Kreider recklessly (not intentionally) put the Canadiens' Cup hopes on life support.
With Price gone and no real replacement available, the Rangers went from a slight to overwhelming favourite. Although the Habs fan base will complain about bad luck, it is generally done with a short memory. It wasn't even five years ago when the Canadiens PDOed their way to a conference final on the back of the unheralded Jaroslav Halak. I personally look at it is the interest charge on the 10 overtime wins during the 1993 playoffs.
Although Kelly Hrudey offered criticism about starting Tokarski and others in the media second guessed it after it failed, the decision was rational and understandable. Michel Therrien has twice gone to Peter Budaj in the past two playoffs following Price injuries and he delivered 29 saves on 39 shots. A small sample, but when measured against the large sample that represents his career, Budaj fails to be even mediocre, delivering one season out of nine above league average.
Even bad goaltenders can get hot, but historically ones as poor as Budaj do not get hot enough to deliver four playoff wins. Knowing how dire the situation was I decided to search history for comparables to see if Therrien had made a drastic mistake. He didn't.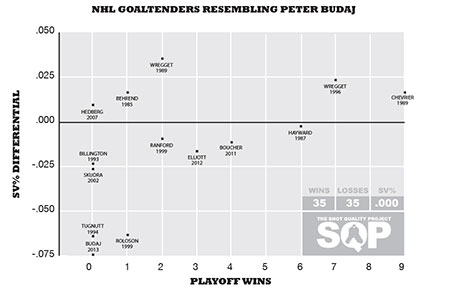 I used saves above average (GSAA) to decipher success rates. That is, "the goals this goalie prevented given his save percentage and shots faced vs. the league average save percentage on the same number of shots. Min. 4 shots faced per team game needed to qualify."
I found 14 goaltenders matching this criteria (including Budaj himself in 2013). Only four managed to win more than four games and as a whole they were .500 with a league-average save percentage. Hayward made the list because of a disastrous 1986 season in Winnipeg. He would go on to register a plus-36 over the next three seasons. The miracle long shot goaltending of Alain Chevrier during the 1989 playoffs represented the ceiling for Budaj-level performance with nine of the 14 failing to match league-average performance in save percentage or more than two wins.
So Therrien was tasked with either tucking his tail between his legs and starting the guy who failed miserably in 2013 or playing on the Canadiens' history of magical miracle rookie goaltending and offering the hope of the unknown, Dustin Tokarski.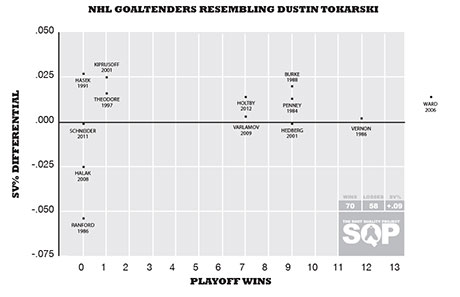 The unknown, the raw rookie-backup has made plenty of appearances since 1984 (this list doesn't include starters, guys like Patrick Roy and Price) and has registered more success than the worn, mediocre backup.
Cam Ward replaced Martin Gerber and won a Conn Smythe Trophy. Mike Vernon took the Flames to the Cup final following two seasons of Rejean Lemelin as a Vezina finalist. Braden Holtby managed to win seven games just two seasons ago in Washington. The Canadiens have used this trick many times, so it shouldn't be a surprise that this list contains Steve Penney and his miracle 1984 run to the Conference final as well as Jose Theodore in 1997 and Halak, who came up short against the Flyers in 2010. The untested rookie backups went 70-58 and were plus-.09 greater than league average.
Franchises traffic in hope and although not many people are going to review the past 30 years of playoffs, the Canadiens' history is littered with rolling the dice on rookie goaltenders in the playoffs. The fans are fully aware of Ken Dryden, Penney and Roy. Toss in the seamless job of mentioning that Tokarski is a "winner guy" (Telus Cup, Memorial Cup, world juniors and Calder Cup, something Hockey Night in Canada repeated 30 times) and glossing over the fact he's an undersized mid-tier prospect who through 6,500 professional shots has registered essentially league average results (.911 to .912 save percentage), and hope is temporarily restored. Therrien played his hand brilliantly and even if Montreal is alive only for another four or five days, it was more than what existed after the news of Price's injury hit Twitter.
There is historical precedence here, but when such stories are written, they generally don't include the league's best goaltender standing in the other crease. "The King" is a nickname Lundqvist has earned, the data shows that he is no paper lion. If the Canadiens can replicate their game-two performance and outplay and outpossess a Rangers team that dominates them in that category, Tokarski won't even have to match Lundqvist. Then maybe the city of Montreal will need that riot-police budget in a couple of weeks after all.