Welcome to Sportsnet's top 100 NHL players of the 2018–19 season.
We didn't arrive at this list overnight. In fact, we started work as soon as Alex Ovechkin and Co. lifted the Stanley Cup in June. First, we asked 16 of our NHL insiders to rank the top 100 players in the league at this exact moment, and then we combined their individual lists to create a definitive master ranking.
The exact formula for what makes an NHLer great — or, more importantly, greater than another — is subjective, and everyone's top-100 list looks different. (Tomorrow we will invite you to create your own top 10 to show us how you think it should really be done.)
But let's make one key criteria clear: This list is about the 2018–19 season — not last season or the next five years. It's about who's the best right now.
On Monday and Tuesday we gave you the first 50 and No. 50 to 31, and the top 10 is coming Thursday.
Today, without further adieu, we give you No. 30 to No. 11:
30. Aleksander Barkov, C, Florida Panthers
Whether he gets the recognition he deserves from fans or not, Barkov is known around the league as an elite two-way centre capable of taking over games on both sides of the puck. The big Finn with the Russian-sounding name was a near-point-per-game player last season, jumping to a career-high 78 points in 79 contests. He also won a career-best 53.51 percent of his faceoffs, and is one of the league's most dangerous shootout options. The 22-year-old will likely be a Selke candidate for many years, and don't be surprised if he comes away with a Hart Trophy if he can lead the Panthers back into the post-season.
29. Roman Josi, D, Nashville Predators
After a disappointing loss in the second round of the Stanley Cup Playoffs to the Jets, the Predators are hoping to make amends. And Josi, the team's captain, must play a big role. Josi's post-season was disappointing as he recorded just four assists in 13 games. But since he finished seventh in Norris Trophy voting, we can probably chalk it up to a poor small sample.
28. Nicklas Backstrom, C, Washington Capitals
Alex Ovechkin wouldn't have already surpassed 600 career goals without Backstrom's help. The Swede has maybe the softest hands in the entire NHL. His saucer passes (both forehand and backhand) are spellbinding. Backstrom finished the 2017–18 campaign by celebrating his first Stanley Cup championship and he'll celebrate again early in 2018–19 when he registers his 800th career NHL point. He's currently at 799 with only Patrick Kane, Evgeni Malkin, Sidney Crosby and Ovechkin ahead of him since 2007–08 — and Henrik Sedin is the only player to register more assists than Backstrom over the same period.
27. Patrik Laine, RW, Winnipeg Jets
Entering that all-important contract year, the Finn with all the finish (and all the confidence) should expect to give 40 goals (50 goals?) another run. Coming runner-up to Alex Ovechkin in the Rocket Richard Trophy hunt in 2017–18, Laine's 44 tucks and 70 points raised his own bar and put the lie to "sophomore slump." With so many other Jets entering contract years and a purveying sense that they deserved better than a swift exit to Vegas in the Western Conference final, an extra dose of pressure will be on Laine and the Jets to deliver this winter.
26. Jamie Benn, LW, Dallas Stars
Benn is the backbone of a Dallas Stars squad that also boasts some serious fire power in Tyler Seguin and Alex Radulov. Since becoming the Stars' captain in 2013, Benn has been the team's most reliable player. The six-foot-two winger can hit, pass and score in equal measure. He's coming off a 36-goal and 79-point campaign, which is impressive when you consider he fell into a 12-game goal-less drought late in the season. The Stars finished a disappointing sixth in the Central Division and failed to make the playoffs for the second straight year. If Dallas is going to find a new beginning following the retirement of coach Ken Hitchcock, Benn will be need to be at his best all season long.
[relatedlinks]
25. Evgeny Kuznetsov, C, Washington Capitals
Alex Ovechkin was a very worthy post-season MVP last spring, but strip all sentimentality away from the vote and you have to wonder if the award would have gone to Kuznetsov. The Caps' killer centre led all players with 32 points in 24 playoff contests, and the list of active players to record more than 10 goals and 20 assists in a single post-season goes exactly three deep: Evgeni Malkin, Logan Couture and Kuznetsov. And, of course, it was 'Kuzie' who eliminated the Penguins with an overtime tally in Game 6 of the second round. With his flapping-wings celebrations and equally delightful sense of humour, this 26-year-old Russian gem should become one of the brightest stars in the league.
24. Tyler Seguin, C, Dallas Stars
Eight years after the Taylor-Tyler debate ruled headlines, the pair have made it back to centre stage. Amid Taylor Hall taking the spotlight with a Hart Trophy 2017–18, Seguin's own career-best goal-scoring effort got lost in the shuffle. Only six players league-wide potted more goals than the 40 Seguin buried for Dallas last season. And only five have outscored him over the past five years in total — all of which have seen him top the 70-point plateau. He's become Mr. Consistent since he swapped black and gold for Stars green, and don't expect that to change anytime soon.
23. Sergei Bobrovsky, G, Columbus Blue Jackets
What do you make of Bob? Bobrovsky has won the Vezina Trophy twice (2013 and 2017) and been the catalyst in Columbus's transformation from ever-the-doormat to lions in the regular season. The playoffs, however, are an entirely different story. The Blue Jackets have yet to advance to the second round and fingers point at their most valuable player — the last two seasons have been particularly painful with post-season save percentages of .882 and .900, respectively. Bobrovsky, who'll turn 30 just before the start of the season, is in the last year of a four-year $29.7-million deal. Another Vezina-calibre season would have him hitting the market as a free agent and looking at Carey Price money.
22. P.K. Subban, D, Nashville Predators
His effectiveness as an NHLer can sometimes get lost in all the talk about his larger-than-life personality, but Subban is a superstar worthy of accolades. The 2013 Norris Trophy winner can put up points with the best of them (he had 59 last season, eighth among blue-liners), and is elite at transitioning from defence to offence. The 29-year-old can play in all situations, and with a variety of partners. The Nashville Predators boast arguably the league's best defence corps, and often used Subban to carry his own pairing in 2017–18 with the at-times sluggish Alexei Emelin. He might occasionally get overshadowed by team captain Roman Josi, but Subban's exploits for the Predators will ensure the team can compete for a Stanley Cup in the years to come.
21. Steven Stamkos, C, Tampa Bay Lightning
Even when teams know the Stamkos one-timer is coming at them on the power play, the guy still often beats them. It's basically a bullet. The elite sniper — one of only two active players, along with Alex Ovechkin, with a 60-goal season under his belt — is a key piece on a team that has locked up even more of its future with the long-term signing of Nikita Kucherov. With only one even-strength goal in 17 playoff games this past spring, however, Stamkos's post-season production will need to spike if this core can break through and win a Stanley Cup.
20. Brent Burns, D, San Jose Sharks
A special breed of defenceman — and human — Burns can do it all as one of the most versatile players in the league. The bearded blue-liner is a must-watch every time he's on the ice, a rare combination of power and finesse that can barrel you over at the blue line one minute and navigate the perfect Bobby Orr-inspired end-to-end rush the next. In addition to being a mainstay in the Norris conversation — he finally took home the trophy in 2017 — he's also had his name tossed into the ring for the Hart and even the Art Ross while stringing together four straight healthy seasons without missing a matchup. Though the Sharks' core is starting to age, their Stanley Cup window is still wide open, and another strong year from Burns will help keep it that way.
19. Blake Wheeler, RW, Winnipeg Jets
If you want a lesson in hockey how-to, watch Wheeler — class is always in session when the Jets captain is at the rink. In addition to being a strong leader in a dressing room filled with young stars, the elite playmaker is one of the finest passers in the league, setting up lucky linemates with perfectly placed saucers every shift. The winger's career-high 68 assists on the season — 20 more than last year's total — led the entire league in 2017–18 and helped him claim the team's scoring lead, too, as he broke the 90-point plateau for the first time. Now, if a second straight Cup run isn't motivation enough, Wheeler is also entering a contract year — that is, if Jets GM Kevin Cheveldayoff doesn't lock him up to an extension first.
18. Patrice Bergeron, C, Boston Bruins
Bergeron survived a series of concussions early his career, but the fear of sustaining another hasn't stopped him from becoming one the best two-way players in hockey. He's won the Frank J. Selke Trophy four times. He missed time last season recovering from a sports hernia and broken foot, but still managed to post 63 points in 64 games — the best per-game pace of his career. When healthy, Bergeron is a force, and he and his wingmen — David Pastrnak and Brad Marchand — will once again be among the most dangerous lines in hockey this year.
17. Brad Marchand, LW, Boston Bruins
One of the game's most intriguing redemption stories, Marchand's transition from super-pest to elite scorer has been a game-changer for the Bruins. He's always had that dynamic, highlight-reel touch, but a shift away from the extracurriculars has significantly altered the complexion of the Bruins' attack over the past two years — both 85-point efforts from Marchand. He upped the ante once again in 2017–18, hitting that total in just 68 games. Though he heads into the twilight of his career, the 30-year-old appears to just be hitting his stride offensively — a crucially important, if unexpected, turn of events for an aging Boston roster.
16. Auston Matthews, C, Toronto Maple Leafs
A transcendent Calder Trophy–winning season for Matthews gave way to somewhat of a mixed bag in his sophomore campaign. On any given night, he was still capable of his usual display of skills — with 34 goals in Year 2, his goals and assists per game actually spiked up. But he missed 20 games in his second trip through the league, due to a concussion and injuries to his back and shoulder. More troubling, though, was the end of Matthews's season: Almost no impact against the Bruins (a goal and an assist in seven games) and then an apparent disenchantment with coach Mike Babcock. Despite maintaining that their relationship was rock solid, Babcock went to Arizona in the spring to clear the air. With the arrival of John Tavares, it stands to reason that Matthews might benefit from some better match-ups but, at the same time, there's only so much power-play ice time to go around.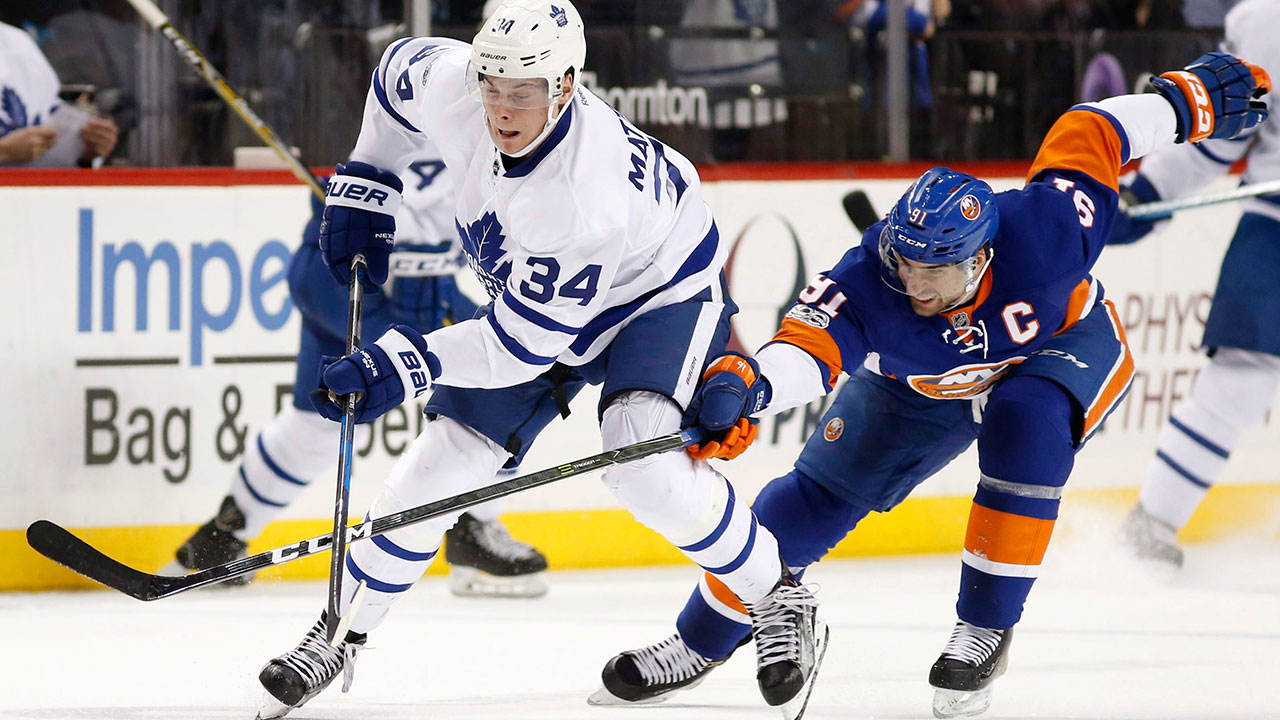 15. Claude Giroux, LW, Philadelphia Flyers
The Flyers captain is back in top form. After a shift to left wing, Giroux was one of just three players to eclipse 100 points last season. With the return of his good friend James van Riemsdyk, Giroux remains the centrepiece of a team with a good core of young talent and a seemingly bright future. His playmaking and passing ability is among his greatest assets, but if you leave him open for a shot, he'll burn you. He was somehow slightly overlooked considering all his production last season, but if the Flyers can more than squeak into the playoffs, and get past the first round, Giroux will garner the attention he warrants as one of the best. 
14. Patrick Kane, RW, Chicago Blackhawks
Until last year, the Blackhawks hadn't missed the playoffs since 2008 when Kane was a rookie. Sure, Chicago suffered injuries and saw its depth erode, but it's probably no coincidence that Kane failed to produce at a point-per-game clip for the first time since 2011–12. That said, a down year from Kane is still a career year for most as he put up 76 points in 82 games — the third year in a row he played a full slate. He's 29 and should still have plenty of good hockey ahead of him, but Kane could use a little more talent around him. Without a monster season from Kane, the Hawks are probably in big trouble.
13. Mark Scheifele, C, Winnipeg Jets
Scheifele led the 2018 playoffs with 10 even-strength goals despite not competing in the final series. Only nine players have averaged a point-per-game or better over the past two years and the Jets' No. 1 centre is No. 7 on that list. Now consider the list stops with Scheifele's right winger, Blake Wheeler, and that the left winger on Winnipeg's top unit, Kyle Connor, scored 31 goals as a rookie last year and you see the potential for even more fireworks in Scheifele's age-25 season. With an insatiable appetite to improve and perhaps the most team-friendly contract in hockey (a hit of just over $6 million for the next six seasons) Scheifele is the most important long-term figure on a team with legit Cup aspirations.
12. John Tavares, C, Toronto Maple Leafs
The bane of Islanders fans' existence and the source of Maple Leafs fans' summer elation now has the opportunity to set highlight reels ablaze with projected wingman Mitch Marner, the Leafs' leading scorer and one of the premier passers in the game. Toss in the fact that opposing coaches will also need to game-plan against the Auston Matthews and Nazem Kadri lines, and Tavares — one of the most naturally driven athletes in the sport — may even be able to build on 2017–18, when he threw up a career-best 84 points. Those who question the homecoming king's foot speed should also consider his underrated shot (37 goals last year), the fact he hardly commits penalties, and his excellent work in the defensive zone.
11. Taylor Hall, LW, New Jersey Devils
Not too many skaters can routinely pull off high-level skill plays at the blistering speed at which Hall operates. The top-tier left winger set a career high with 39 goals and 93 points in 76 games this past season, resulting in his first Hart Trophy. He isn't going to garner Selke talk anytime soon but he's a threat in the offensive zone on most shifts regardless of who his linemates are. He had a ridiculous 41 more points than his next closest Devils teammate in 2017–18.