Every year, there is at least one "Will the Toronto Maple Leafs get (insert player here)?" storyline.
This year's player is Brad Richards Steven Stamkos John Tavares.
You can groan about it all you want but you know this is going to get talked about until Tavares signs somewhere, even if that place is in Long Island, or wherever the Islanders play now. Brooklyn?
And if you're a Leafs fan, you're definitely going to have this conversation with someone, even if that someone is yourself in your own head. It's all hypothetical so you need to have an open mind. Have some fun!
Let's weigh the pros and cons of the Leafs signing Tavares. First of all…
DOES THE MONEY MAKE SENSE?
Out of all the predictions I've read for Tavares' contract, very few of those guesses have him making less than $10 million per season. Can the Leafs, or any team, justify that price?
Tavares is coming off a season with 37 goals, 47 assists, and 84 points in 82 games. He has posted eight consecutive seasons of 0.85 points per game or higher and just went above a point per game for the third time. He's arguably a top-10 centre in this league, imagine what he could do to second-pairing matchups while Auston Matthews tears it up, or vice versa.
Typically, teams overpay in free agency. Tavares likely wouldn't be any different. But you're getting a money-in-the-bank performer with Tavares. You're trusting him to not just be great but to also elevate the players around him. The Islanders goalies couldn't catch a cold this past season but one thing that team knew how to do was score.
It's a lot of money to spend on a maybe but Tavares is no maybe.
CAN THEY AFFORD HIM NOW?
Ah, the salary cap. Remember when you could just talk about hockey like "I hope my team signs everybody!" Now you have to be a chartered accountant.
But seriously, how do the Leafs, a team that is consistently right up at the salary cap, going to afford a bona fide star like Tavares?
Well, here's one way…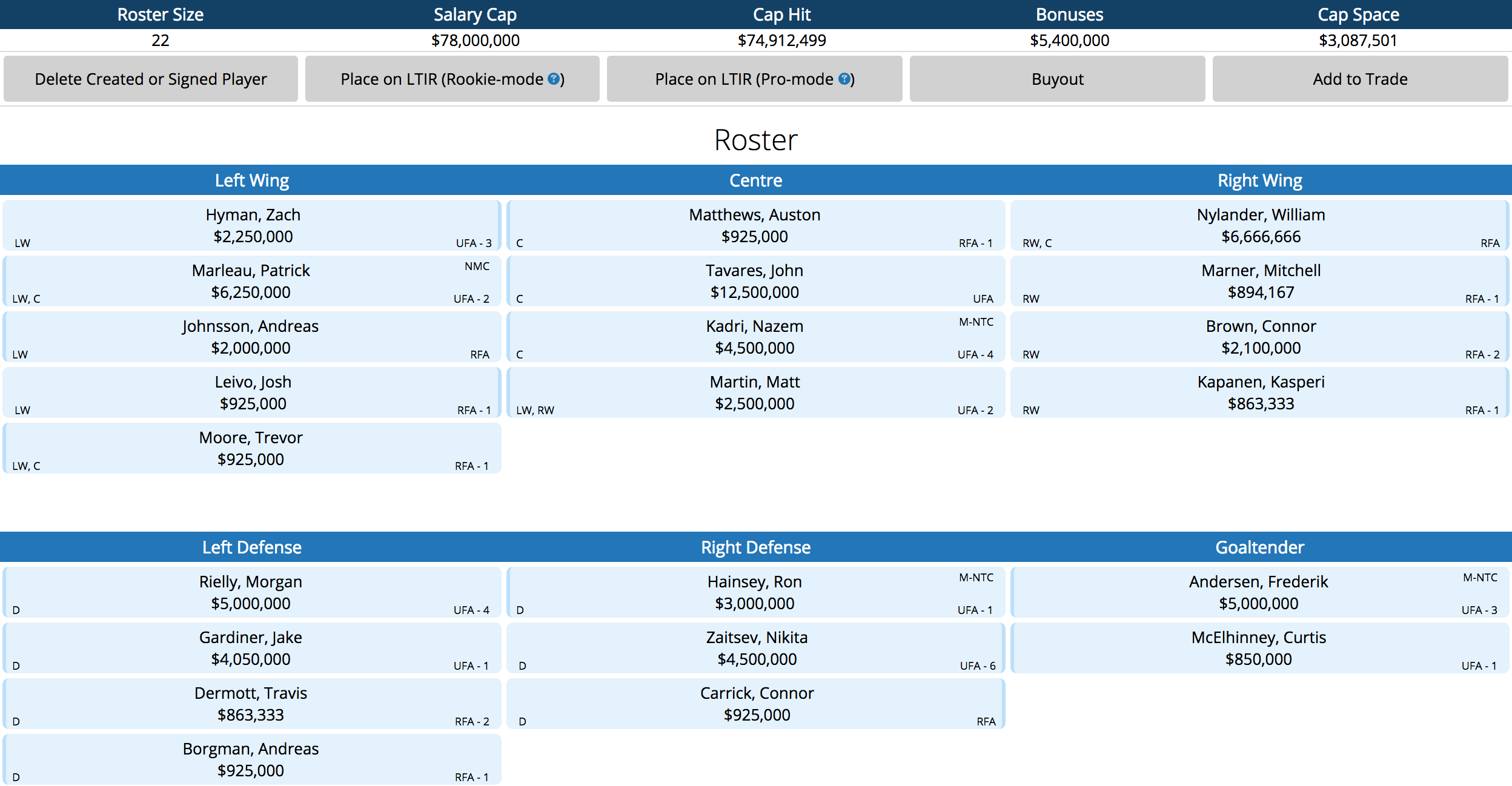 This is my 2018-19 Leafs roster that I made on CapFriendly.com's Armchair GM mode.
You'll notice a few things right away:
The theoretical salary cap is $78 million, up from this season's $75 million.
None of James van Riemsdyk, Tyler Bozak, or Leo Komarov have been re-signed.
Tavares' cap hit is $12.5 million for the next seven seasons. That's Connor McDavid's cap hit.
William Nylander was re-signed to David Pastrnak's contract, which is six years with a $6.67-million cap hit.
Andreas Johnsson was re-signed to $2 million for the next four seasons.
Connor Carrick was re-signed to $925,000 for one year.
Matt Martin is the fourth-line centre, which is dumb.
Trevor Moore makes the team as a spare forward. Don't get too caught up in the name, let's just say a rookie with roughly that cap hit.
Obviously Martin won't be their fourth-line centre. He might not even be a Leaf next season at all. Ignoring the name, the Leafs could, in theory, pay their fourth-line centre $2.5 million and still have about $2 million in cap space if the salary cap is only $78 million. It could be even higher at $80 million.
There are a lot of ifs here. Do any of these guys get traded? For who? How accurate are the Nylander, Johnsson, and Carrick extensions?
Even if I'm off a bit, I doubt it's by much. The Leafs can probably afford Tavares in 2018-19. The issue is…
CAN THEY AFFORD HIM LATER?
If Tavares is signed to the deal I proposed, which is expensive and probably higher than it will end up being, the Leafs will have roughly $25 million to re-sign RFAs Matthews, Mitch Marner, and Kasperi Kapanen, just to name a few, for the 2019-20 season and onward.
The other issue is that Tavares will likely be a star talent in this league for a few more years but for how long? He'll be 28 when next season begins. Will he still be a $10-million player in four years? Five years? Six? Seven? The salary cap will likely go up, but if his value plummets due to age, injury, or both, that could be costly for years to come. He's already had one major injury from the Sochi Olympics.
The Leafs' strength is in their youth and that strength is primarily on the wing. Will they have to move some of their young wingers at some point to make room if Tavares is signed?
WHAT DO THE LEAFS WANT TO BE?
Let's say Tavares' Leafs contract and Matthews' new contract add up to about $20 million. Add in Nazem Kadri and whoever the Leafs' fourth centre is, the Leafs would be spending roughly $26 million on four centres. For reference, the Pittsburgh Penguins pay just over $23 million against the cap for the foursome of Sidney Crosby, Evgeni Malkin, Derick Brassard, and Riley Sheahan.
That being said, Matthews, Tavares, Kadri, and who cares would give the Leafs one of the best lineups of centres in the league.
The issue then is how you spend money on anything else. Andersen is locked up for a bit so goaltending is fine. Some talented young wingers will need raises. How about addressing the defence? How's that going to happen?
Centres like Tavares can make decent wingers good and good wingers great. Ideally, the star power of Matthews, especially as he gets older, will do the same. This should allow the Leafs to save money with several low-cost or entry-level contract wingers. The wing should be the easiest position to draft. Many players drafted as centres end up being great wingers anyway. Saving money on the wings could allow the Leafs to sign Tavares and maybe even address the blue line, as well.
But these are all numbers.
WHOSE TEAM IS IT ANYWAY?
Matthews is the Leafs' best forward. At the rate he's going, he might just end his career known as the best Leaf of all time. Many think he could be Toronto's next captain as early as next season.
And the Leafs are going to sign the captain of the Islanders to a big-money deal in his prime?
Who would become the captain? Who would be the locker room's leader? Players are people and people have egos. Would this send the wrong message?
GOOD PLAYERS
Counterpoint: Making your team better is a good message. Maybe having the opportunity to share the spotlight, to not have to be "the guy" every single night would be welcomed by both Tavares and Matthews. Besides, even if anyone gets jealous from time to time, you know what usually makes people feel better about themselves? Winning.
Of course these are all just hypotheticals. What do you think will happen?