MONTREAL — It's not as if the idea of trading Max Pacioretty hadn't occurred to Montreal Canadiens general manager Marc Bergevin before the player became mired in one of the worst slumps of his career.
It's not as if the possibility hadn't been on Pacioretty's radar, either.
"You always envision the best and maybe prepare for the worst," said Pacioretty on Monday.
That's smart thinking, no matter which party you are in this equation.
Both Bergevin and Pacioretty had high hopes things would turn out well for the Canadiens this season, but considering the team is closer to obtaining a lottery pick in the 2018 NHL Draft than it is to competing in the Stanley Cup Playoffs — sitting in 27th place in the 31-team NHL, with nearly half the games now in the rearview mirror — another reality must be dealt with.
The truth is that trading the left-winger before this year's February deadline would be more beneficial to Bergevin and the Canadiens than keeping him on as captain of a sinking ship. Even if Pacioretty has failed to score in his last 12 games and has only one goal in his last 21, his perennial 30-goal prowess, his $4.5-million cap hit through 2019 and his age (29) will prove extremely attractive to other teams and likely offer Bergevin his best opportunity to redeem assets that can help the Canadiens now and in the future.
That's why Nick Kypreos' report on Hockey Night in Canada this past Saturday, that Bergevin is actively shopping Pacioretty, came as no surprise.
And now that Kypreos' report is out there — and we've had the contents of it confirmed with various sources — a trade out of town would likely be best for Pacioretty, too.
That might have been the case, regardless.
"I've played here for 10 years and I've never gone through something like this," said Pacioretty of his current slump.
A big part of the reason Pacioretty has seemingly never struggled as much to score has to do with the fact that the Canadiens always seemed to have the right pieces in place to help him do what he does best.
Playmakers like Andrei Markov, Alexander Radulov and David Desharnais allowed Pacioretty to focus almost uniquely on getting to the dead spaces of the offensive zone and uncorking the shot that's given him a fair portion of his 217 goals in this league. But they're all plying their trades with different teams now and Bergevin hasn't done nearly enough to replace them.
It's a subject that was well-covered in our last column of 2017, following Montreal's loss to the Florida Panthers Saturday. One inadvertently touched on by Pacioretty on Monday.
"I think my game is different this year," he started. "I'm not saying good or bad — I'm saying I had to change it and play a little bit differently. It seems like the way we play, a lot of goals seem to be bouncing in off guys, or shots from the point that get deflected. You see a lot of goals going off bodies and, yeah, that's a way to score goals and a way I have scored goals. But to put up goals every year and every night, you gotta find other ways."
Every scorer has to adapt over time, but having to diverge from a strategy that's netted Pacioretty more than 40 per cent of his goals over the last two seasons (and several more over the course of his career) has put him in his current predicament.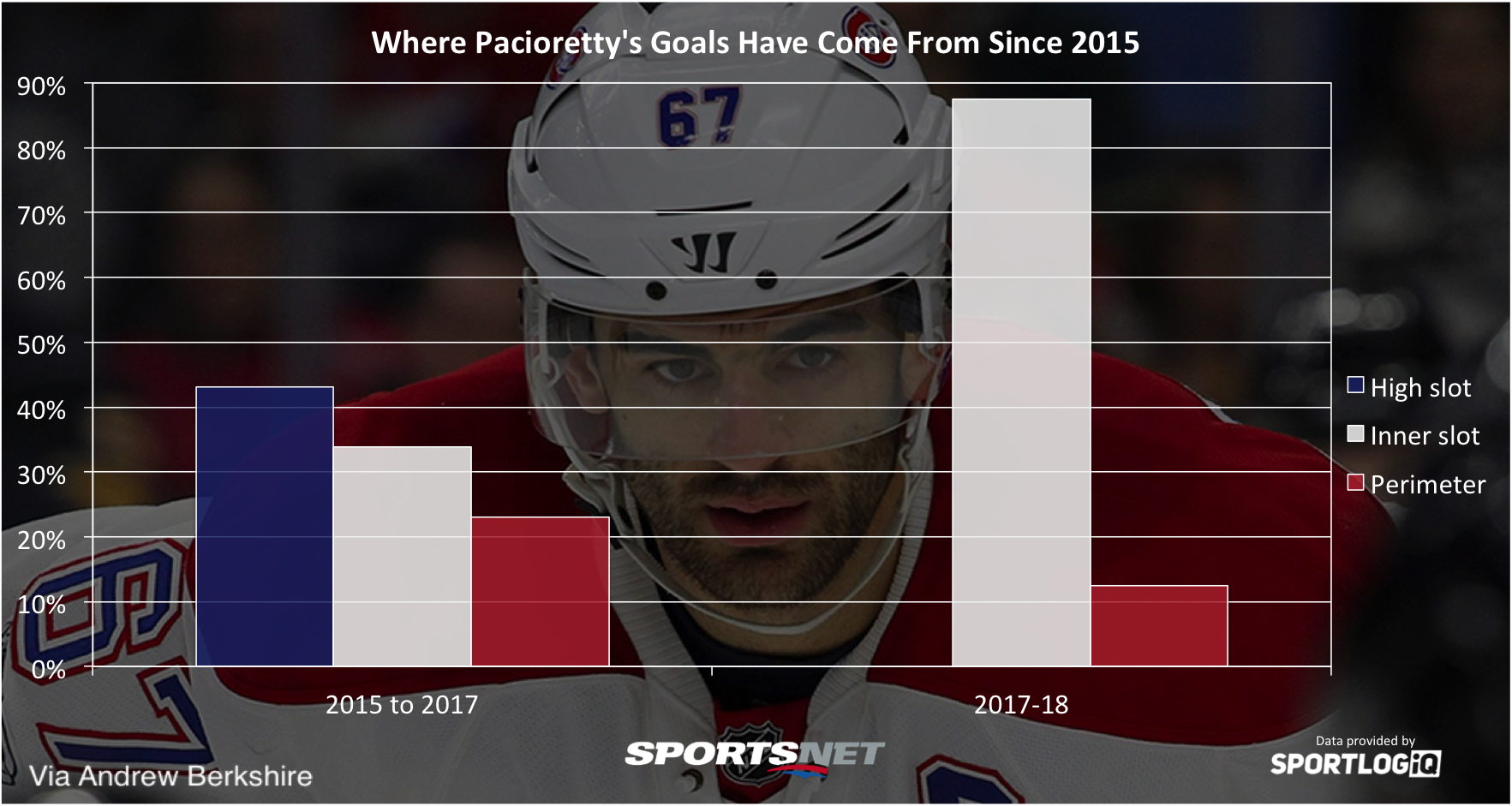 Getting to another team — preferably one that has some players on it who can play to Pacioretty's strengths — can get him out of it quickly, but staying in Montreal is likely to do the opposite for him.
Pacioretty's role as captain, which forces him to speak with reporters more than any other player on the team, is challenging even in the best of times.
In the worst of them, it's downright unbearable.
"It's tough, but I hope people respect that," said Pacioretty. "It takes a lot for me to stand up here [every day] and not throw myself under the bus, but look in the mirror and be honest."
Anyone can see it's taking a lot out of him.
The Canadiens would be wise to move Pacioretty before it gets worse.
"If that happens, it happens," Pacioretty said on the possibility of being traded. "Like I said, I'm very proud of the past success I've had in Montreal. I've played here for 10 years and I've never gone through something like this. I've gone through ups and downs, but never this low. I know what I can bring and how I can play and how I have played in the past, so once I get out of this and once the team gets out of this you hope to learn from it and get better from it.
"But, at the end of the day, just work hard when you're at the rink and try and leave it at the rink. … That's the best way to handle it."