We're more than a month removed from the trade deadline and nearly at the end of the regular season. Enough time has passed that we can look back on moves around the deadline and see who has worked out best. Going into the playoffs, the deadline acquisitions who fit in with their teams can be the difference between an early exit and an extended run, so let's examine the even strength offensive impact of traded players post-deadline.
Usually we show stats per 20 minutes when using Sportlogiq's numbers, but because even strength point production is most often shown per 60 minutes, we'll use 60-minute intervals for this breakdown.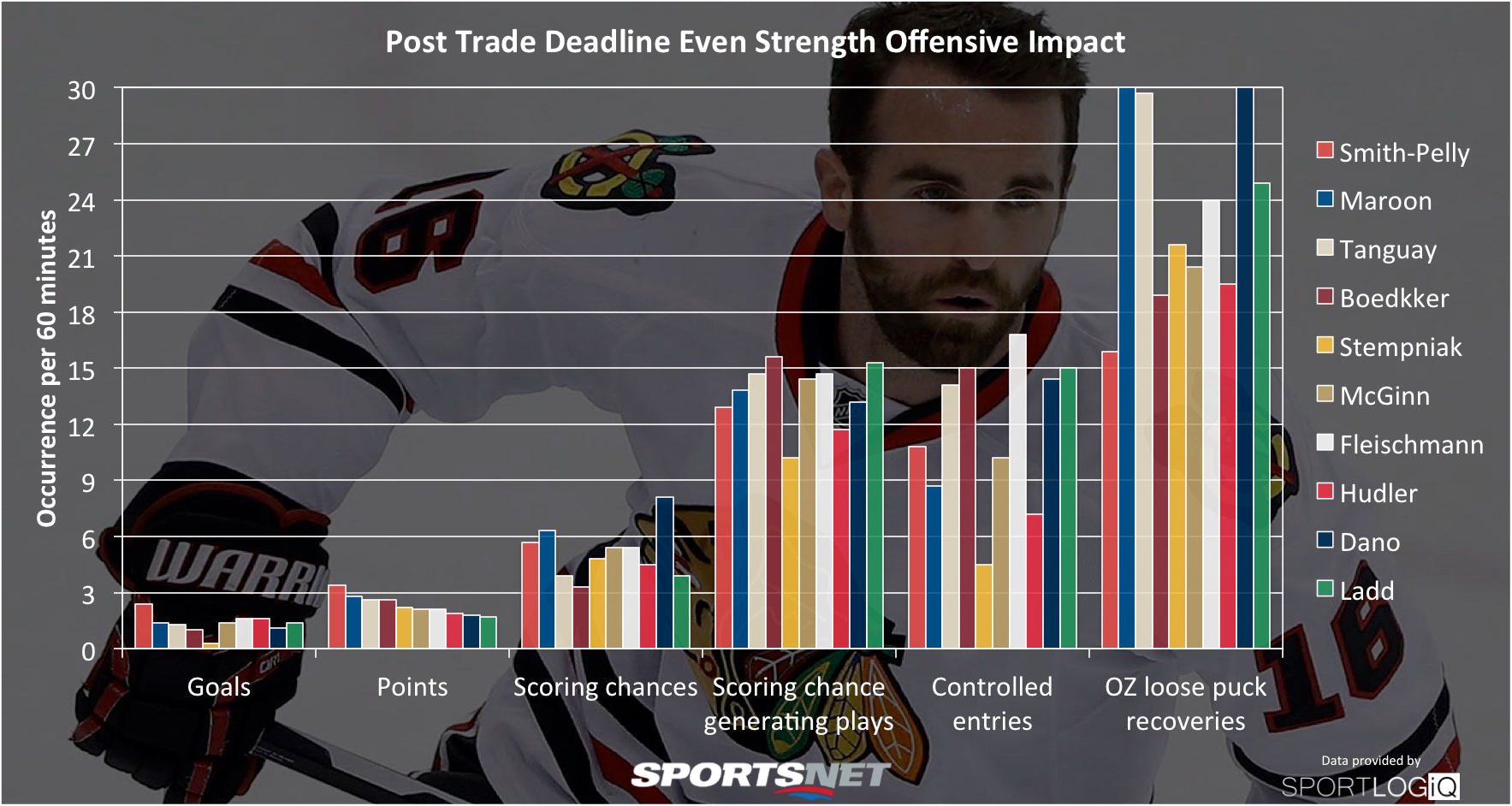 Using points per 60 minutes as the cutoff, these are the 10 players who have both played enough and scored enough to be considered among the top-10 deadline acquisitions in terms of offence.
Surprisingly, Devante Smith-Pelly is the biggest producer post-deadline. And while many look at his crazy shooting percentage and say he's just getting lucky, he is producing the third-most scoring chances in this group, so there is an element of good performance there, too. However, he ranks just seventh in scoring chance-generating plays, sixth in controlled entries, and last in loose puck recoveries.
Patrick Maroon has been surprisingly effective without Ryan Getzlaf and Corey Perry, a nice little surprise for an Oilers team in need of some positives. Maroon is second in scoring chances, though like Smith-Pelly, not as impressive in generating scoring chances for teammates. Maroon hasn't been too good at entering the offensive zone with control either, but he has been amazing on the forecheck, tying for first in offensive zone loose puck recoveries.
The third-highest point producer since the deadline is Alex Tanguay, which makes the top three producers all members of non-playoff teams. Tanguay has never been a big individual scoring chance producer, but in this group he's tied for third in scoring chance generation, in the top half for controlled entries, and shockingly, he's one of the best forecheckers. The 36-year-old just keeps finding ways to be effective.
Mikkel Boedker, the player for whom Tanguay was traded, has produced the fewest individual scoring chances in the group, but the most scoring chance-generating plays. Boedker is a strong transition player, tied for second in controlled entries, but is one of the weakest forecheckers.
Lee Stempniak is a bit of an odd one, because he isn't producing or creating a ton of scoring chances, but has managed to get in on quite a few goals. He's also been the worst player at entering the zone with control, and in the bottom half of forecheckers.
Jamie McGinn has come mostly as advertised for the Ducks. A depth player who loves the front of the net, McGinn has produced fewer scoring chances personally than his season average, but more scoring chances for his teammates than average. The rest of his game is lacking, but he is essentially a specialized role player.
The resurgence of Tomas Fleischmann after half a season of near-invisibility is surprising. He's tied for fourth in scoring chances and third in scoring chance-generating plays. He's also been the best at entering the offensive zone with control and is in the top half of forecheckers. If Fleischmann can keep up this level of performance, the Blackhawks will be pleased.
The most surprising player on this list is probabl Jiri Hudler, who has been pretty underwhelming in Florida. His point production is fine, but he's not producing or creating scoring chances at a high rate, nor is he moving the puck well in transition, entering the zone with control, or recovering it on the forecheck. It is a bit of a head scratcher in terms of performance from a very good player.
The goals aren't there yet, but Marko Dano is by far the biggest scoring chance producer of the bunch, though he hasn't created as much for his teammates. He's also among the leaders in controlled entries and offensive zone loose puck recoveries, which is proving himself as a versatile offensive player.
Finally, Andrew Ladd's point production is a bit lower than what the Blackhawks probably want, but still solid overall. He's not producing nearly the number of personal scoring chances you would expect from such a rugged player, but he's creating a ton for his linemates, which more than makes up for it. Ladd is also among the leaders in controlled entries and one of the better forecheckers, too. He should be the best player of this group, and he's been good, but hasn't separated himself enough to justify such a heavy return.
So who has worked out the best? Well, judging by the numbers above, Tomas Fleishmann has been a big surprise – so big that he's actually been the strongest all around. Still, it seems like when the regular season and playoffs are all said and done, Andrew Ladd should become the best trade deadline acquisition.