Let's talk about a retired NHL defender who doesn't get enough love: Sergei Zubov.
Growing up in the '90s, I was witness to an embarrassment of riches when it came to NHL defenceman: Scott Niedermayer, Nicklas Lidstrom, Ray Bourque, Scott Stevens, Chris Pronger – and on and on. Years later though, when I was finally old enough to buy my own hockey cards, the stats on the back of one player's card made my eyes bulge:
Sergei Zubov.
I was always aware of Zubov, but I guess I never realized just how good he was. I spoke to a few people about him and the one word they all used was "calm." Adam Graves, who was Zubov's teammate when the New York Rangers won the Stanley Cup in 1994, pointed out that Zubov actually led the Rangers in scoring that season with a jaw-dropping 89 points as a defender. If that sounds rare, that's because it was. Zubov's performance in 1993-94 is the last time a defenceman led the eventual Stanley Cup Champions in regular-season scoring. That's coming up on 24 years ago.
[snippet id=3638287]
The Rangers' power play was a force of nature that season with a league-leading 96 goals and 23 per cent success rate. As Graves describes it, it was the dynamic duo of Zubov and Brian Leetch manning the blue line, which seems borderline unfair. And don't forget – the blue line was closer to the net back then, too. They tortured teams that season.
But when Zubov played for the Rangers I was just a little kid. I always knew him as a Dallas Star.
Wait a minute: How does a team like Dallas get a defender like Zubov without drafting him? You make a trade, of course.
Our story begins in Minnesota…
On Oct. 11, 1988 the New York Rangers made a deal with the Minnesota North Stars. The Rangers acquired Brian Lawton, Igor Liba, and the rights to Rick Bennett. The North Stars acquired Paul Jerrard, a 1989 third-rounder (Murray Grabutt), the rights to Brett Barnett, Mike Sullivan (as in the current Pittsburgh Penguins head coach), and lastly, Mark Tinordi. If that last name sounds familiar, it's because Mark's son, Jarred, was a first-round pick of Montreal back in 2010.
Mark Tinordi played five seasons with Minnesota and then another with the team after they moved to Dallas. Over that timespan, the 6-foot-4″, 213-pound defender racked up 1,015 penalty minutes in 375 games.
On Jan. 18, 1995 Dallas traded Tinordi, along with Rick Mrozik to Washington in exchange for Kevin Hatcher. Tinordi and Hatcher were both big defenceman who were roughly the same age but had different styles. Hatcher put up better offensive numbers, scored more on the power play, and spent way less time in the box. Maybe just as importantly, Derian Hatcher, Kevin's younger brother, was the 22-year-old captain of the Dallas Stars.
A few months later, and completely independent from Dallas, the New York Rangers made a deal with the Pittsburgh Penguins. And a pretty big one, too.
On Aug. 31, 1995, Pittsburgh traded Luc Robitaille, who had only been a Penguin for one season, along with defender Ulf Samuelsson to New York in exchange for Petr Nedved and Sergei Zubov. The Rangers added snarl on the backend while the Penguins added offensive prowess to theirs.
[snippet id=3816507]
And now here's where it all comes together.
After just one-and-a-half seasons of Kevin Hatcher in Dallas, the Stars traded him to Pittsburgh at the 1996 NHL Draft. Coming the other way: Sergei Zubov. One-for-one.
Here's how the whole thing looks in a trade tree, as drawn by me, a five-year-old: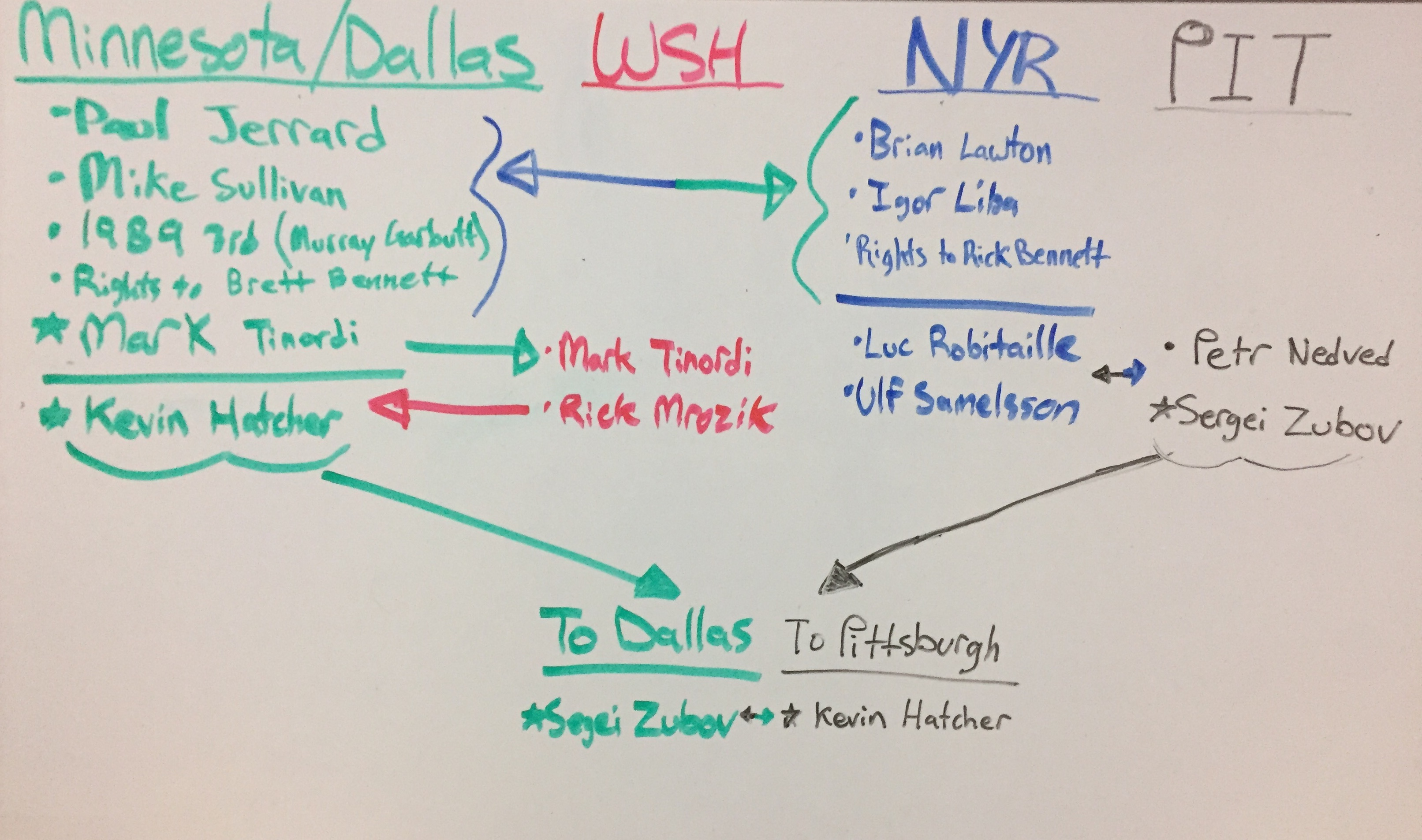 That's a tough one-for-one trade to figure out. Zubov was younger than Hatcher and scored more than Hatcher.
I asked around and one theory I heard was that Pittsburgh wanted to get tougher on the backend and Hatcher was definitely bigger than Zubov. If you look at Pittsburgh's stats from the 1995-96 season, it doesn't quite seem like Zubov fit.
Sure, he was sixth in team scoring with 66 points, but look at the guys ahead of him. Mario Lemieux had a cartoony 161 points, Jaromir Jagr had 149, Ron Francis 119, Petr Nedved 99, and Tomas Sandstrom had 70. Teams averaged 258 goals that season. Lemieux and Jagr had over 60 each! The next highest-scoring defender on the Penguins behind Zubov was Dmitri Mironov at 34 points. Knowing that Pittsburgh's murderer's row of forwards did the heavy-lifting, perhaps the Penguins wanted a guy who handled the puck less and stuck to banging and crashing a bit more. Remember – they had just lost in Game 7 of the Eastern Conference Final despite being up three games to two. Maybe they figured this one move could've made the difference.
Penguins fans: if you want to get mad at a one-for-one trade, get mad at the last trade the Penguins made before this one: Acquiring Alek Stojanov from Vancouver for Marcus Naslund.
Ouch.
I'm certainly not going to dump on Kevin Hatcher. In 220 games over three seasons with the Penguins, Hatcher had 45 goals, 95 assists, and 140 points, while finishing Top 20 in Norris voting in each of his first two seasons with Pittsburgh.
But then there's Zubov.
His reign as a Dallas Star marked more than a decade of him being one of the most dominant offensive defencemen in the game. Looking at Zubov's numbers from his first 10 years in Dallas, excluding his final two — which were shortened by injure — you can see just how dominant Zubov was.
Here are some numbers from Zubov's time with Dallas from the 1996-97 season to the 2006-07 season and how those numbers stack up against other NHL defenceman during the same timeframe:
Games played: 783 (T-2nd)
Goals: 107 (T-7th)
Assists: 403 (2nd)
Points: 510 (2nd)
Power play goals: 58 (4th)
Power play points: 277 (2nd)
Shots: 1,595 (8th)
Points per game: 0.65 (7th, minimum 200 GP)
Playoff games: 103 (9th)
Playoff points: 66 (4th)
I should probably also mention that in that same timespan, Zubov was Top 10 in Norris voting six times, went to the All-Star game three times, and won the Stanley Cup with Dallas in 1999, which was actually his second Cup.
Look, the Pittsburgh Penguins don't have to be losers in order for the Dallas Stars to be winners here. For Stars general manager Bob Gainey, this was one of his finest deals, setting the franchise up with a franchise defender in a simple one-for-one trade.
Now another offensive right-handed defender, John Klingberg, is running the show in Dallas. How did they get him? With their own fifth-round pick in 2010.
It's amazing what one smart move can do.