Now that Evander Kane is officially no longer a Winnipeg Jet, it's time to examine just how good he is and what he will bring to the Buffalo Sabres when he dresses for them next season.
What he brings is a question that goes right back to the very beginning of the relationship between player and his (now-former) franchise at the 2009 Draft in Montreal. The team now known as the Jets was then based in Atlanta and called the Thrashers, and GM Don Waddell had received what he called "very good" offers for the fourth-overall pick.
Instead of making a trade, he kept the selection and chose Kane; asked about it shortly after, he talked up the winger as a future "dominant first-line player" who would "look good next to Ilya Kovalchuk."
---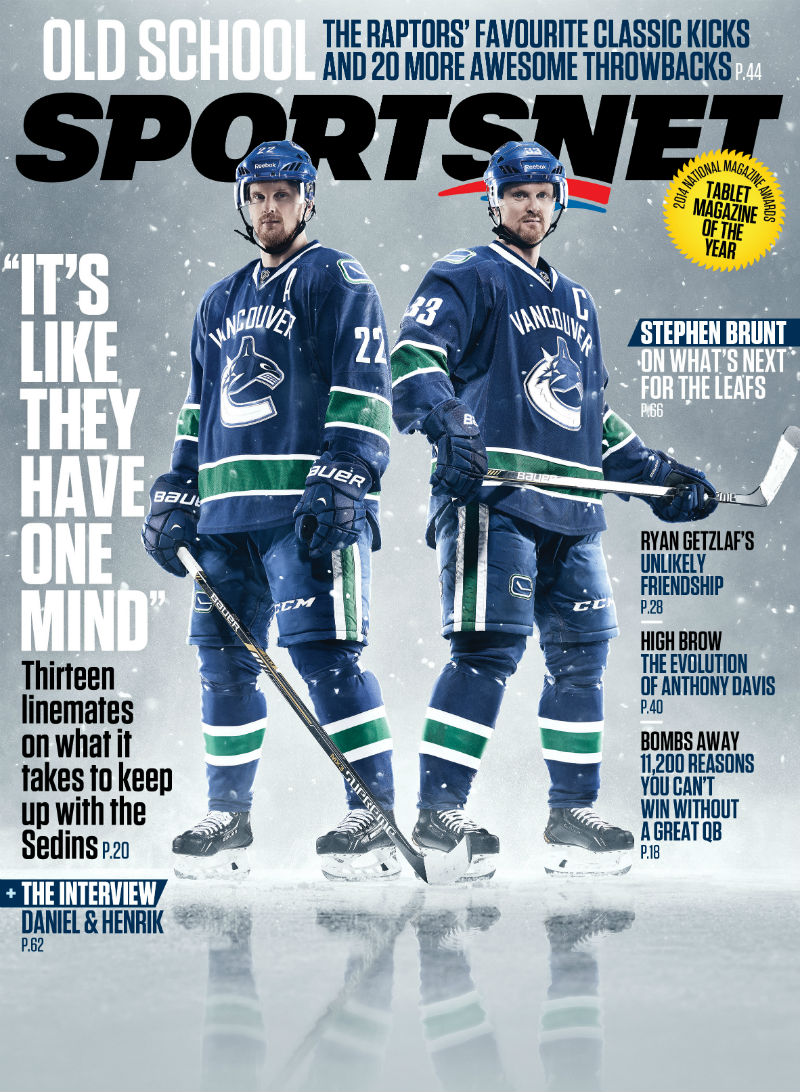 ATTENTION Rogers and Shaw customers.
Already enjoying Sportsnet ONE? Now get access to digital editions of Sportsnet magazine at no extra cost.
---
Kane was undeniably an exceptional talent. He'd just scored 48 goals in the WHL and, as an August birthday, was nearly a full year younger than first overall selection John Tavares. It's easy to see why Waddell saw him as a future first-liner and collaborator with Kovalchuk; he was big and fast and a natural goal-scorer.
Three years later, Waddell and Kovalchuk were gone and the Thrashers had relocated to Winnipeg, but that prediction of greatness for Kane looked pretty good; he'd just scored 30 goals as a 20-year-old and starred for Canada at the World Championship.
But that 30-goal campaign is old news now. Two-and-a-half seasons have passed, Kane's point totals have declined and his and recent events have led to his trade. Kane's ability to match that 30-goal campaign is in question, never mind his ability to exceed it. What's been behind this offensive decline, and is it correctable? To answer that question, let's dig a little deeper.
The first important thing to note with Kane is that, unlike virtually every other offensive player in the NHL, he doesn't make his living on the power play. To date in his NHL career, Kane has never cracked 10 power-play points in a season, despite having scored 23 power-play goals in just 61 games in his final season of junior. It's not a matter of him not getting power-play time either; it's just that prior to this season he hasn't been a dynamic scorer with the man advantage.
In his 30-goal year he had all of nine points on the power play; he's fallen off a little bit the past couple of seasons, but it's not a significant amount. So we can pretty much exclude the power play and concentrate on his even-strength play.
Even-strength play can of course fluctuate depending on all sorts of different factors. Linemates and opposition matter a lot; the coach can help or hurt an individual player a lot depending on who he plays with and who he plays against. Starting a lot of shifts in the offensive zone can boost a player's scoring; starting a lot of shifts in the defensive zone can hurt it. What happens when we dig into Kane's history?
What we find is a steadily escalating series of assignments. In 2011-12, when he scored 30 goals, Kane ranked ninth among Jets forwards in BehindtheNet.ca's Quality of Competition calculator. The next year he ranked sixth, then third and this season fourth; he's gone from playing bottom-six opposition to playing top-six opposition. His rank on the Quality of Teammates scale has gone the other way, sliding from third among Jets forwards in 2011-12 down to fifth the past two campaigns. So he's playing tougher opponents, and being asked to do it with somewhat lesser help.
At the same time, he's started more and more shifts in his own end of the rink. In 2011-12, Kane started 85 more shifts in the offensive zone than the defensive zone. That number fell to 33 in the lockout-shortened 2012-13 season, then 31 in 2013-14 and finally this year Kane has actually started 18 more shifts in the Jet's zone than the opposition's end of the rink. He's gone from being sheltered to being the kind of player who helps shelter other lines, and it's worth noting that despite these escalating assignments the Jets consistently do a better job of out-shooting the opposition when he's on the ice than they do when he's on the bench.
But what about his scoring?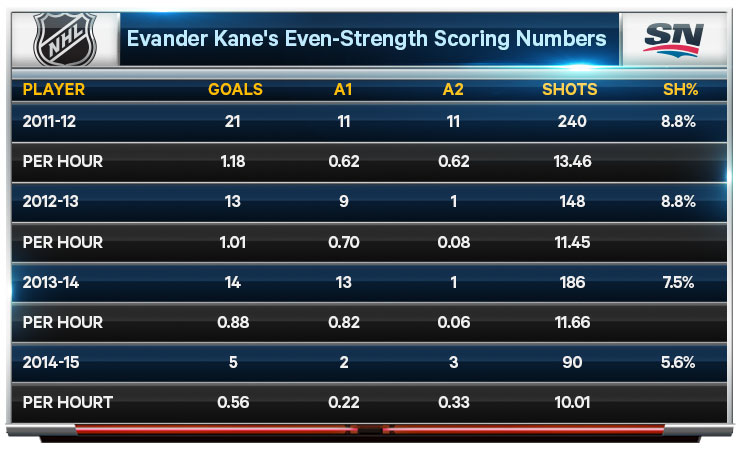 There are a bunch of figures in the chart above, all from even-strength. The white numbers are raw totals for goals, first and second assists, shots and shooting percentage; the grey show the per-hour rates (since Kane has had different amounts of ice time in each season). We can pretty clearly see the impact of his knee and shoulder problems this season; his point totals are way down and his shot rate and shooting percentage have both fallen off dramatically.
Otherwise, it's a bit of a mixed bag. Kane's assist totals are intriguing; he picked up 11 second assists in 2011-12 and has all of five in the three seasons since while his rate of primary assists has actually increased. My inclination is that he's a better playmaker now than he was at 20. That's been compensated for to a certain degree by a drop in shot rate, which has cost him goals. It's an oddity, given that he should still be on the upswing of his career; one wonders to what degree playing tougher minutes has affected those numbers.
Regardless, there's an intriguing player here for some team. Over the years, Kane has developed into a more trustworthy defensive player, taking on increasingly tough minutes at evens and even emerging as a regular penalty-killer. That has a lot of value, particularly since he's still contributing at a reasonable level offensively.
He's an awfully useful player even if he never progresses an iota, but one gets the sense of untapped potential still lingering there. This is a guy who was a dynamic power-play scorer in junior, though he hasn't shown it in the NHL yet; he's also a guy who was a pretty big even-strength scorer at 20 and presumably might find that touch again in the right situation.
Marry that potential to an underrated two-way game and the Buffalo Sabres are going to be very, very happy.