The Calgary Flames wanted to get bigger, younger and deeper, something Brad Treliving is convinced his team did over the last three days.
In an effort to salvage something from the club's lost season, Treliving turned his two biggest trading chips and a spare part into two young prospects and four draft picks, including a possible first-rounder.
Treliving traded Kris Russell to Dallas Monday for a conditional second-round draft pick as well as prospects Jyrki Jokipakka and Brett Pollock.
The conditional second-rounder becomes a first if Dallas gets to the conference final and Russell dresses for 50 per cent of the games in the first two rounds.
Considering Russell was acquired a few years back for a fifth-rounder the return Monday was a home run.
"We're extremely happy," said the Flames GM, who simply couldn't justify paying north of $5 million annually to keep the 28-year-old Russell in the fold next year as a UFA.
"Jokipakka is a young defenceman who fits with our age group. He's got a good pedigree, good size, he moves the puck and defends and there's upside there.
"Brett is a big body, can play centre or wing and has a knack for scoring. Big guys who can shoot are important."
Two young players and the potential for landing just the second first-rounder handed out this year helps the Flames continue their rebuild despite what Treliving said was an extremely tough landscape to deal in.
"It was a tight market. It was a grind to be perfectly honest," said Treliving, who said six teams were extremely interested in Russell Monday before the Flames took the best deal offered.
"The days of first-round picks and multiple picks going out the door…that was not this deadline. To have a chance with that being a first-round pick – and we have a chance because Dallas is an excellent team – was important. Giving us three seconds is key."
Pollock, 19, is a goal-scoring forward playing his fourth season with the Edmonton Oil Kings who scored 32 goals last year and has a point a game this year. The 6-foot-3, 195-pound Sherwood Park, Alta. native is a second-round pick from 2014 who didn't find out until after his team's afternoon game he was a Flame.
Jokipakka, 24, is 6-foot-3, 215-pound seventh-round draft pick who described himself Monday as a defensive defenceman in an interview on Sportsnet FAN 960 in which he was clearly shocked by the news. He'll join the Flames later this week.
Treliving said he addressed the team's chief needs, giving the team more "bullets" heading into the draft. They may come in handy when the team starts to address its biggest need for next year, which is landing a starting goalie.
Niklas Backstrom won't be that goalie even though the Flames acquired him late in the day with a sixth-round draft pick for pending UFA David Jones.
Backstrom, 38, was a throw-in on the deal and agreed to waive his no-trade clause in exchange for playing a few games for the Flames down the stretch. He is a UFA at season's end and will not be re-signed here.
Monday's moves came two days after the Flames traded Jiri Hudler to Florida for a second- and a fourth-round draft pick – another impressive return.
"I would have been nervous sitting there today expecting the same return we got a couple days ago," said Treliving who said his gut told him Saturday the offers weren't getting any sweeter.
"Did we get it right? You guys can write and tell stories."
Yes, he got it right, as all three players traded were pending UFAs the Flames wouldn't have re-signed this summer.
To put the Russell deal into perspective, the deal that sent Jarome Iginla to Pittsburgh was for a first-round draft pick and two unsigned collegians – Ben Hanowski and Kenny Agostino – who were drafted in the third and fifth rounds respectively.
Granted, Iginla didn't allow then-GM Jay Feaster to negotiate with any other team, limiting his trade value dramatically.
---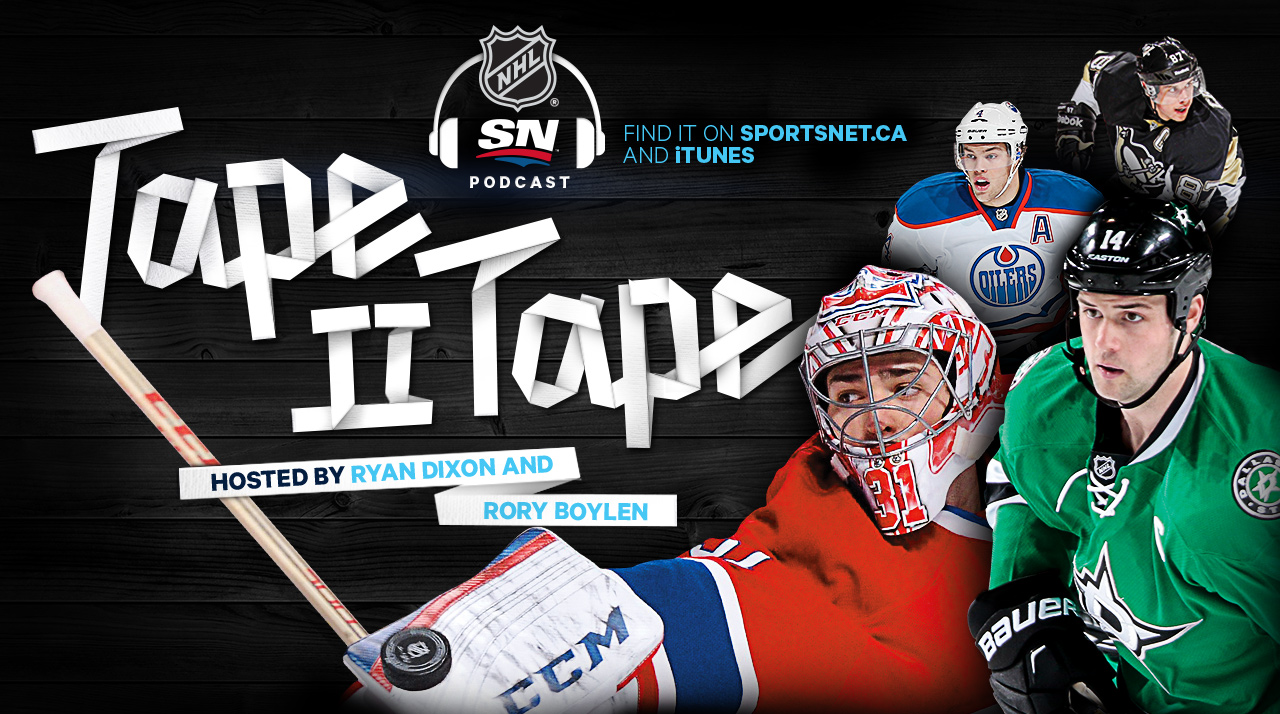 Tape II Tape offers hard-charging, wise-cracking infotainment that goes deep on pucks and always plays a 200-foot game. Catch a special trade deadline edition Tuesday