Every year after the first section of the NHL's free agency period ends, we like to take a moment to look over the millions and millions of dollars handed out by GMs and pick out which contracts look good, and which look bad.
One thing that you can't help but notice on social media is that most people think almost every contract is bad. For the most part, that's probably true. Relative to the league average contracts given to similarly talented players who re-sign, deals signed by unrestricted free agents almost always come at an inflated value. That's what happens when there's competition involved and players have options.
With that in mind, to pick out contracts that are truly awful-looking we have to consider much more than simply "I don't think this player is worth that much." Let's start with the good contracts first since they're a bit more rare.
THE GOOD
Robin Lehner to the Chicago Blackhawks – $5 million AAV for one season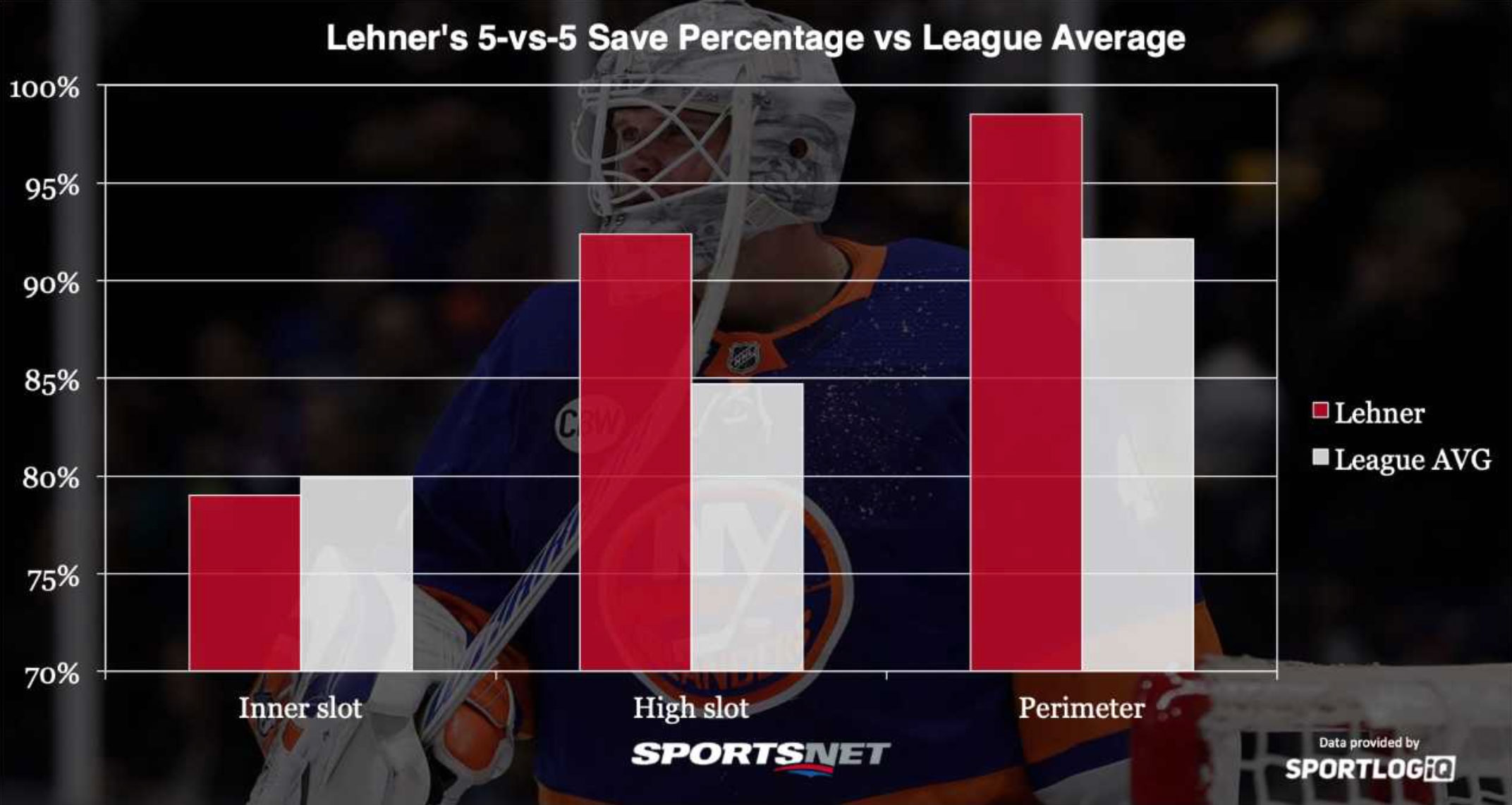 I don't think I'm the only one who was shocked Lehner wasn't brought back to Long Island to attempt to repeat some of the magic that he and Thomas Greiss produced this past season, but credit to the Blackhawks for pouncing on it.
The Islanders went from among the worst defensive teams in the league in 2017-18 to among the best in 2018-19. Their ability to shut down rush chances and pre-shot movement had a lot to do with the unprecedented success Lehner had, but you don't put up those kinds of numbers if you're not also playing well.
Lehner was actually slightly below league average against high danger chances, but the Islanders did a great job at keeping those to a minimum. He rewarded them with absurd domination on high slot shots, while eating nearly everything from the perimeter with ease.
Lehner put up a fantastic season and clearly the Blackhawks are hoping he can repeat it, but if he doesn't they don't assume much risk at all.
The $5 million price tag is a nice chunk of change, but it's not a large number for a potentially above average starting goaltender. If Lehner can't manage a strong season behind one of last season's worst defensive teams, it's a one-year deal that the Blackhawks can easily walk away from next summer.
Lehner probably earned more contract security with the season he put up, but for the Blackhawks this contract is near perfection as both risk-free, and a great insurance policy that takes the pressure off Corey Crawford.
Artemi Panarin to the New York Rangers – $11.642 million AAV for seven seasons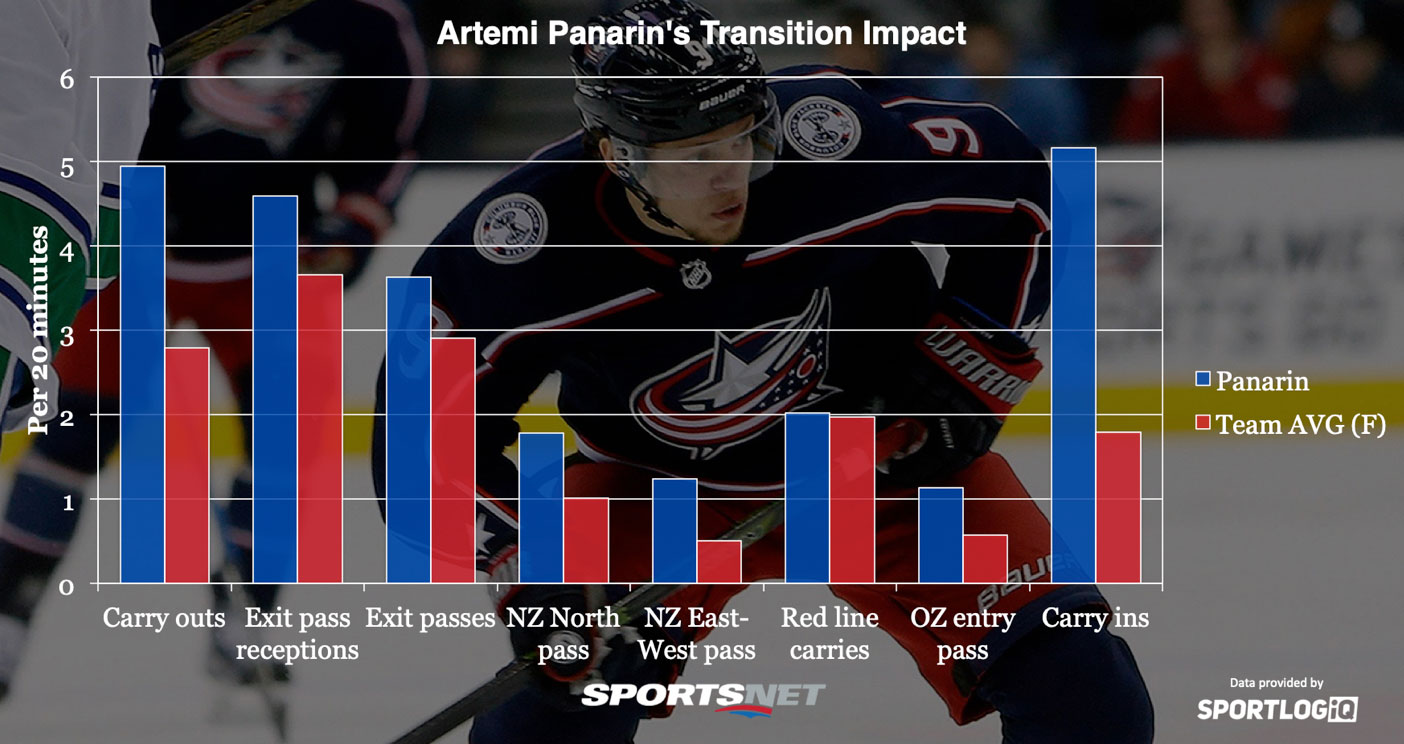 I've seen a few analyst types say that overpayment is overpayment, and if you're paying too much for anyone it'll hurt all the same eventually. To that I ask: in what world is that true?
When it comes to unrestricted free agents, we've already discussed that you're buying at a premium, so what exactly is worth that cost? Players who you can't procure easily in any other way.
Artemi Panarin is one of the top wingers in the game, with the best transition impact of any of them, and the overall positive impact that trends into the same territory as some of the game's best centres.
He is an elite offensive player who has an underrated, strong defensive game as well. He's the total package at the wing position, and for that, you pay.
Giving seven years to Panarin when he's about to turn 28 at the end of October comes with significant risk because he likely won't be the same player in his mid-30s as he is today. But that risk is worth taking on a player of his caliber.
Panarin is the type of player a top-tier first line is built around, and those players rarely move by any means in the NHL, let alone via free agency where they can be acquired without expending any prospects, picks, or roster players.
Just like John Tavares was an excellent add for the Maple Leafs last summer, Panarin is a huge step forward for the Rangers, who haven't had a star quality forward in a long time.
[snippet ID=3322139]
THE BAD
Tyler Myers to the Vancouver Canucks – $6 million AAV for five seasons
And…
Brandon Tanev to the Pittsburgh Penguins – $3.5 million AAV for six seasons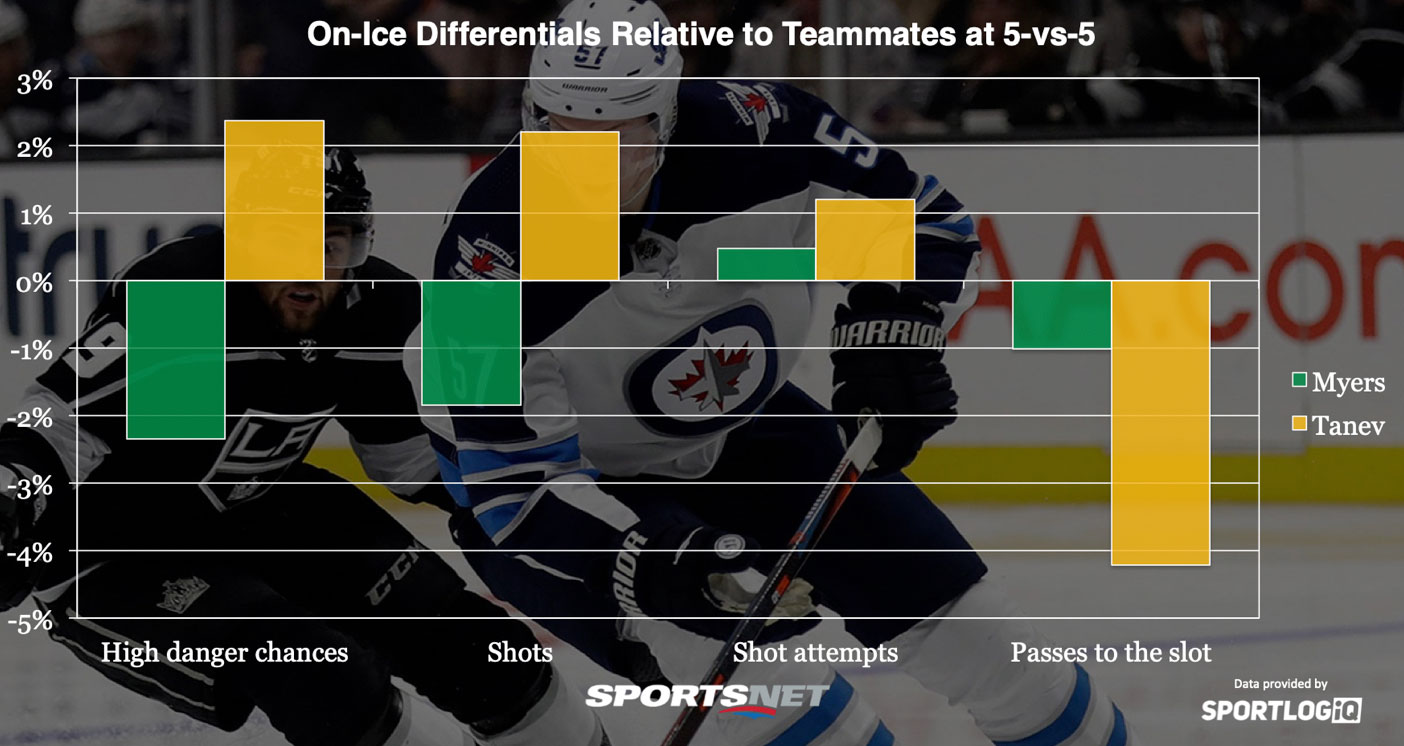 Tyler Myers isn't as bad as a lot of folks make him out to be — he can have moments of brilliance where his skillset and 6-foot-8 frame are a tantalizing combination that you can't blame general managers for falling in love with. But last season in Winnipeg he was, for the most part, a third-pairing defenceman at even strength, and even with easier minutes than normal the Jets weren't very good when he took the ice.
This has been a consistent thing for Myers ever since his excellent rookie season in 2009-10, and when you crunch all the numbers together he's a decent No. 4 or 5 defenceman in terms of performance.
That is still a valued asset on a lot of teams, but not for the $6 million price tag, and he's certainly not the type of player you give this much term to. If there is one easy-to-follow golden rule for managing a salary cap in the NHL, it's to not give replaceable talents more than league average cap hits, and never give term. That means no matter how much you love your fourth-line centre, you have to remember that's a position you can afford to change out every year if you have to. There are dozens of good fourth-line players plying their trades in the American Hockey League every year praying for a chance at the NHL.
Myers is above the equivalent of a fourth liner for defencemen, but not by that much, and the Canucks have paid him like a strong No. 2.
Speaking of not signing fourth liners to big contracts, that leads us to Brandon Tanev.
I really like Tanev as a player. He was part of what may have been the best fourth line in the NHL in Winnipeg with Adam Lowry and Andrew Copp. But though he's very good in that role, the fact remains that Tanev is a fourth liner.
Even if you believe Tanev can gust up to the third line for stretches and work out, for a capped out team the average individual salary this year will be about $3.5 million, which is what you should expect to pay your sixth- or seventh-best forward. Is Tanev that good? His career certainly doesn't seem to indicate it.
Even though it's a hefty price tag, you could probably live with it for the positive impact Tanev brings, except that it also comes with a gargantuan six-year term. That's something you should never give a player who relies on physicality and will turn 30 just half way through the contract — but especially not to a player expected to play in the bottom half of your lineup.
Too much can go wrong here for the Penguins, who are always trying to create cap space to make the best out of Sidney Crosby and Evgeni Malkin while they're still excellent. This one is rough.
[relatedlinks]