The Colorado Avalanche have one of the league's top lines, but how much of their success is driven by the league's top scorer, and how much of it has to do with superstar Nathan MacKinnon's play driving? Are the Philadelphia Flyers the most obvious team that is just a goalie away from being a really tough team? We dive into those questions, and more, in this week's column.
SPOTLIGHT PERFORMANCE
Last season the Colorado Avalanche were a bit of a Cinderella team that made an unexpected trip to the playoffs and met the Presidents' Trophy-winning Nashville Predators. Everyone expected that series to be over quickly and cleanly in Nashville's favour, including me.
But the combination of Colorado being a very strong attacking team off the rush and Nashville being relatively weak at defending off the rush made things a little dicey for the Predators, who were outplayed for much of the round and forced into a longer series than expected.
Nashville still won, but Colorado succeeded in raising eyebrows around the league as Nathan MacKinnon was able to dominate his matchup against P.K. Subban and Mattias Ekholm. In watching the Avalanche you could see they had a chance to be more than just a one-time deal, even if the numbers weren't great last season. This was a team on the rise.
Lo and behold the Avalanche are getting about 56 per cent of the high danger chances, 54 per cent of the scoring chances on net, and 52 per cent of the passes to the slot all at 5-on-5. Suddenly last year's pretenders with a bright future are right in the middle of it.
A big part of the Avs' success this season is that top line of Nathan MacKinnon between Gabe Landeskog and Mikko Rantanen. And though Rantanen struggled to score in the playoffs last year, he's building on his 84-point season in 2017-18 to lead the NHL in scoring so far this season with a whopping 47 points in 29 games.
Right behind Rantanen is MacKinnon at 44 points, making them the highest-scoring duo in the NHL by 10 points ahead of Brayden Point and Nikita Kucherov in Tampa Bay.
The Avalanche as a team look excellent, but how sustainable is it for Rantanen and MacKinnon to be on pace for 135 and 126 points, respectively?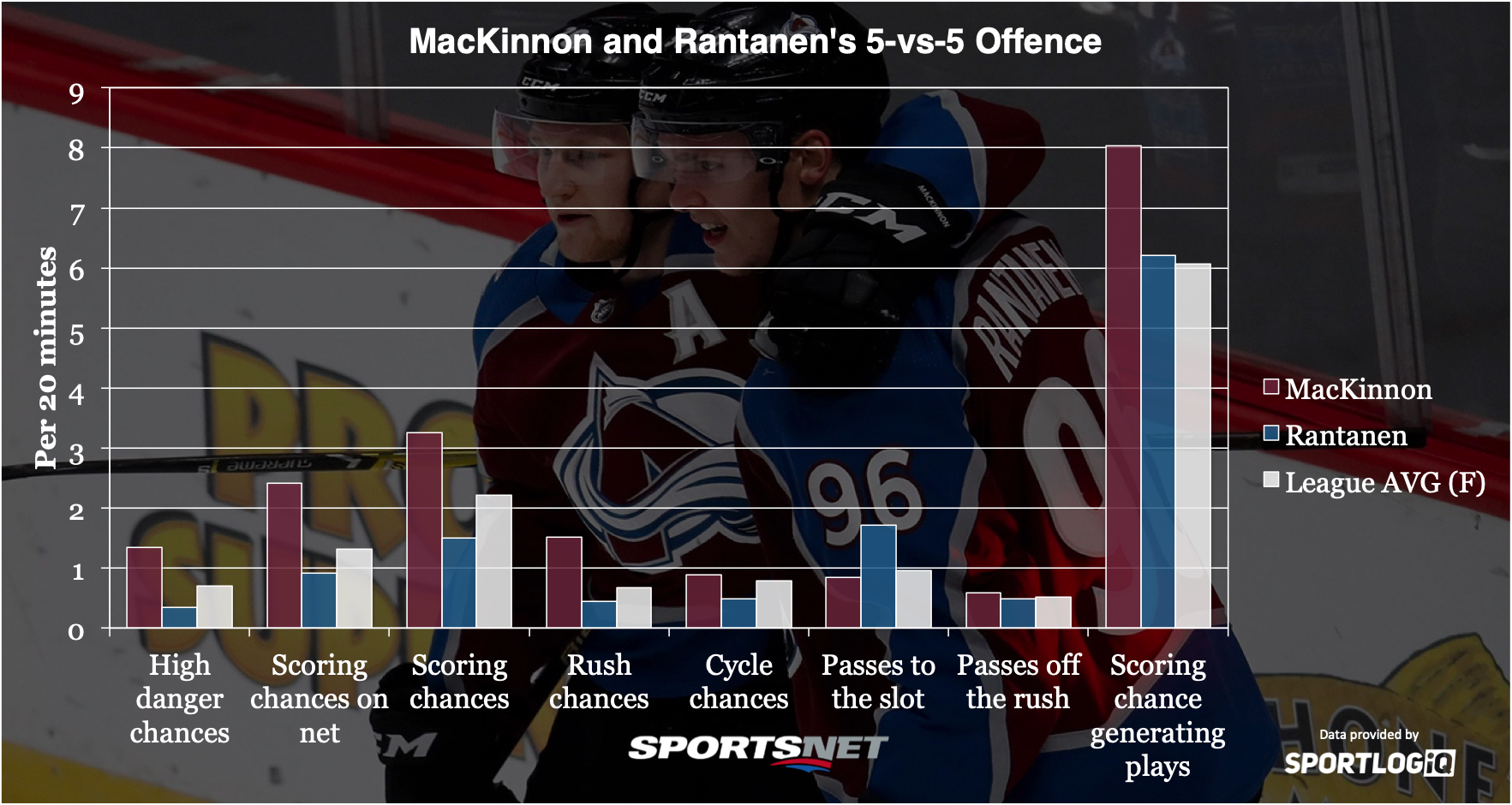 MacKinnon and Rantanen are great on the power play, but looking at just 5-on-5 gives us a bigger sample of controllable minutes to deal with, so we'll stick to that for now.
Through that lens, it's clear MacKinnon is the shooter and Rantanen is the playmaker, but it's far more pronounced than I was expecting, with Rantanen showing as a far below average scoring chance producer at even strength.
I was also surprised to see that it was more MacKinnon who makes plays off the rush than Rantanen, both as a shooter and a passer, which makes some sense since he's the primary puck carrier on the line. Still, you would expect a pure playmaker like Rantanen to set up a few more plays for MacKinnon off the rush, but instead it appears that MacKinnon is more of a singular force who isn't necessarily helped a bunch by his teammates once he gains the offensive blue line.
Rantanen's ability to make passes to the slot is exemplary — there are only a handful of players in the league who can do it more often. But that appears to be more of a complement to MacKinnon's elite play than two elite players stuck together.
Even in terms of scoring chance generation Rantanen isn't as far above league average as you might expect. So while he's a good player, I'm hesitant to come to the conclusion that his incredible start to the season is a result of Rantanen asserting himself among the league's elite.
It might more be about playing with one of the league's best players, while also being quite good himself – and maybe a bit lucky.
THE QUESTION
This week Steve Dangle went broader and asked an NHL-wide question instead of team- or player-specific:
"How many teams are a goaltender away from being good this season?"
When I looked into this I was genuinely surprised to see that, according to Corsica, 12 of the NHL's 31 teams have total save percentages in all situations under .900. The NHL's average save percentage is down to .908 this year from .912 last season, but even then it's somewhat shocking to see the regularity of save percentages in the 80 per cent rent range nowadays.
What is somewhat interesting is there just isn't that much variance in save percentage across the NHL this season. The league median are the Vegas Golden Knights at 90 per cent, and the worst team is just 1.88 per cent below that, while the top team is just 2.31 per cent above that. A spread of 4.19 per cent across the league is much bigger than last year's 3.01 per cent spread from best to worst team save percentage, but I expected more variance with just a third of the season played so far.
One team that sticks out like a sore thumb is Philadelphia, who over the past few years were actually quite strong defensively, and now have the worst team save percentage in the NHL. So are they suddenly bad on defence?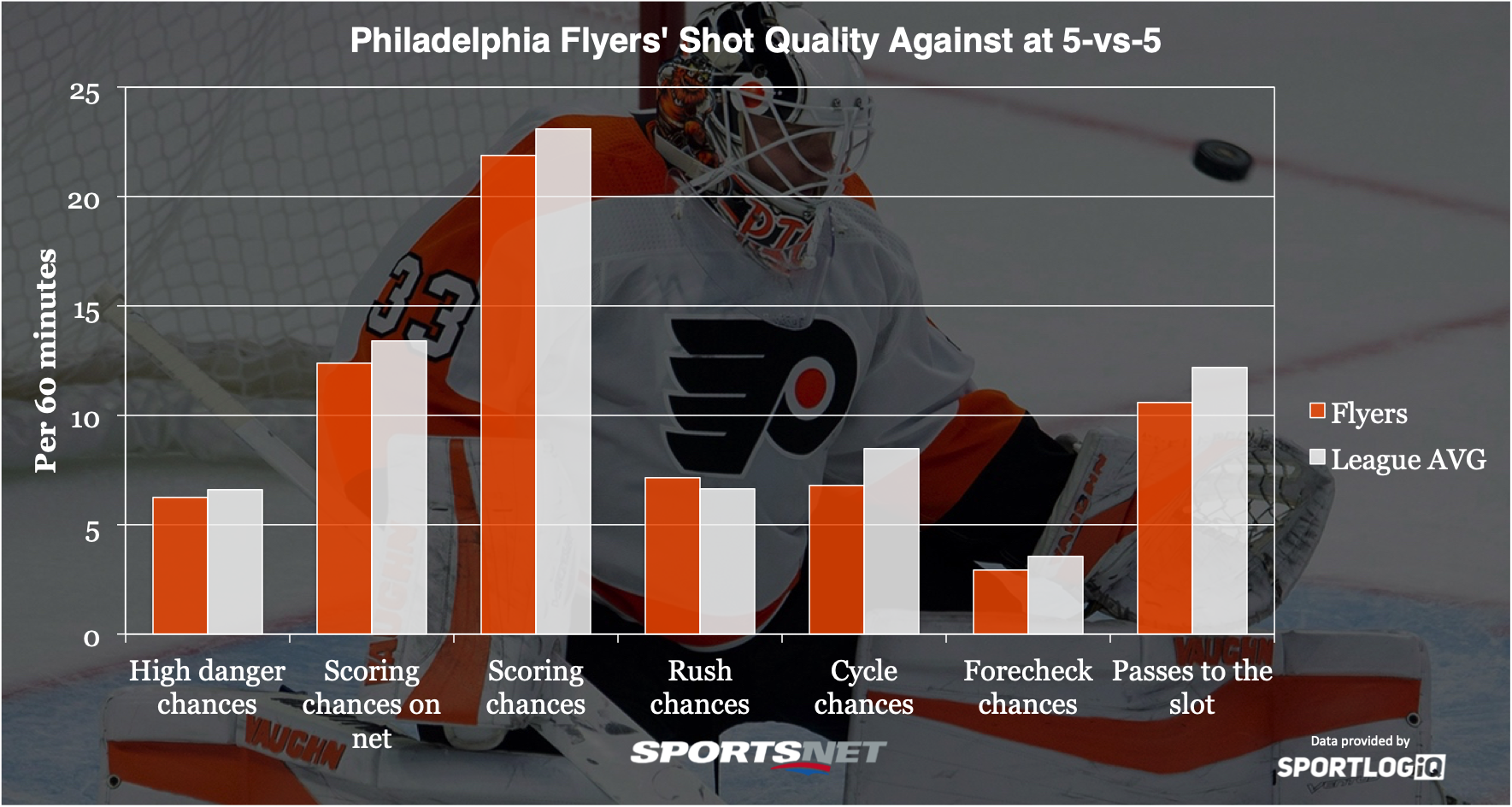 The Flyers do give up more scoring chances off the rush than league average, which is a bad thing because those are the most dangerous types of chances. But the Flyers also give up the absolute fewest cycle chances, third-fewest chances off the forecheck, and the third-fewest passes to the slot. This means they are essentially the NHL's best in-zone defensive team, with very little pre-shot movement allowed.
They also give up fewer high danger scoring chances and scoring chances in general than the league average, which means they were extremely unfortunate to have to rely on Calvin Pickard for a good chunk of this young season, and that Brian Elliott's above league average save percentage isn't really much to write home about.
I have the Flyers ranked as about the 14th-best team in the NHL this year, which means they're a fringe playoff team, and their 27th-place position in the standings can be laid mostly at the feet of goaltending.
Senior Writer Ryan Dixon and NHL Editor Rory Boylen always give it 110%, but never rely on clichés when it comes to podcasting. Instead, they use a mix of facts, fun and a varied group of hockey voices to cover Canada's most beloved game.
BUY OR SELL
• The Maple Leafs continue to move on from their perennial press box crew, sending Josh Leivo to Vancouver after trading Connor Carrick to Dallas earlier in the year. In limited minutes Leivo ranks 150th in scoring chances and 236th in chance creation per 20 minutes at 5-on-5, so expect a middle-six level of production for him if he gets lots of minutes for the Canucks.
• I might eat a lot of crow over Brady Tkachuk after not liking him as a top pick last summer. Per minute he's putting up the fourth-most scoring chances of anyone in the NHL, bested only by Brendan Gallagher, Auston Matthews, and Timo Meier. From the high danger area Tkachuk's 2.64 chances per 20 is miles ahead of Paul Byron in second place at 1.98, who himself is a big outlier ahead of Ty Rattie at 1.66.
• The Ducks have won five straight and boast the ninth-best record in the NHL at 15-10-5, but I'm not buying it. Looking at all the numbers, they've been the worst team in the NHL this season, it's just that John Gibson has been playing Hart Trophy-quality hockey and the team has been lucky.
• The Wild's Jason Zucker has had a fine start, on pace for 55 points, but don't be surprised if he ends up surpassing last season's 33 goals. He's one of the league's leaders in chances off the rush, and he's got a bullet shot.