With the playoff races in full swing, this week Andrew Berkshire looks at how important Brendan Gallagher's rise as a goal scorer has been to Montreal's wild card bid.
He also looks at the Columbus Blue Jackets, who are now 2-4-0 since the trade deadline, to try and figure out what is going wrong with them and how they're post-season hopes stack up to the others in the race.
Those topics, and more, in this week's Truth By Numbers column.
SPOTLIGHT PERFORMANCE
Now that he's accomplished the feat twice in a row, we can officially call Brendan Gallagher a 30-goal scorer in the NHL. That's something I've been expecting of him all the way back to his junior and AHL days because his shot rate was so obscene, I figured based on where he shoots from eventually the volume was going to overtake a poor shooting percentage and produce results.
After breaking his right hand twice in two years, first blocking a shot by Johnny Boychuk and then trying to provide a screen on a Shea Weber blast, Gallagher's utility as a top line player was highly questionable.
However, even when he posted a career-low shooting percentage of 5.3 while struggling to get his hand back to full health the underlying numbers proved that his impact on the Canadiens was among the best in the NHL for his position. Gallagher ranked as the ninth, 12th, and 11th best right winger in the NHL the past three years when I broke everything down.
For a large portion of his career, Gallagher rode shotgun with another one of the best play-driving wingers in the game in Max Pacioretty. But unlike other players who saw huge boosts alongside Pacioretty, Gallagher never saw much of a drop off when he was away from him – the two were just even better together. With Pacioretty now a Golden Knight, Gallagher has spent most of the season playing tough matchup minutes with Phillip Danault and one of the players Pacioretty was traded for, Tomas Tatar.
Danault isn't considered a high-end offensive centre and Tatar was coming off a down season, but put them both with Gallagher and what happens? They've formed a dynamite line that's led to career-best seasons for all three, even though the Canadiens' power play has been terrible, because they've been absurdly good at 5-on-5, led by Gallagher's huge breakout in shooting.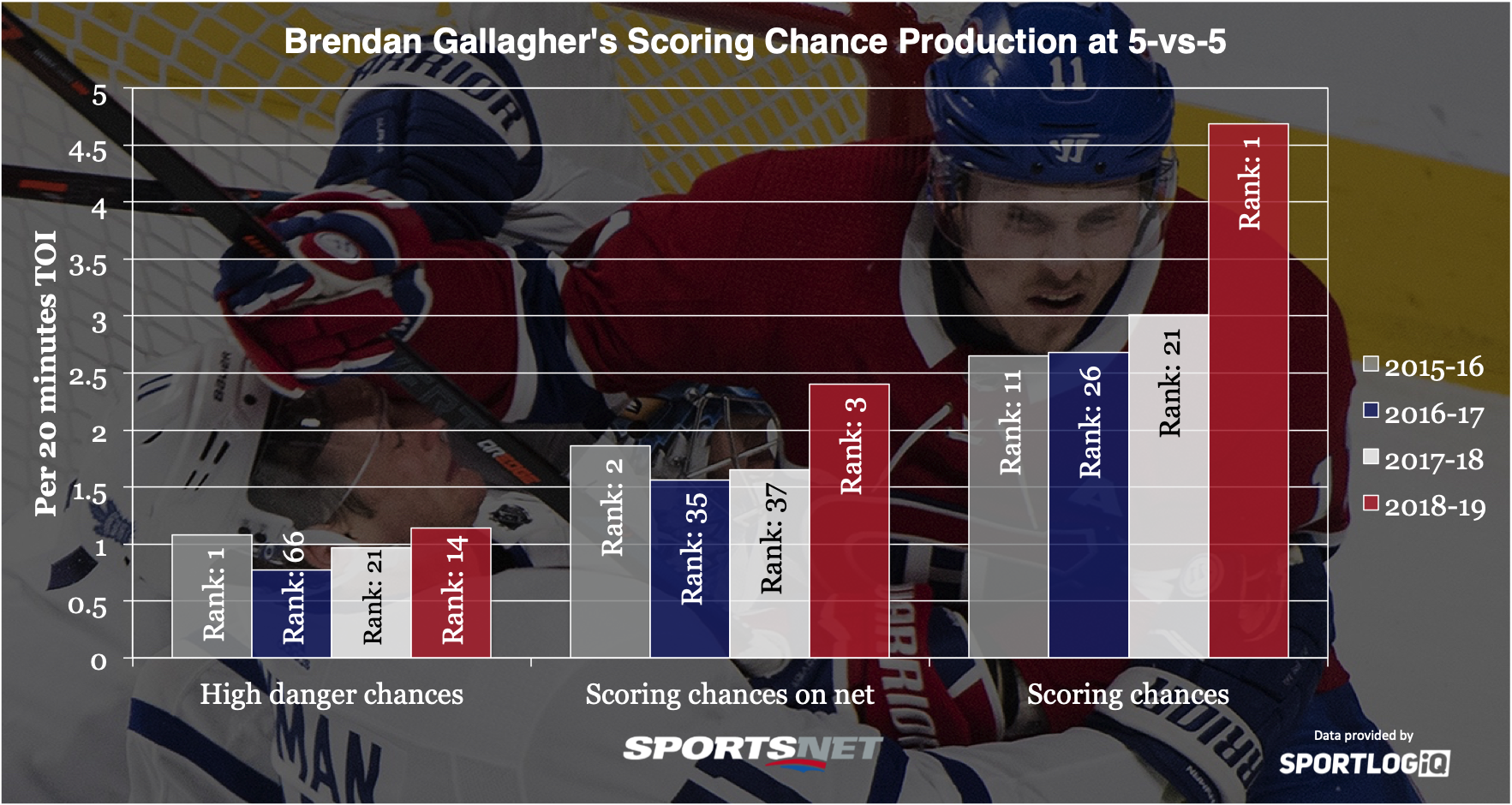 I included league ranks here in order to account for the NHL's growing number of scoring chances overall. You can see clearly that after Gallagher's hand was broken in 2015-16 he started to shoot more often from the high slot, dropping from more high danger chances than anyone in the league down to the 66th-most. Since then he's had two seasons where he's climbed up the rankings in high danger chances.
The thing is, moving out of the inner slot gave Gallagher more opportunity to contribute off the cycle with one-timers, and more room to get his shot off. As it turns out, he's actually quite efficient at scoring from further out as well. And though his high danger chances are increasing to career-high levels, just 47.5 per cent of his scoring chances on net are from the inner slot now. That's the lowest mark of his career and it's because he's absolutely spamming goalies with shots from the high slot.
Adding a new shooting option to his repertoire has made Gallagher a much better goal scorer, and he's proved that two brutal injuries to the same hand haven't hurt his ability to be a high impact player.
Being forced out of his comfort zone allowed Gallagher to discover that he's more than just a net-front goal scorer, and the Canadiens have benefitted.
[snippet ID=3322139]
THE QUESTION
The Columbus Blue Jackets have only been okay recently, going 4-6-0 in their past 10, and are on outside looking in at playoffs. They bought big at the deadline and are poised to lose at least Artemi Panarin and Sergei Bobrovsky in the off-season, so Steve Dangle asks:
"Should we expect Columbus to make the playoffs? They loaded up, but is the team playing well enough to force someone else out?"
I'm on record saying that I like Columbus' decision to keep Panarin and Bobrovsky and go for it this year, but I'm a little dubious on the heavy buying they did at the deadline. I like Matt Duchene and Ryan Dzingel, but adding them at a high cost puts even more pressure on the team for the rest of the season.
The Blue Jackets are in a tight race with the Montreal Canadiens, Carolina Hurricanes and Pittsburgh Penguins for one of the two wild card spots in the East, or even the third place spot in the Metropolitan Division. Which of these teams has an advantage over the final stretch of the season?
Let's look at how they've all been playing since the New Year.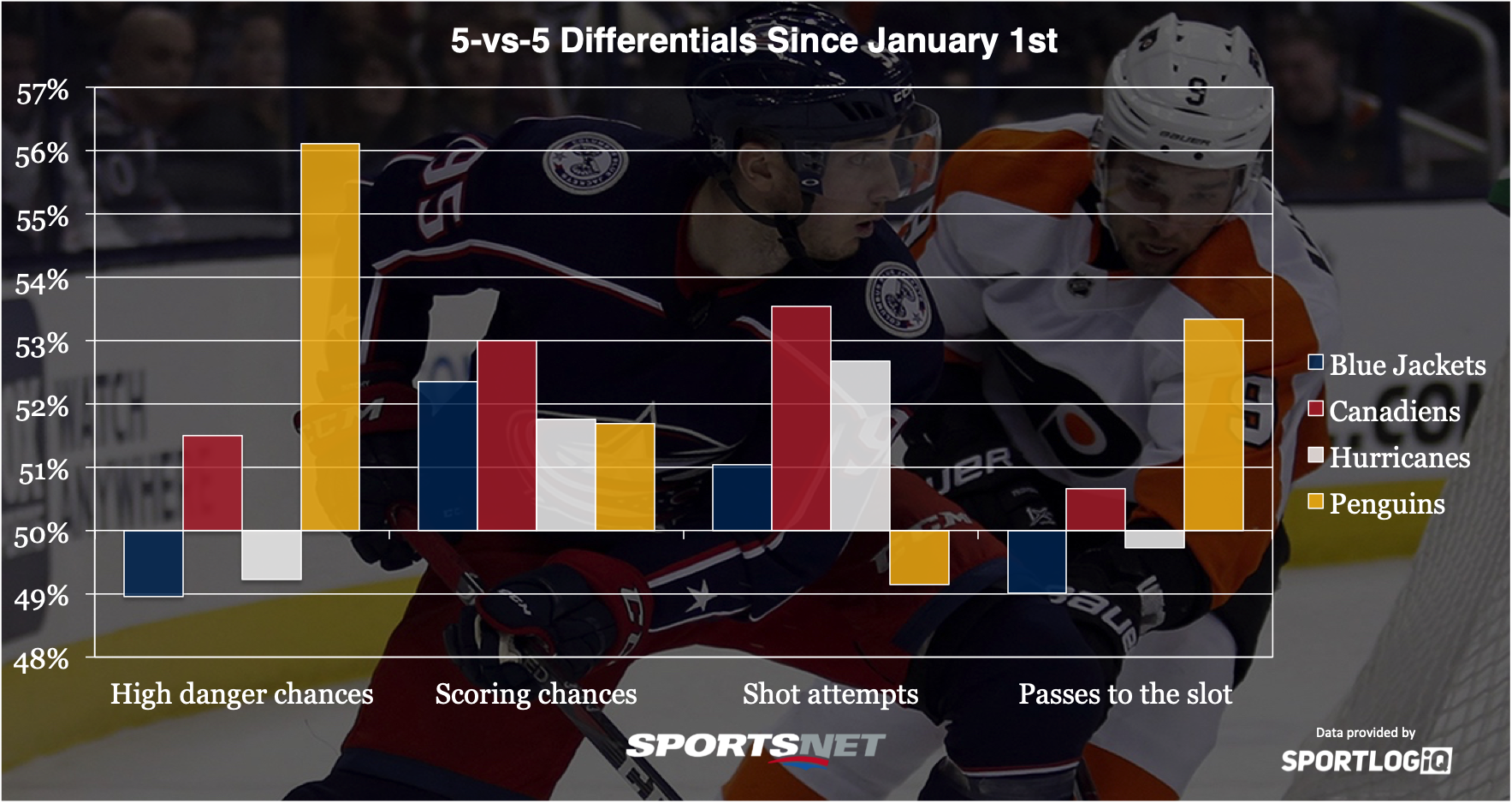 Looking at this field of teams, the Canadiens are the only one that remains positive by all four measures. The Penguins are what they've been for the past three seasons, only okay in the more general metrics, but brilliant at controlling the most dangerous plays on the ice. The Hurricanes seem to be controlling volume better than quality, and the same goes for the Blue Jackets, except their high-quality plays are slightly further in the negatives than Carolina.
Three of these teams can squeeze in, so the Blue Jackets only need to be better than one of them, but getting shutout 3-0 by the Penguins Thursday night isn't a good sign. And actually, looking at the play of these four teams if I had to guess which one ends up on the outside, it'd be Columbus.
That would be a heart breaker for the franchise, but the Canadiens look strong, the Hurricanes are red hot, and I just wouldn't bet against the Penguins with Sidney Crosby kicking things up a notch.
BUY OR SELL
• He's not really talked about for his offence, but my eyebrow raised a bit when I noticed Bo Horvat has the sixth-most scoring chances on net in the NHL this season with 143. He's probably getting more power play time than he would on most teams, but he's getting to the right spots. Strangely, his shooting percentage this year is lower than his career average, but the shot volume has lifted him to a career high in goals anyway.
• I mentioned Tomas Tatar having a career year earlier. He's one of only 23 regulars in the NHL this season with a high danger scoring chance differential over 60 per cent, and he has the second-best Corsi at 59.4 per cent, behind only Erik Karlsson and a hair ahead of linemate Brendan Gallagher. The Habs have to be pretty happy he's got another two years left on his current deal, because a $4.8 million cap hit looks like a steal right now.
• Nazem Kadri's streak of 30-goal seasons will end at two, but he has quietly had a fantastic season. No Leafs forward has a better high danger scoring chance differential and only Andreas Johnsson and Kasperi Kapanen have a better Corsi.
• Losing Robin Lehner to injury is going to hurt the Islanders. For the past three months, he's second behind only Andrei Vasilevskiy in save percentage at .934, and the other option the Isles have is all the way down at… the sixth-best save percentage in the league over that time. Thomas Greiss has a .930 save percentage in the same period… Never mind.
[relatedlinks]