This week for Truth by Numbers, we're going to shake things up a little bit and look at four players who have had breakout seasons, and how much of that is repeatable and real.
SPOTLIGHT PERFORMANCES
When the Philadelphia Flyers let go of Dave Hakstol earlier this season, it was anyone's guess as to what kinds of changes interim head coach Scott Gordon would make, but the most impactful one is now obvious; increasing Travis Sanheim's ice time from just 16:07 per game, the least on the team, to 21:28, the second-most after Ivan Provorov.
Sanheim has responded with 21 points in 43 games, second on the Flyers' defence after Shayne Goestisbehere, who has 22.
Sanheim's offensive skills are obvious, but his impact on shot quality is what impresses me the most. When you look at the more general statistics like shot differentials, he's a positive player but doesn't stand out. It's in the details where Sanheim looks like a potential star.
The Flyers' high-danger scoring chance and pass to the slot differentials are nearly five per cent better with Sanheim on the ice than when he's off, and that's while he's been challenged to play bigger minutes in the NHL than he ever has before, and in a year where the Flyers have struggled a lot.
Separating himself from the pack and pushing the Flyers' shot quality from the negatives when he's off the ice into the positives, that's an impressive feat.
Coming into the 2018-19 season, all the focus on San Jose was on their defence. The shiny new car named Erik Karlsson on top of Brent Burns was going to set the Western Conference on fire and let it burn. While Karlsson has struggled with injuries and his offensive numbers weren't great early in the season, he's delivered on the dominant even strength numbers at least.
Outside of San Jose, Karlsson has consistently been the story, even when he hasn't been playing, but under the radar, Timo Meier has become arguably the Sharks' best forward.
Last season, Meier was a solid middle-six option with scoring chance numbers that suggested that he could blossom into a consistent goal-scoring threat, and this year he's an absolute beast.
Meier has put the third-most high-danger chances on net at 5-vs-5 in the league this season at 64, trailing only John Tavares and Brady Tkachuk, the third-most scoring chances on net behind Tavares and MacKinnon, and has fired the second-most scoring chances at the net in the NHL after Brendan Gallagher with a whopping 209.
Meier also has the sixth-best high-danger scoring chance differential in the league among forwards at 59.8 per cent, and while he's on the ice, the Sharks are getting nearly 62 per cent of their passes to the slot. That is patently absurd levels of dominance.
He and Tomas Hertl are the duo that drives the Sharks' first line these days, and that's a good thing for a San Jose team whose biggest concern is an aging core.
I was a big fan of the acquisition of Elias Lindholm for the Calgary Flames, but in my loftiest expectations, I didn't expect a breakout season of this magnitude. Over a point per game and likely going to hit 30 goals for the first time in his career, Lindholm has been a perfect fit on the Flames' top line.
Lindholm adds some defensive responsibility to one of the best offensive duos in the NHL in Johnny Gaudreau and Sean Monahan, but there's a few warning signs around Lindholm's season.
It would be unrealistic to expect Lindholm to contribute offensively at the same rate as a bona fide elite offensive performer like Gaudreau or a consistent high-level goal scorer like Sean Monahan, but the gap in both scoring chances and playmaking contributions between Lindholm and his linemates makes his gaudy point totals questionable to me.s
Sometimes players can get by as a third wheel on a line offensively and contribute a ton of points if they're pushing the play in transition, but Lindholm is the third wheel there too, with Gaudreau doing almost everything in that regard for two linemates who aren't very good at moving the puck forward.
While Monahan is flexing his playmaking muscles more than he ever has before, Lindholm has merely been good offensively, not great. He's loading up on points, but is this a repeatable season for him? I don't think it's likely.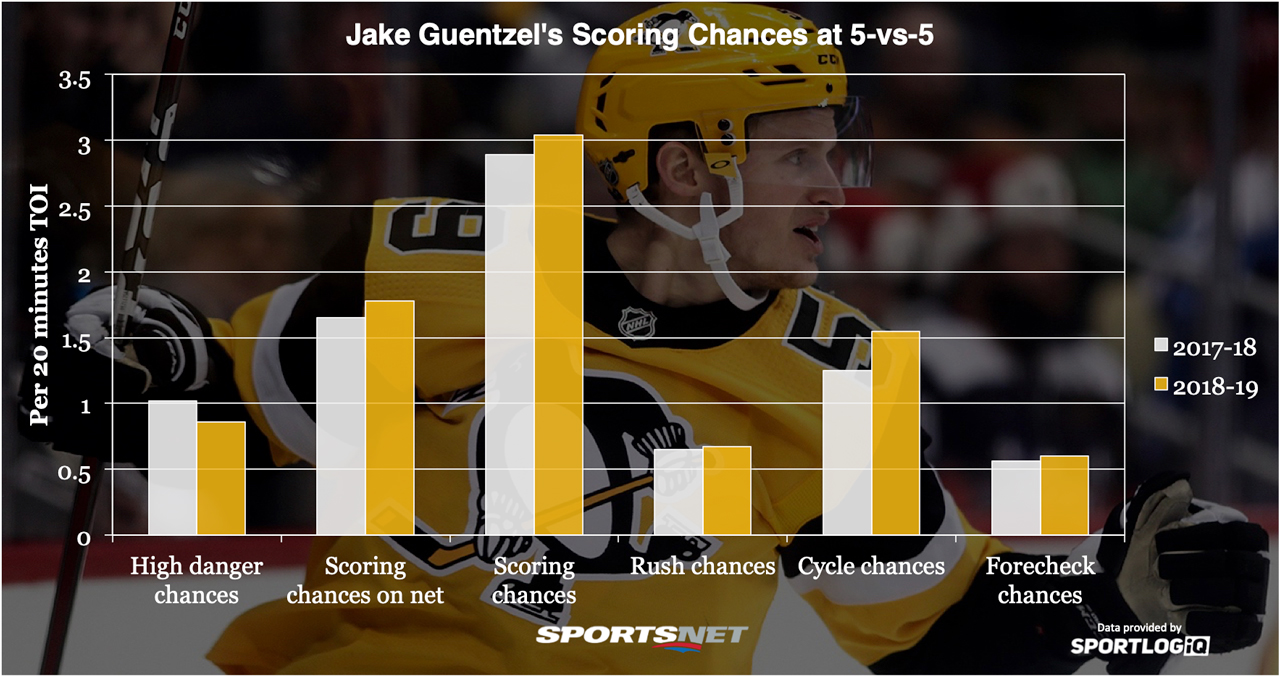 Speaking of players who are playing with great linemates, Jake Guentzel is in his second full season playing mostly with Sidney Crosby, and while he was a good player last season who had beyond amazing playoff performances, this year he has ascended into the top tier of goal scorers in the NHL, potting over 30 goals at even strength.
Playing with Crosby has certain advantages. There are a lot of players over the last decade and a half or so who have had career season after career season while riding his coat tails. Guentzel is among the more talented linemates Crosby has had in Pittsburgh, though. He has a true nose for the net and good instincts to get high quality shots, but without Sid, I don't think many people would expect him to flirt with a point per game.
Compared to last season – at even strength anyway – not much has really changed. He's producing more chances overall, getting more of them on net, and a higher percentage of his chances are being preceded by a cycle pass, but it's a big jump to go from 15 even strength goals last season to 31 and counting this year.
However, looking at the larger sample size of his whole career, Guentzel is scoring on 18.5 per cent of his shots this season, he scored on 19.8 per cent of his shots as a rookie two seasons ago, and in 37 playoff games he's scored on a ridiculous 26.7 per cent of his shots on goal.
Last season he scored on just 12.9 per cent of his shots, so what's the more likely outlier? Is it the season where he shot 12.9 per cent on 171 shots, or the rest of his career where he's scored on 20.7 per cent of his 367 shots? The reality is likely in between, but the overall average for his career is 18.2 per cent, which is about what he's shooting this year.
A poor shooting percentage hid some of the progression that Guentzel has made in his game, but reverting to about his career average has revealed him as one of the league's best finishers.