You may not realize it, but Nashville's Viktor Arvidsson is one of the elite goal scorers in the game today, especially at 5-on-5, which is exactly what his team needs. In the East, when the Ottawa Senators traded Erik Karlsson to San Jose it marked the end of an era and opened up a whole bunch of questions about the future of their blue line — but with Thomas Chabot scoring at nearly a point per game pace, how well is he replacing Karlsson?
That plus notes on Brayden Point, James Neal and more in this week's column.
Celebrating heroes of the game, Sportsnet and Scotiabank unite to bring a 4-day hockey festival to Swift Current, Sask., and a 12-hour national NHL broadcast to Canadian fans coast-to-coast on Feb. 9.
SPOTLIGHT PERFORMANCE
For the past two seasons, Viktor Arvidsson has made good on the promise he showed in his rookie season as a high-volume shooter. In 2016-17 and 2017-18 Arvidsson scored 31 and 29 goals respectively, but this year his totals were in question for a bit when injuries took him out of the lineup a few times. In the games he's managed to play, though, Arvidsson has been scoring like a man possessed, already at 22 goals in 32 games played, including 13 in 16 games since the calendar turned to 2019.
No one has scored more than Arvidsson over that time, and he's managed to get it done without any power play goals as Nashville's man advantage continues to struggle.
In fact, over the past three seasons, only Auston Matthews and Jeff Skinner have scored more 5-on-5 goals per 60 minutes of ice time than Arvidsson's 1.27, and no one is scoring more per 60 minutes than he is this season. Arvidsson averages 2.17 goals for every 60 minutes of 5-on-5 action.
For the Predators, who lack offensive depth up front and need 5-on-5 scoring to compensate for a terrible power play, this is great news as we get closer to the playoffs, but Arvidsson is shooting at 19.1 per cent this season, way up from 11.7 per cent last season and 12.6 per cent the season before. Has he changed something up, or is he due to regress a bit?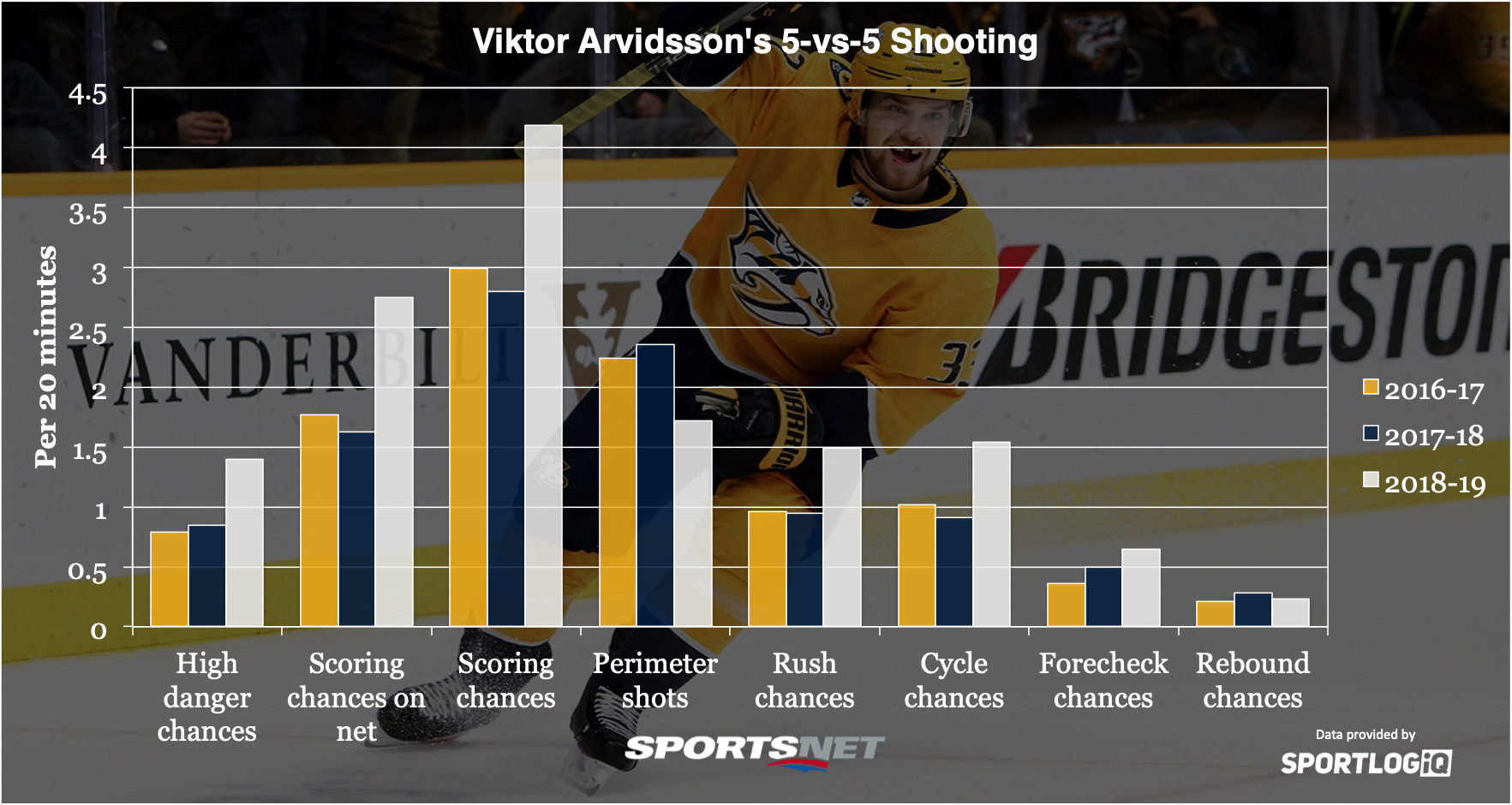 Well…yeah. As good of a scorer as Arvidsson has been in his career, he's been unbelievable this season in creating scoring chances for himself, shooting from better areas, incorporating more chances off the rush and pouncing on to mistakes generated by forechecks more often. A great season from Ryan Johansen has also given Arvidsson the opportunity to get more scoring chances preceded by passes as well.
Only Brady Tkachuk, Paul Byron, and William Carrier are getting more high danger chances per minute than Arvidsson, only Brendan Gallagher and Timo Meier are getting more scoring chances total, and no one is getting as many scoring chances on net. Clearly, Arvidsson has found an extra gear this season, and this level of goal scoring might be more sustainable than you think.
Senior Writer Ryan Dixon and NHL Editor Rory Boylen always give it 110%, but never rely on clichés when it comes to podcasting. Instead, they use a mix of facts, fun and a varied group of hockey voices to cover Canada's most beloved game.
THE QUESTION
After watching the Ottawa Senators push his Toronto Maple Leafs all season despite being really bad, Steve Dangle is confused about what's going on, but he's been really impressed by one player: Thomas Chabot. So Steve asks a controversial question:
"Has Thomas Chabot adequately replaced Erik Karlsson in Ottawa?"
Wow Steve, can't believe you'd suggest that. Glad I had nothing to do with framing that question so angry Senators fans can't yell at me.
Let's look into it though. We'll use on-ice statistics relative to teammates to avoid the noise of how bad Ottawa is compared to the Sharks.
Obviously Karlsson and Chabot are playing very different minutes on two very different teams, but it's actually pretty shocking — to me at least — how well Chabot has been able to keep the Senators afloat while he's on the ice. Having an impact similar to Karlsson, including improving the Senators' slot pass differential by an insane 11.1 per cent while he's on the ice, is a testament to the quality of player Chabot is.
Obviously the Senators would be a better team if they had both players, so it's not exactly a confirmation that they didn't need Karlsson at all, but their faith in Chabot seems to be well placed early in his career.
Offensively, Chabot has a ways to go before equaling Karlsson's 5.39 scoring chances created per 20 minutes at 5-on-5. He's creating 3.8 right now, but his on-ice impact has been undeniable.
Chabot is a player worth watching among the next generation of future Norris contenders.
BUY OR SELL
• With the big numbers attached to Auston Matthews' contract and the rumours of what Mitch Marner will come in at, you have to wonder how Tampa Bay is going to deal with Brayden Point's contract negotiations this summer. He's currently their cheapest player at a cap hit of only $686,000, but is seventh in league scoring. Next season Nikita Kucherov's salary basically doubles as well, while Yanni Gourde will get an extra $4 million. Expect some big names to be moved out around the draft. Even with the Florida tax advantage, there's not enough money to go around. It wouldn't surprise me if Point gets the same contract as Steven Stamkos ($8.5 million).
• Derick Brassard can blame less ice time for his production drop this season, but what he did with the ice time he got suggests he didn't deserve more in Pittsburgh. Last season he created the 60th-most scoring chances for his teammates in the NHL among forwards, but this year that has dropped to 189th. He has the talent to rebound, but this could be signs of decline at age 31.
• Last season Erik Gustafsson was the only Blackhawks defenceman to finish with a positive high danger scoring chance differential, a hint of being capable of taking on a bigger role. This year only Duncan Keith has more ice time on the Hawks, and while no one on Chicago's disaster defence has positive scoring chance differentials, Gustafsson is staying positive in shot attempts. Plus, his 10.4 scoring chances created per 20 minutes on the power play leads all Blackhawks defenders and ranks 24th in the NHL among all blueliners.
• James Neal's shot rates have been in decline for a while, but going from 25 goals in 71 games last year to on pace for just eight goals total this year is absurd. He's producing about a scoring chance less per 20 minutes of ice time than he did last season at 5-on-5, but he's putting chances on net at almost the same rate as Elias Lindholm and Matthew Tkachuk. Neal just can't catch a break. It would be a nice surprise for the Flames if his fortunes changed in the playoffs.