The world has changed since Igor Larionov wore the uniform of the Central Red Army's hockey team. The Cold War has been replaced by something much more nuanced; the questions and answers infinitely more complicated in a time of increased economic interdependency and borderless reality.
Russian hockey players? There's not much mystery about them, beyond the usual stereotypes still given credibility in some of the darker corners of the game. There were 34 Russian-born NHLers in the league in 2013-2014, and in the June draft, 13 Russian-born players were selected, the most in eight years. They've been team captains, colossal over-achievers, spectacular under-achievers, coach-killers … pretty much the same as any other nationality.
Yet another 'political statement' made by a Russian-born player – in this case, Semyon Varlamov, who over the weekend posted an Instagram photograph of himself wearing a shirt with a photo of Russian president Vladimir Putin and 'Crimea Is Ours' written in Cyrillic before taking it down – reminds us that, for the first time in years, Russian players will be competing against a backdrop of Western animosity directed at their government, this time over the crisis in Ukraine.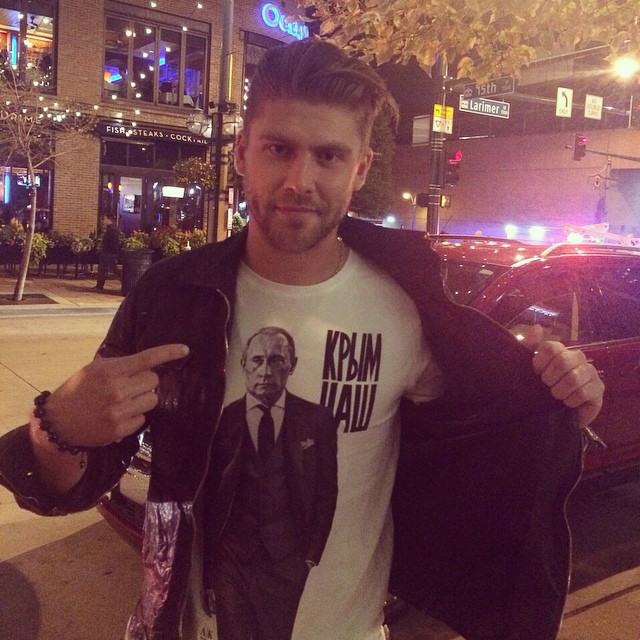 (Photo via Instagram)
Should the NHL be concerned? Should its Russian players? You'd have to look back to the political fallout from the invasion of Afghanistan to find political tension like this – to find a time when European powers and the U.S. were jockeying for strategic positioning with an aggressive then-Soviet Union. Russian teams had been playing exhibition series since the 1972 Summit Series, and after awhile the tenor of the games changed from one of mystery to on-ice bitterness. Through it all, however, nobody worried about Twitter or Instagram. The 140-character universe didn't exist. Neither did the Kontinental Hockey League, for that matter.
"I remember when we'd come over and play in an arena like, say, The Spectrum, there would be a real atmosphere," Larionov, a regular on both the Central Red Army and then-Soviet national team who is currently a player agent, said in an interview last week.
"It's one thing when you come once a year, like I did for six or seven exhibition series and represent your country. But today, you have Russian players in Montreal … Washington … Pittsburgh. Everywhere. They're playing every day, now. Fans want to see nice plays made, and I don't think hockey players worry about what is going on in Ukraine, Iraq, Syria – whatever.
"But you do have to be aware of the circumstances," he said. "You need to be aware that there's propaganda both ways. And … you need to remember that people are dying."
Larionov spoke just a few days after the most transcendent Russian player of his generation, Alexander Ovechkin, found himself answering questions based on an Instagram photograph showing him holding a sign that read #savechildrenfromfascism.
The hashtag has appeared frequently in Russian social media since the beginning of the crisis in the Ukraine and is taken as support for pro-Russian, pro-Putin rebels operating in eastern Ukraine. Ovechkin has embraced Putin publicly on several occasions, and his mother, Tatiana, is a two-time Olympic gold medallist who has found favour with Putin and the Russian sports hierarchy.
"I don't try to make a statement," Ovechkin told reporters at a subsequent NHL media availability in New York City. "Right now, as a Russian, I have lots of friends from Ukraine. I just don't want a war. Nobody wants a war."
Larionov, who was part of the Red Army's storied KLM line along with Vladimir Krutov and Sergei Makarov and who helped lead the fight to allow Russian-born players to go to the NHL, remembers the impact of the Central Red Army's uniform in North America.
"We didn't have anything to do with the decision to send in troops (to Afghanistan)," he said. "But we were aware of what people thought."
Jay Grossman, president of PuckAgency LLC and an agent for several Russian players and North American players in the KHL, agreed with Larionov's assessment that while common sense must be exercised, the NHL has become so international that the Ukraine crisis shouldn't be a factor this season.
"Sports has a way of bringing us closer during tragedies and difficult matters," Grossman said. "Sometimes, sports can be a leader in fostering better relations. Perhaps it's different in nature, but I believe the outreach of support during 9/11 or the Lokomotiv Yaroslavl plane crash (which took the lives of 44 individuals a little more than three years ago, most of them playing for the KHL team) was very humanitarian on both sides of the globe."
Larionov says that his major concern about the place of the Russian player in the game is what he sees as a shift in how the game is played.
"I have said in the past I was concerned about simple, chip and chase hockey," he explained. "I worry about how patient NHL teams will be with Russian players; I don't want to see a players skill level destroyed. But that's just a philosophy about how the game is played. It's nothing more."
Here's hoping it stays that way; that the only stress points are internal hockey politicking – whether to go to the Olympics, for example – as opposed to a bigger picture that doesn't always translate well into 140 characters.