A lot has happened in the world since the last time the Chicago Cubs won the National League pennant and even more since the last time they won the World Series before they finally broke the curse in 2016.
While there's nothing that can really compare to the Cubs' run of futility in any other North American pro sport, the NHL's bizarro equivalent would have to be the Detroit Red Wings' current playoff streak. In the 25-plus seasons since the Stanley Cup Playoffs were last played without the Red Wings as a participant, the landscape of the league has dramatically changed.
The Hartford Whalers, Quebec Nordiques, and Minnesota North Stars no longer exist. The Winnipeg Jets left for a while and came back years later. The league added nine new teams (10 if you include the impending Vegas Golden Knights). The fact that I wasn't even born yet falls somewhere on that spectrum of events as well.
The Red Wings have been able to maintain that elevated baseline of success in large part because of their knack for staying ahead of the curve. In many ways the franchise has been the pioneers of the hockey world. By emphasizing concepts that seem obvious now but were far from it at the time – like exploiting the European gold mine in the later rounds of the draft or realizing the importance of puck possession – they gave themselves a leg up on the competition for years.
I think it's that same standard of excellence that makes their current downward trajectory particularly unsettling. Their collective apex came in the 2007-2009 time frame, when they were routinely blowing everyone out of the water at five-on-five. Since then it's been a slow but steady descent down the mountain. While the overall effectiveness has clearly been decaying for some time now, the original starting point was so high that it afforded plenty of room for error.
At least that was the case until this season, where the drop has been precipitous and unforgiving:
Particularly alarming has been their inability to generate shots, a category in which they currently sit 30th in the league. They're 26th in overall shot share as a result, sandwiched between the Senators and Canucks, and in a rather unfamiliar neighbourhood.
The stellar play they've received in net – especially from Jimmy Howard, who has been one of their few pleasant surprises – has managed to mask some of Detroit's problems, but it'll only be able to keep them afloat for so long if these offensive woes persist. The problem is there doesn't appear to be any reason to expect things change on that front. They're 27th in total goals for the year, and considering they're also 27th in expected goals at five-on-five, it's not like they can even attribute those struggles to misfortune or unlucky bounces.
It seems strange to lay too much of the blame for a team's lack of scoring punch on their leading scorer (if everyone else was keeping pace with him, they'd obviously be in better shape as a collective), but it's worth mentioning Henrik Zetterberg if only because of how aptly he embodies the transformation the Red Wings have undergone over the years.
Once one of the league's best, most underappreciated players in the league, he's now a shell of what he used to be. While his finishing skills eroded some time ago – he's been a sub-8% shooter since 2009 – he managed to compensate for it by being a supremely high volume trigger man. At this point, even that's beginning to atrophy to untenable levels: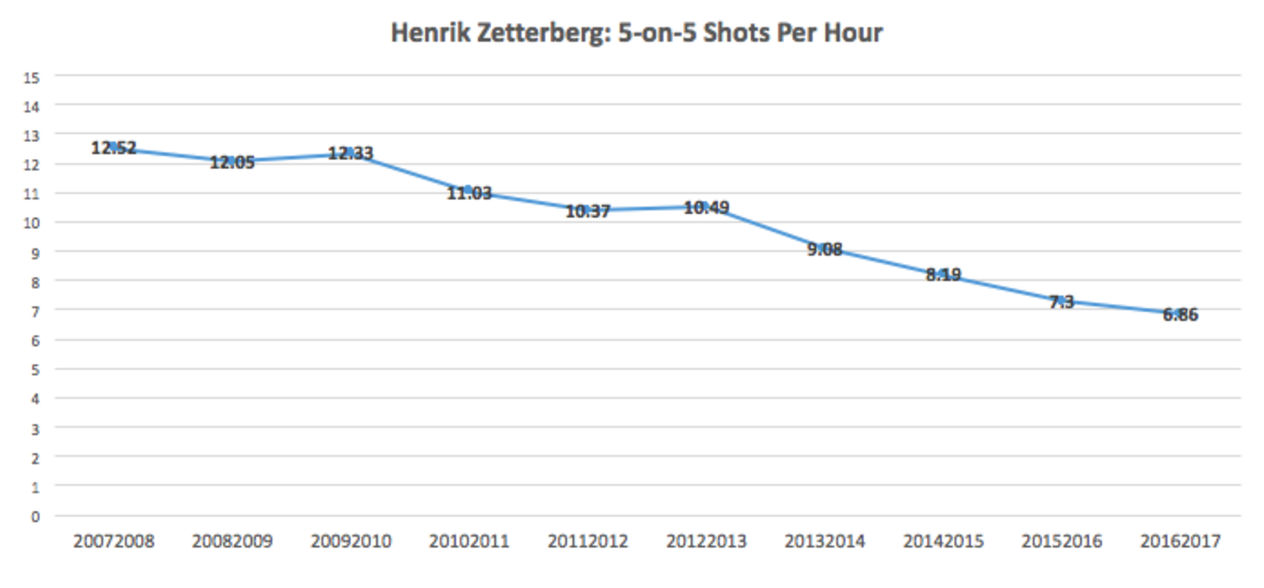 The larger issue beyond just Zetterberg's declining play is that he's far from the only aging player the Red Wings have tied themselves to for too many years and too many dollars. The elephant in the room is that GM Ken Holland's loyalty and preference for keeping everything in-house is now coming back to bite them by tying their hands financially and limiting their avenues for improving.
Zetterberg ($6.083M), Niklas Kronwall ($4.75M), and Jonathan Ericsson ($4.25M) are all signed through at least 2019 despite hovering around their mid-30s. Frans Nielsen, their prized off-season signing from this past summer, is currently a fine two-way player, but he's making $5.25M until 2022. That's a lot of money to be on the hook for with someone who's turning 33 this April. Danny DeKeyser ($5.0M) and Justin Abdelkader ($4.25M) are technically in the ballpark of their prime years, but they're already highly overvalued assets who are on the books until 2022 and 2023, respectively. Luke Glendening only makes $1.8M which is hardly a killer, but he's a fourth liner who was inexplicably handed a four-year extension before his current deal even expired.
Where they go from here is an interesting question. The first stages of life without Pavel Datsyuk haven't been kind to them. They've won just two of their past 23 games in regulation. In their most recent outing, they lost to an Arizona Coyotes squad that's essentially become the NHL's equivalent of a free square in Bingo.
Forget the fact that, at this rate, the 25-season playoff streak may finally come to an end this spring. If they're not careful with how they approach digging out of this hole – they'd do well to avoid any desperation patchwork trades like the David Legwand and Erik Cole ones from years past, and instead take a long-term view – this recent downswing could quickly switch from being just an aberration to a new, far less impressive norm they're stuck in for years to come.