Wait… what?!?
Joel Quenneville got WHAT?
In the National Hockey League there is a saying that has endured among players, still rolling off of hockey tongues long after the actual deed was done: "If Wayne Gretzky could get traded, anyone can get traded."
Quenneville is the coaching equivalent in today's NHL. If he can get fired, no one is safe.
Joel Norman Quenneville was fired by the Chicago Blackhawks this morning, sending shock waves across the hockey world. It was unexpected, and seemingly undeserved, though there are always things that go on behind the scenes that can turn a few tremors into a full-blown earthquake like this.
Has Chicago general manager Stan Bowman decided that the 2018-19 season can't be about making the playoffs? That it should instead be a forum to play young players and collect the requisite high draft pick that would ensue?
Did Quenneville, who has a history of not always being on the same page as Bowman when it comes to player personnel — see: Daley, Trevor — decide that he would be the judge of the aforementioned strategy, and when it was time to bail on winning?
Let's face it, Blue Jays manager John Gibbons saw a rebuild coming in Toronto and flat-out admitted he didn't have the stomach for the job. Could that define Quenneville?
The short answer would be: Yes. Probably.
After stints in St. Louis (eight seasons) and Colorado (three seasons), this was Quenneville's 11th season as the Blackhawks head coach. He had won three Stanley Cups in Chicago, taking teams that had to be basically rebuilt after the first two Cup wins due to cap constraints, and after a year or two hoisting a Cup again, the big shiny mug that had eluded that franchise for nearly 50 years before his arrival.
Quenneville, however, made the mistake last season that so many others have made. He missed the playoffs. A franchise that not long ago had been hemorrhaging dollars, with 6,000 or 7,000 people in the stands, had become accustomed to packing 20,000 per night into the rink to watch a winner. With that came obscene profits, money that will diminish without playoff gates and big, meaningful games down the stretch.
The Hawks were a .500 team through 15 games this fall, with a minus-10 goals differential that was fourth-worst in the league. The two $10.5-million superstars — Patrick Kane and Jonathan Toews — will be 30 and 31 at season's end, and after being the class of the Central Division for a decade, it appears the Hawks are just like everyone else now.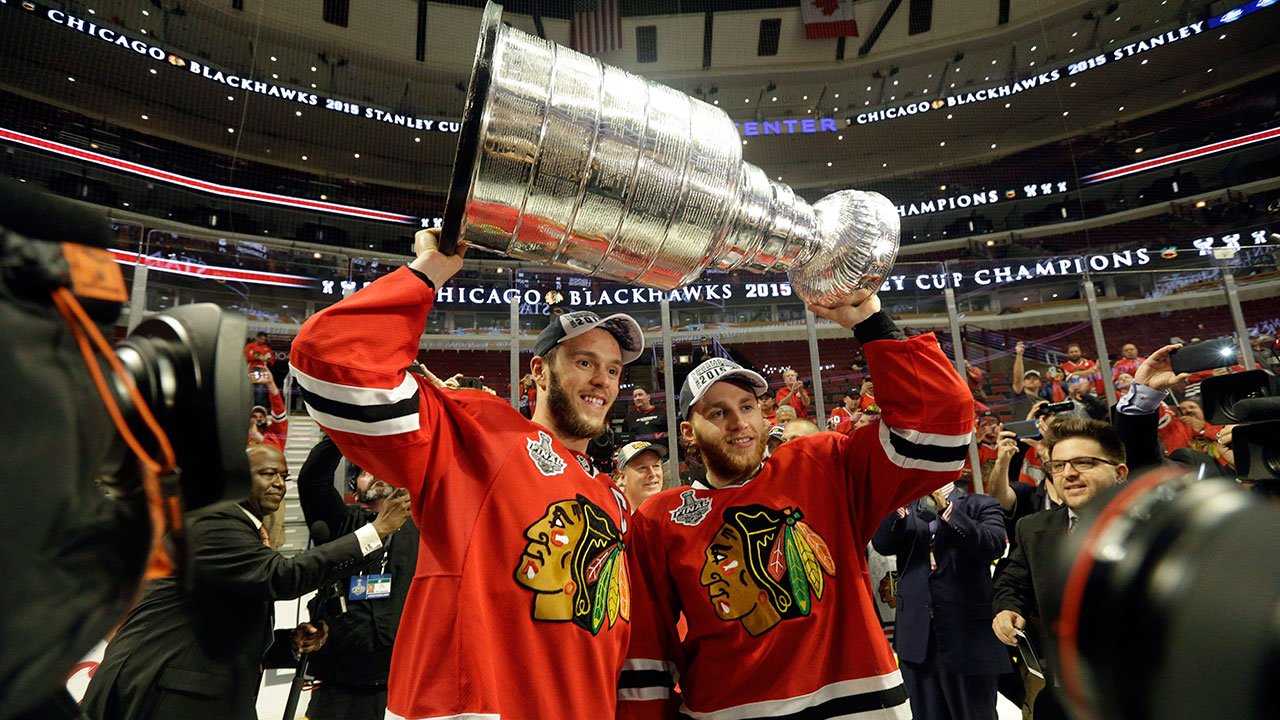 Alas, so is Quenneville, fired along with assistants Kevin Dineen and Ulf Samuelsson just a couple of days after John Stevens was axed in Los Angeles.
Jeremy Colliton, just 33 and the youngest active head coach in the NHL, was named as the 38th head coach in franchise history. He begins his career just 890 wins behind Quenneville, who trails only the great Scotty Bowman on hockey's historical coaching ledger.
But, really, should we ever feel this way anymore when a coach gets let go?
"Hired to be fired."
"Only as safe as your last season."
"He's lost the room."
Hang around as long as the moustachioed Quenneville has, and one of these coaching clichés will eventually fit, won't it? Even, somehow, ahead of a .610 winning percentage?
He was the longest tenured coach in the league, believed to be the second-highest paid behind Mike Babcock in Toronto, and first landed in Chicago for the 2009-10 season, promptly winning the first divisional title in 16 seasons.
During that time Bill Wirtz, the patriarch of the Wirtz family, died, and son Rocky Wirtz took over the franchise, installing an entirely new verve. The Blackhawks put their games on local television. They reunited with old stars like Bobby Hull, Stan Mikita and Tony Esposito.
They made the United Center a place Chicagoans wanted to be again — and not just because Michael Jordan was playing.
The Blackhawks were taking a bite of the Chicago entertainment dollar away from the Cubs, Bulls and Bears. On the ice, Quenneville turned the team into a decade-long powerhouse. Toews, Kane, Marian Hossa, Duncan Keith, Patrick Sharp, Brent Seabrook — suddenly the Blackhawks players were as big a deal in The Windy City, like Scottie Pippen or Anthony Rizzo.
Remember that rivalry with the Vancouver Canucks, and how the Canucks felt that — once they finally beat the Blackhawks in that 2011 second round series — they were legitimate Stanley Cup contenders?
'Coach Q' was as big a reason as any that the Blackhawks became that benchmark. Now he's been fired. Just like the rest of them.
If he wants to work, he won't say unemployed for long.