One is a big, goal-scoring American who plays left wing for an Original Six Canadian team. The other is a large, sniping Yank who skates on the port side for one of the most celebrated teams in Canada.
Hang on. What exactly separates James van Riemsdyk and Max Pacioretty?
In what we hope will be a fun, debate-fuelling feature (read: cue the angry comments), Sportsnet.ca has decided to find NHLers who share something in common—some connections will be more tenuous than others—and make the case for each as superior to the other. Final say will rest with our readers, however, as a poll will be attached to the bottom of each post.
Given their shared nationality, similar stature, scoring ability and status as stars on Canada's two oldest teams, we thought "JVR" and "Max Pac" were a natural pair to kick things off.
So, who would you rather have?
---
For a limited time get Sportsnet Magazine's digital edition free for 60 days. Visit Appstore/RogersMagazines to see what you're missing out on.
---
The case for James van Riemsdyk: You could almost feel the fleece when former Toronto Maple Leafs general manager Brian Burke obtained van Riemsdyk from the Philadelphia Flyers for defenceman Luke Schenn in the summer of 2012.
Sure enough, given a consistent chance on a top line, van Riemsdyk responded with 93 points in 128 games over two seasons with the Leafs. He's struck a wonderful chemistry beside Phil Kessel and Tyler Bozak, providing Toronto with a menacing first unit.
While more noted for his goal-scoring ability, van Riemsdyk can also play the role of setup man, as his 31 assists last season attest. His speed on the rush is enough to back off any defenceman, but JVR probably does his best work down low, where he's absolutely deadly around the net.
Drafted second overall in 2007, van Riemsdyk was dogged by injuries in Philly and never truly seemed loved by the Flyers. Now 25, the New Jersey native is poised to play his best years in blue and white.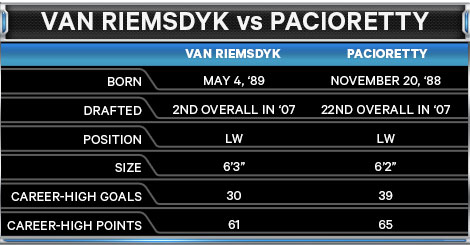 The case for Max Pacioretty: Alex Ovechkin and Steven Stamkos. Those are the only two players who put up a better goals-per-game mark than Pacioretty managed last season, when the 25-year-old notched a career-high 39 goals.
While Pacioretty is a huge advocate for his centre, David Desharnais, some would argue his output is all the more impressive because he doesn't skate beside a world-class pivot.
In addition to his scoring exploits, Pacioretty spent time on the penalty kill as he continues to evolve as a player. Skating and shooting will always be the name of the game for big No. 67, who carves an imposing figure when he's cutting toward the net with a full head of steam.
Pacioretty has also shown great resolve in his career, overcoming a fractured vertebra in the spring 2011. The next year, Pacioretty returned to post a career-best 65 points.
Verdict: Good as JVR has become, Pacioretty gets the slight nod here because he doesn't play beside a front-line offensive talent like Kessel and still scores at an elite level.
[polldaddy poll=8229917]