The Vancouver Canucks were a near-consensus pick for one of the worst teams in the league coming into the 2016-17 season and while they haven't performed at lottery team levels, their 47.52 per cent score-and-venue-adjusted Corsi ranks seventh-last in the league, and their 47.53 per cent even strength goals for percentage ranks 12th-last.
Considering the expectations for the team, even after adding Loui Eriksson in the summer, that's actually not too bad. Topping off the surprising first 47 games for Vancouver is the fact they're just one point out of a wild card spot. It's likely that the Los Angeles Kings will pass them with the games they have in hand, but even still, this is fairly unexpected for the Canucks.
They've been buoyed of late by stellar play from Ryan Miller, who has the second-highest even strength save percentage in the NHL among starting goaltenders since December 1 with a .945 rate, but overall it's tough to figure out how the Canucks have the 18th most points in the NHL so far.
It becomes even more difficult to understand when you look at special teams, where the Canucks are 28th on the power play and 22nd on the penalty kill. Miller has been solid overall this season with a .919 save percentage, but is that enough to drag a team that's performing like a bottom-seven squad up to the edge of playoff contention?
Let's dig a little deeper to see if there's anything to this team. Maybe they're abnormally successful in certain areas of the game.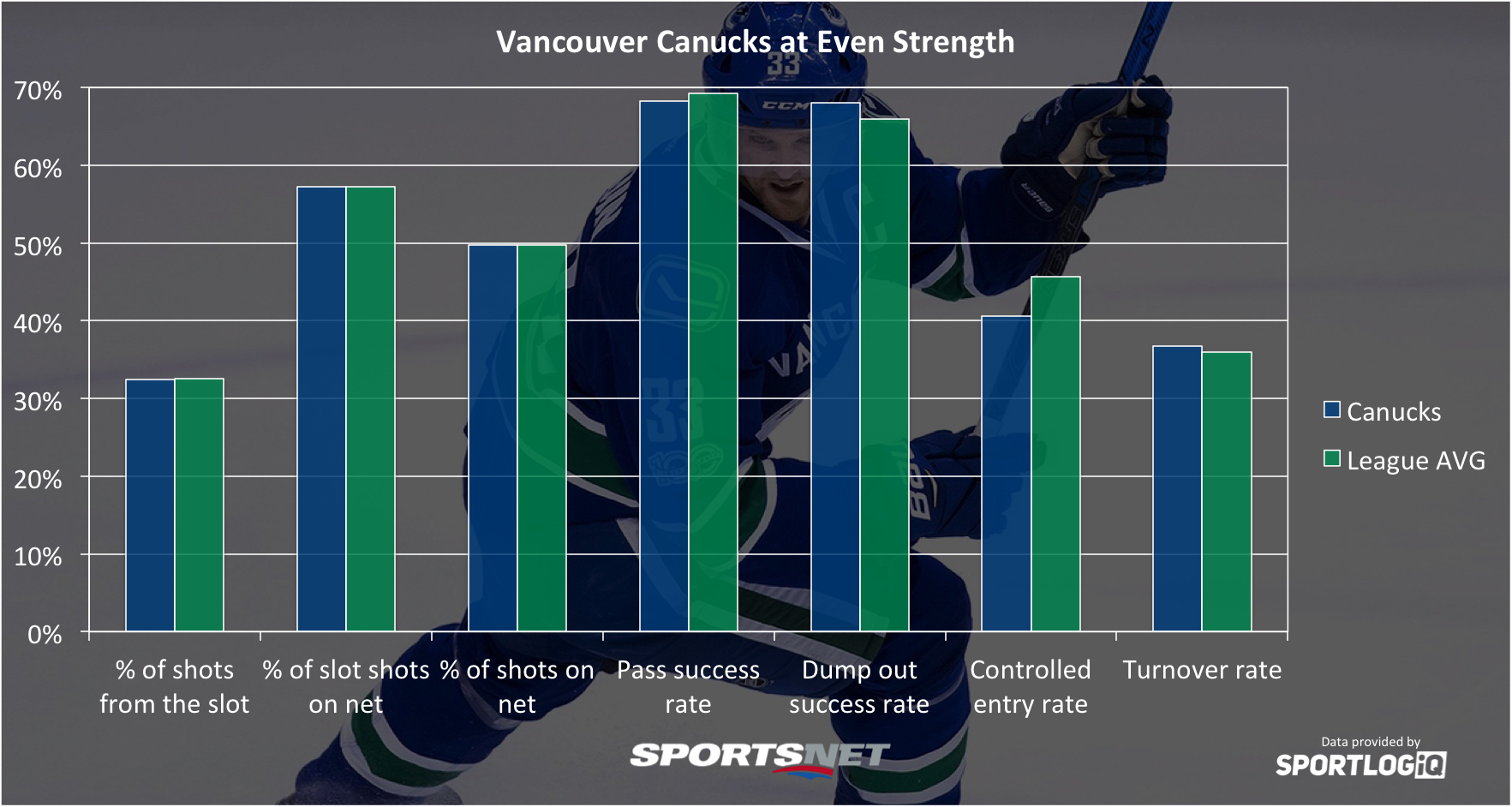 In a lot of ways, the Canucks are extremely average, such as in the percentage of their shot attempts that are scoring chances and how often they get shot attempts on net. But they're below average in pass success rates, the worst team at controlled entries, and boast a higher than average turnover rate.
The only area I could find where the Canucks are more successful than other teams is the success rate of their dump-out attempts: which just means how often an attempted dump out clears the defensive zone.
It's possible this could contribute to some level of success for the Canucks since it would relieve pressure in high-stakes situations, but it certainly isn't the defining characteristic of a good, or even average, team.
Sometimes there simply isn't a solid statistical measure of performance to explain results that are better than expected, and that's because it has more to do with variance in small sample sizes.
With one of the NHL's worst goal differentials, it is unlikely but certainly not impossible for the Canucks to have a points percentage above 50 per cent. What has made them successful, on a relative scale anyway, has been the distribution of their goal scoring and goal allowing. The games they've won have been tight, the games they've lost less so.
Does this mean they're a better team than their statistics show? Probably not, though it might be indicative that despite all signs pointing to the Canucks' need to accept a rebuild, they're not playing like they want to.
Unfortunately for the future of the Canucks and their fans, finishing just outside the playoffs is probably the worst situation for them. Their younger players such as Bo Horvat and Troy Stetcher don't get playoff experience and their draft picks in June aren't as valuable.
This is one of those situations where a bad second half might be a good thing.