Every month throughout the NHL season we'll be updating you on the development of key Vancouver Canucks prospects with up-to-date stats, videos, analysis and scouting reports.
Jordan Subban: D, Utica Comets (AHL)
Drafted: Fourth round, 115th overall, 2013
Season: 67 GP | 11G | 25A | 36P | -5
It's no secret that the Vancouver Canucks are concerned about a lack of high-end prospect depth along their blue line. It's partly why they went after back-end free agents like Troy Stecher and Lukas Bengtsson, signing the former.
Considering the severity of the organizational need at his position, it's a bit odd that 21-year-old defenceman Jordan Subban is so infrequently talked about in the Vancouver market.
Subban's 1st AHL playoff goal pic.twitter.com/rFYG4ol1Ij

— WTG (@WinThaGame) April 23, 2016
Subban just capped off his rookie season of professional hockey by leading the recently eliminated Utica Comets in playoff scoring. Not only did he go from a regular healthy scratch early in the year to a key contributor as the season went along, but Subban finished the year third among all AHL rookie defenceman in goals scored.
Concerns about Subban's size – and whether it will inhibit his ability to carve out a niche at the NHL level – linger, but his rookie campaign was enormously impressive.
Brendan Gaunce: F, Utica Comets (AHL)
Drafted: First round, 26th overall, 2012
Season: 46 GP | 17G | 21A | 38P | +16
Though Brendan Gaunce, 22, was held scoreless in the American League playoffs, his performance throughout the course of the season put him definitively back on the map as a prospect with a probable NHL future.
The versatile forward played wing and centre at both the AHL and the NHL level this season and acquitted himself well. While it's worth noting that the offence wasn't there for Gaunce in 20 NHL games, it's a promising sign that his speed wasn't an issue and that he didn't look out of place against NHL competition.
Gaunce will need to put together a big summer, particularly because the Canucks are facing something of a logjam in their bottom-six forward group. And he'll probably have to win a job outright at training camp, since he'll be waiver exempt again next season.
Travis Green: Head coach, Utica Comets (AHL)
Now that Thatcher Demko, Nikita Tryamkin and Anton Rodin have signed contracts with the club, the Canucks prospect with the most intrigue surrounding their future isn't actually a player. It's Utica Comets head coach Travis Green.
Green took over an expansion team in Utica three years ago and has done the sort of stellar work likely to earn him extended consideration for an NHL job this summer. Under Green's leadership, the Comets have controlled play like an elite club, even in seasons – like this one – when they didn't have elite AHL-level talent.
In guiding a Comets team that didn't have a true AHL first-line centre, sustained significant injuries on the back end and was often composed of tryout players to a playoff spot, Green may have put together an even more impressive season this year than he did when the Comets made the Calder Cup Final last season. And he did it all without the benefit of stellar goaltending, which is usually the hallmark of an overachieving sides.
"When I got sent down I thought (Green) was fantastic," Canucks veteran Chris Higgins said of Green's abilities earlier this month. "Very, very smart. He's hard on players, he's hard on the bench, but in the video room he's really good. He teaches well. They play a pretty structured game, even with a lot of guys coming and going in and out of the lineup down there and I think it's difficult to keep a sense of identity for the team, but he was able to do that."
Thatcher Demko: G, Boston College (NCAA)
Drafted: Second round, 36th overall, 2014
Season: 39 GP | 27W | 8L | 1.88 GAA | .935 SV% | 10 SO
The Canucks were never really worried about their ability to get top prospect Thatcher Demko signed. Perhaps it's because they had an intimate knowledge of just how generous their offer was (check out the performance bonuses in particular):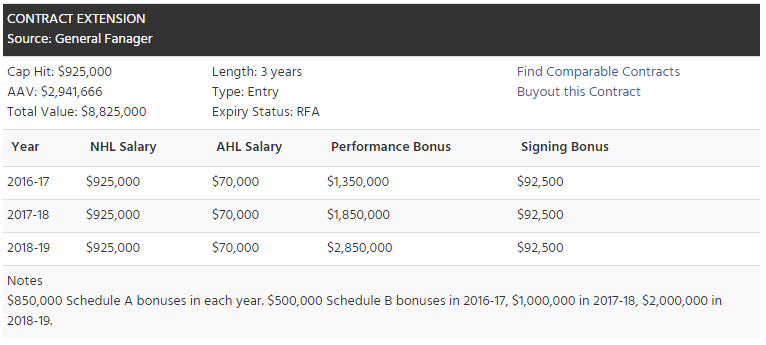 (Courtesy: Generalfanager.com)
If you want to understand what leverage looks like in an entry-level system, that's it right there.
Effectively the Canucks approached Demko – who in April won the Mike Richter Award as the best goaltender in the NCAA – like he was an unrestricted free agent, rather than an unsigned draft pick. It worked and they got their player.
Brock Boeser: RW, University of North Dakota (NCAA)
Drafted: First round, 23rd overall, 2015
Season: 42 GP | 27G | 33A | 60P | +45
Brock Boeser led the University of North Dakota to the national championship and saved his most dominant performance for the final. On the big stage, Boeser was dominant. In truth, he was dominant for much of the year.
Though the talented winger opted not to turn professional following his freshman season and will return to UND in the hopes of making another title run, Canucks brass met with his parents when they were in Tampa Bay, Fla. earlier this month for the Frozen Four and are confident that they'll get him signed when the time comes.
"We went out with Duke and Lorie Boeser and we talked to them and got their thoughts on Brock, what they thought was best for him, and expressed what we thought was best for him," Benning said in answer to a direct question about how to mitigate risk when dealing with drafted players in the NCAA system.
"It's about developing relationships with these players so they have a trust level in what they're getting into when they turn pro," Benning continued.
Expect that time to come sooner rather than later. Based on what Boeser showed in his freshman campaign, he's probably already close to being a professional-quality goal scorer.