At what stage are the Vancouver Canucks in their rebuild?
An exciting one for player-development nerds. Since our first prospects list a month ago, both Brock Boeser and Jake Virtanen have begun establishing themselves as National Hockey League regulars. Boeser actually leads the Canucks in scoring despite missing three games, and Virtanen is earning coach Travis Green's trust by playing nightly with Danny and Hank Sedin.
Boeser and Virtanen should be joined in Vancouver later this season by Utica Comets' scorer Nikolay Goldobin. And American League goalie Thatcher Demko looks too good to keep out of the NHL beyond this season.
In Europe, Elias Pettersson, Jonathan Dahlen and Olli Juolevi are all off to excellent starts. Adam Gaudette is tearing up college hockey and Will Lockwood blowing up opponents.
After more than a decade of barren player development for the Canucks, it is a fun time to be tracking Vancouver's future NHL players. And a great time to be one of them.
[snippet id=3636897]
AMERICAN HOCKEY LEAGUE
Thatcher Demko, 21, G
Drafted: Second round, 36th overall, 2014
Season to date: 4-2-1 record, 1.85, .939
The goaltender-of-the-future is trying to ruin the Canucks' plans for him. Ideally, the organization would like Demko to spend three full seasons refining his game in the minors. But the former Boston College star has started his second pro season so well, he could soon be too good to keep out of the NHL — even if Canuck goalies Jacob Markstrom and Anders Nilsson are just starting new contracts.
Reason for optimism…
Demko was the Utica Comets' best player in October, posting a 1.82 goals-against average and .943 save percentage to win AHL goalie-of-the-month honours. Demko had a one-day NHL call-up in October so the Canucks could massage their salary cap. A permanent call-up could come next season.
Jalen Chatfield, 21, D
Signed as undrafted free agent out of OHL
Season to date: 9 GP, 0-0-0, +3
OK, so Chatfield didn't exactly light up the AHL in his first month of professional hockey. But he's a lineup regular and exhibiting the same traits — mobility, confidence, aggressiveness with and without the puck — that made him somewhat of a revelation at Canuck training camp.
The six-footer from the Windsor Spitfires is like found-money for the Canucks. His free-agent signing last spring received less attention than Vancouver's recruitment of college winger Griffen Molino and Quebec League power-centre Zack MacEwan. The Canucks like those prospects, too, but Chatfield is playing beyond expectations.
Nikolay Goldobin, LW, 22
Drafted: First round, 27th overall, 2014 (San Jose Sharks)
Season to date: 10 GP, 5-7-12, +1
One of the top prospects in the Canuck organization and the nearest to following Boeser and Virtanen to the NHL, Goldobin began the AHL season with a five-game points streak and leads the Utica Comets in scoring.
Now in his third pro season, the winger has proven he can score in the AHL. But what's impressive about his start is the positive attitude Goldobin brought with his demotion after training camp — after he was outplayed by Boeser and Virtanen — and an eagerness to improve the defensive side of his game. Utica coach Trent Cull has Goldobin killing penalties to make him more well-rounded and defensively aware. He'll be with the Canucks at some point this season.
WESTERN HOCKEY LEAGUE
Kole Lind, 19, RW
Drafted: Second round, 33rd overall, 2017
Season to date: 17 GP, 9-19-28, +9
The Canucks are ecstatic with their second-round pick from last spring who began his third full season in junior with eight points in two games and has scored better than a point per game for the Kelowna Rockets since then. His impressive training camp with the Canucks seems to have imbued the winger with confidence because Lind is imposing himself physically in nearly every game.
Lind, who is from Shaunavon, Sask., is on the WHL team that plays Russia twice this week in his home province.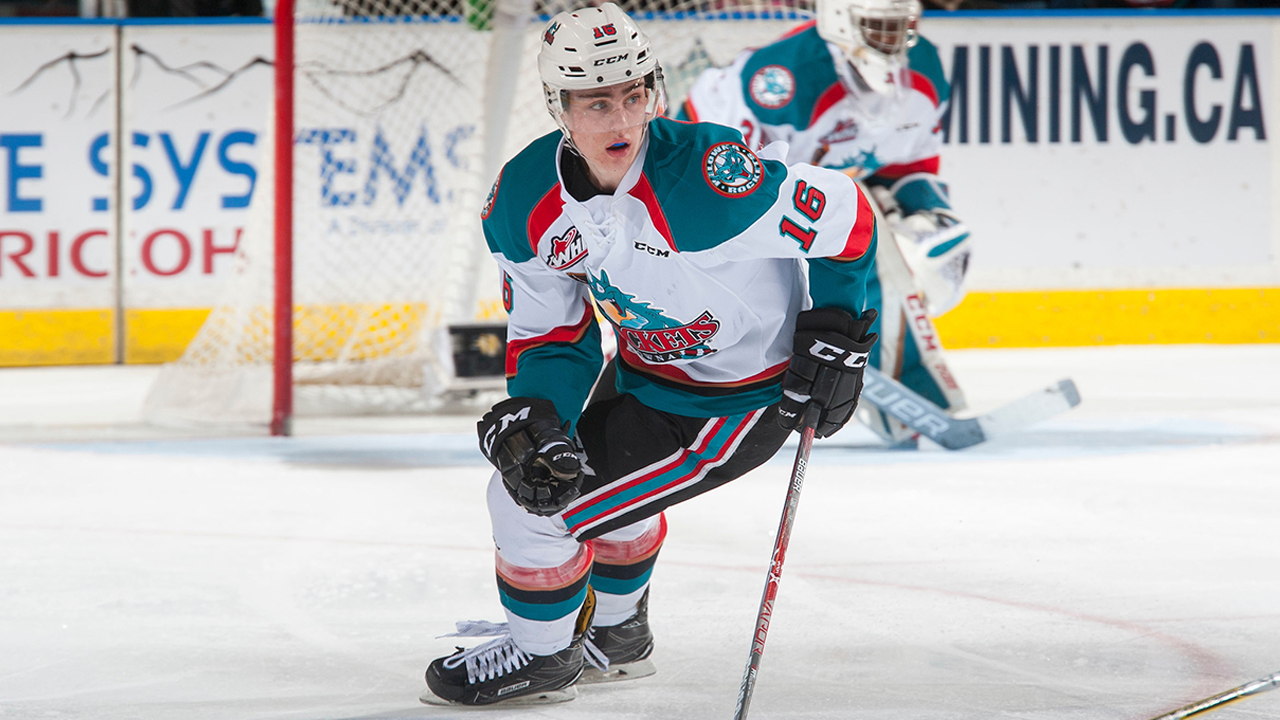 ONTARIO HOCKEY LEAGUE
Jonah Gadjovich, 19, LW
Drafted: second round, 55th overall, 2017
Season to date: 8 GP, 5-4-9, +4
After an impressive prospects tournament and training camp in B.C., the power forward appeared to be building on last season's breakthrough, 46-goal season with Owen Sound when he injured his wrist in an Oct. 14 game against Oshawa. He hasn't played since but is expected to return soon.
In eight games, playing often with Vegas Golden Knights first-round pick Nick Suzuki, Gadjovich has five goals and nine points. His 4.5 shots-per-game lead the Attack. The 6-foot-2, 210-pound winger continues to work on his skating but projects as an NHL power forward.
BIG-10
William Lockwood, 19, RW
Drafted: third round, 64th overall, 2016
Season to date: 8 GP, 3-3-6, +4
The University of Michigan winger took a boarding major for a hit two weekends ago in his team's 5-2 win at Penn State. It exemplifies both Lockwood's aggressiveness and recklessness. He already possesses NHL-calibre speed, which Lockwood uses to launch himself into opponents. Fans love him, but the Canucks are encouraging him to rein-in his aggressiveness and not try to blow up every opponent he contacts.
It's not that Vancouver doesn't want a fast, aggressive player who can forecheck and provide energy to his team. But Lockwood is 5-foot-11 and 172 pounds and underwent shoulder surgery last season. A more controlled game is a matter of self-preservation. The Canucks need Lockwood to remain intact because with his skating and ability to hit, they feel he can build an NHL career as a middle-of-the-lineup forward.
HOCKEY EAST
Adam Gaudette, 21, C
Drafted: Fifth round, 149th overall, 2015
Season to date: 8 GP, 6-7-13, +4
From late fifth-round pick to one of the top prospects in the Canuck organization, it has been a remarkable two years for Adam Gaudette. The Northeastern University centre followed his breakthrough sophomore season (26 goals, 52 points in 37 games) with a superb October. His four goals in a two-game sweep of UMass-Lowell last week included a natural hat trick in a 3-1 victory that earned him Hockey East player-of-the-week honours.
Gaudette is a shoot-first centre similar to Canuck Bo Horvat and is expected to turn pro after this season. Before then, don't be surprised if Gaudette is among the college players selected by Team USA for the Olympics.
[snippet ID=3322139]
ALLSVENSKEN
Jonathan Dahlen, 19, C
Drafted: Second round, 42nd overall, 2016 (Ottawa)
Season to date: 8 GP, 5-4-9, +5
The Canucks had hoped the dynamic centre who had 25 goals and 44 points in his draft-plus-one season in Sweden's second division might push for an NHL job at training camp before developing in the American League this season. But mononucleosis derailed both plans and Dahlen, after a September visit to Vancouver, was granted his wish to return to Timra IK.
He won't be there for long. Despite nine points in eight games, Dahlen is still regaining strength and the plan, possibly as soon as this month, is that the 5-foot-11, 176-pound scorer will move up to the Swedish Hockey League when he is fully fit. Vaxjo HK is considered a possible destination, mostly because Dahlen would be reunited with his former Timra linemate, Canuck first-round pick Elias Pettersson.
SWEDISH HOCKEY LEAGUE
Elias Pettersson, 18, C
Drafted: First round, fifth-overall, 2017
Season to date: 15 GP, 6-11-17, +6
The Canucks' most talented prospect continues to sparkle in his draft-plus-one season despite a move up to the elite league from Sweden's second division. Pettersson posted a five-point game last Thursday and now has 17 points in his first 15 contests for Vaxjo. His scoring rate of 1.13 points per game is the best in more than 20 years by a Swede in his post-draft season.
One national newspaper is comparing him to Peter Forsberg, although Pettersson's skillful game lacks the power the Swedish icon possessed. Still, the comparison illustrates how good Pettersson might become. Look for him to do the world junior-Olympics double for Sweden this winter, and take a run at making the Canucks next fall.
Ryan Biech: Canucks need puck-moving d-man more than centre, fans should be hyped for Pettersson
November 02 2017
SM LIIGA
Olli Juolevi, 19, D
Drafted: First round, fifth overall, 2016
Season to date: 9 GP, 3-3-6, E
The top defence prospect in the Canucks organization has had a good start to his season in Finland, which is encouraging after the teenager failed to seriously challenge for an NHL spot in Vancouver.
The Canucks agreed that playing against men at home would be better for Juolevi than another OHL season for the London Knights, partly because his defence coach at TPS Turku is former Vancouver blueliner Sami Salo, whom the Canucks feel will be an outstanding tutor. Juolevi's .714 points-per-game is second among Turku defencemen, and encouraging since he showed little offensive flair during the NHL pre-season. Juolevi is playing well enough that Finnish Olympic team officials have contacted the Canucks to advise them of their interest in him.
[relatedlinks]