Tough decisions in the NHL are often unpleasant, but for general manager George McPhee and the Vegas Golden Knights, the one they face at the 2018 NHL trade deadline is the result of stunning overachievement rather than underperformance. How much does Vegas, a team built with the long-term health of the franchise in mind, invest in trying to prolong its spectacularly successful debut campaign?
At least one part of the decision should be easy: to abandon the team's original plan.
Initially designed to be a slowly, but durably built contender, the Golden Knights deliberately loaded up on players who could be cashed-in for futures at this year's deadline. James Neal is a pending unrestricted free agent. So is David Perron. Much of the rationale behind taking 13 defencemen at the expansion draft was that they'd have trade value throughout the year.
Theoretically, McPhee and company could stick to that original blueprint, dismissing the team's initial success as a fluke and keeping the focus firmly on the long-term.
That would be hard to justify from a hockey perspective, given the Knights' plus-38 goal differential and that they're only a single point out of first place. It would be even harder to justify from a business perspective: the team has been an instant hit in Nevada and the goodwill that would be generated by a playoff run in Year 1 is incalculable.
A far more reasonable approach under the circumstances is a carefully neutral deadline, one which would see the Golden Knights mostly avoid loading up, with the possible exception of some bargain bin additions and/or players with term remaining on their current contracts. Instead, the Knights would treat their own pending UFAs as deadline rentals, hanging on to Neal and Perron and the rest rather than cashing them in for assets.
It's an approach that carries its own cost for the future. With Neal a proven goal scorer and Perron chipping in at better than a point-per-game pace this season, the Knights could conceivably be passing up two first-round picks by keeping those players.
As much of a sacrifice as that is for a management group keeping its eye on the big picture, it's not quite as bad as it sounds. There are first-round picks and there are first-round picks — the ones in the back half of the round routinely disappoint. Thinking of them as glorified second-rounders makes the decision a little easier.
What if the Knights were to go further, though, and enter the deadline as buyers?
It's not totally unreasonable. The standings say this is a very good team; so does goal differential. Last month, Sportsnet ran the scoring chance data and Vegas looked real there, too. Moreover, thanks to being in the Pacific Division, the Golden Knights have as favourable a path through the first two rounds of the playoffs as any team in the NHL.
Where could they use help?
At even-strength, the Knights look good pretty much across the board. Overall they score more goals per hour at even-strength than anyone else in the league, and even if we confine the picture to 5-on-5 situations only they're inside the top five. Every member of their first, second and third lines is outperforming the median forward league-wide in those slots: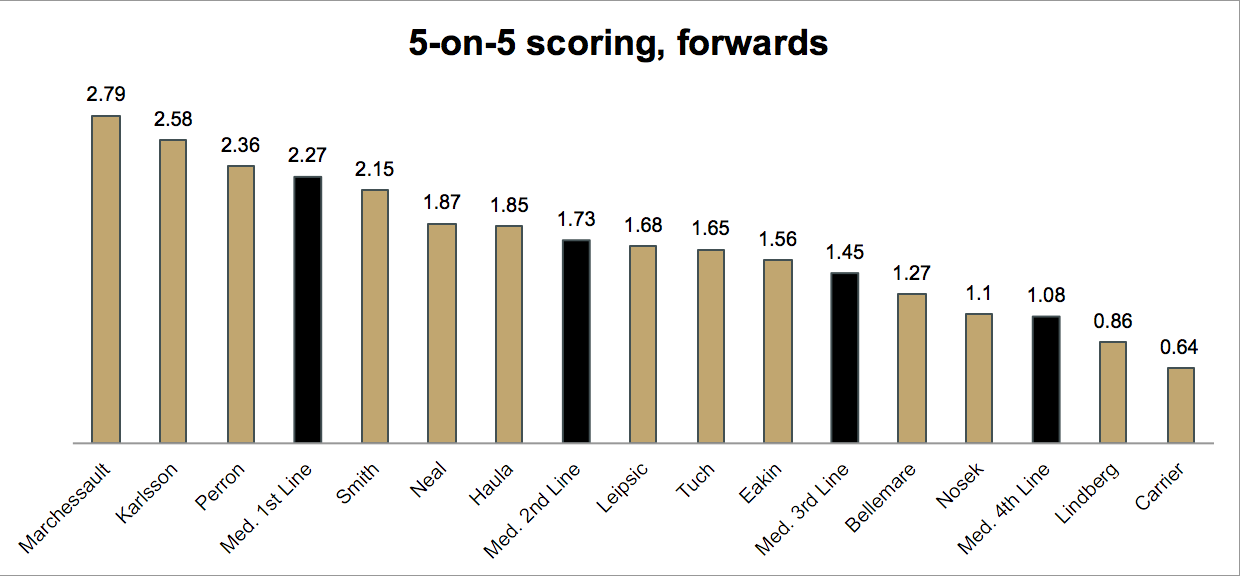 Even so, it would be nice to add a scoring winger to that third line. Brendan Leipsic has been fairly sheltered and is only breaking even by on-ice shot and goal metrics. In a perfect world, McPhee would bring a little bit of size to a top-nine which, outside of Neal and Alex Tuch, isn't all that big. And, since we're dreaming, the GM could get some help for the power play, too, where Leipsic and Cody Eakin have combined for 70 minutes of ice time and no points.
If we're going really crazy, the biggest need here is a top centre to step in for whenever William Karlsson turns into a pumpkin. A playmaker with just 10 goals in 61 career AHL games, he has somehow scored 20 times on just 82 shots at 5-on-5, good for a 24.4 shooting percentage. Given the high price of centres at the deadline, it seems the only thing to do here is enjoy the ride and hope it lasts through the playoffs.
[snippet id=3317857]
The picture on the defensive side of the puck isn't as rosy, but much of that has to do with goaltending. A run of injuries early in the year meant that Maxime Lagace played 14 games, wherein he managed a 6-6-1 record despite a wretched .872 save percentage. Malcolm Subban's .912 save percentage is a lot more respectable, but pales next to the .932 posted by starter Marc-Andre Fleury. With Fleury healthy, goaltending has been neatly buttoned down.
The defence is the craziest part of the Knights' inaugural season. Somehow, a top-four of Nate Schmidt, Brayden McNabb, Deryk Engelland and Luca Sbisa (currently injured) has managed to be a respectable committee behind those supercharged Vegas forwards. It's baffling, and one fears to do anything to it, lest it all fall apart.
Looking at the roster, it's hard to believe the Knights are where they are in the standings. Not every individual case is as obviously ephemeral as Karlsson's, but there are reasons most of these players were available in the expansion draft. The best course of action at this point is to gently and cheaply augment the roster, and then just sit back and see how far this crazy group can blow past expectations in the post-season.
[relatedlinks]