With the way the expansion draft rules were set up, the Vegas Golden Knights were in position to be much more competitive in Year 1 than the last round of NHL expansion teams were. They were expected to be the best expansion team in recent memory, but no one could have expected this 8-3-0 start.
So far, they have the second-best record in their division and third-best in the tough Western Conference.
What's even more impressive than Vegas' start is they seem to lose a goaltender to injury once every three or four games, making it increasingly difficult to get a reliable performance from the position.
Considering the team was put together from leftovers of the other 30 teams in the NHL, you have to imagine this kind of run is all smoke and mirrors, and of course part of it is good fortune. They have a 103.85 PDO, boosted mainly by a 12.23 shooting percentage in all situations, something even the most talented teams in the NHL would never be able to sustain.
However, even when the Golden Knights' percentages fall back to earth, they might not be the paper tiger that most people are expecting.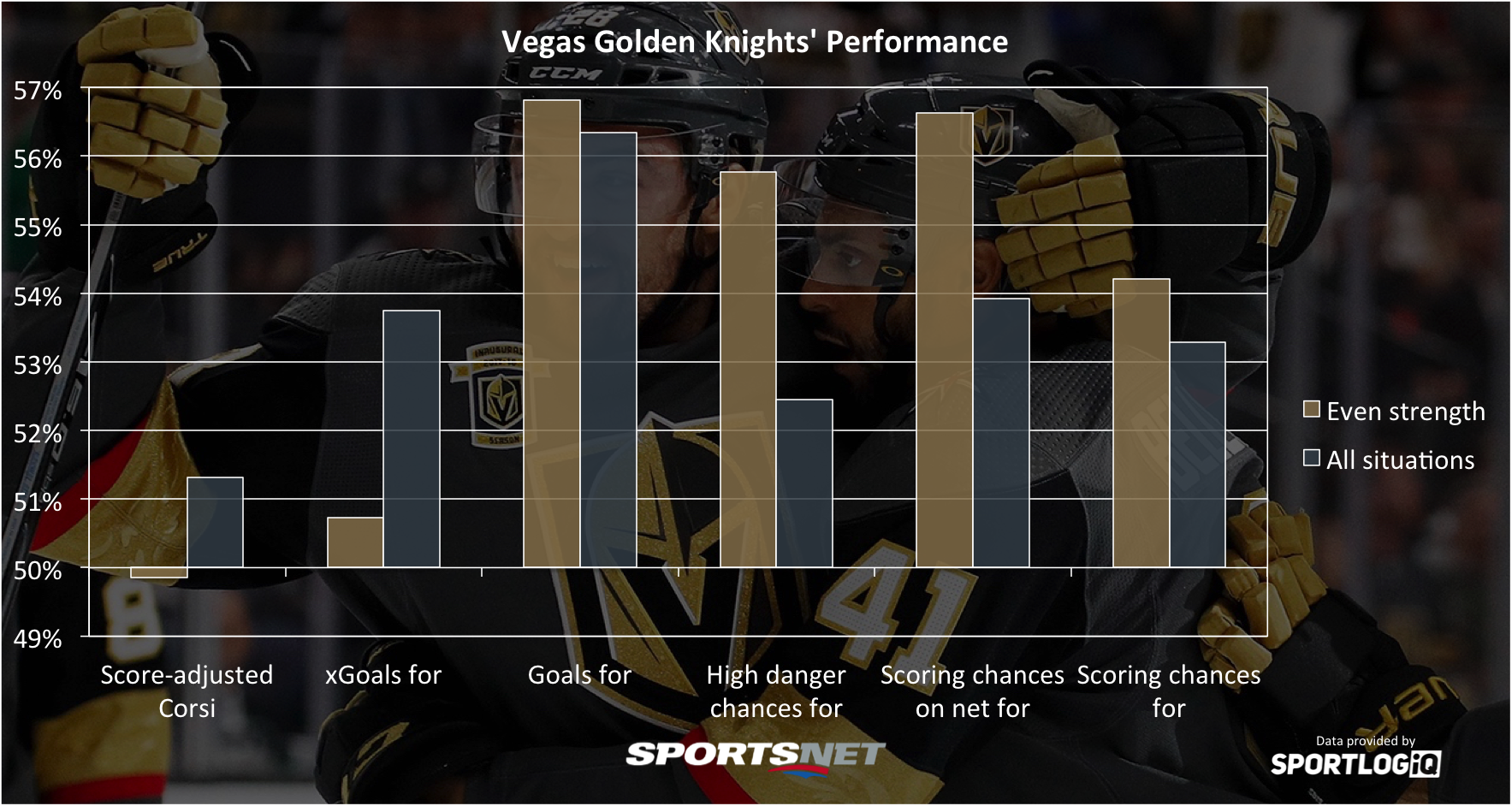 It's true that Vegas hasn't been a great possession team, — they're slightly below average in score-adjusted Corsi at even strength — but Corsica's expected goals model still has them above breaking even at 5-on-5 hockey, and significantly above that when you include special teams.
Part of the reason for this is likely that the Golden Knights are one of the best teams in the NHL right now at controlling high danger scoring chances, and scoring chances on net.
The Golden Knights are top-10 in the NHL in both creating and suppressing high danger chances at even strength, making them an extremely tough team to play against.
Playing seven of their first 11 games at home might lead these numbers to look inflated so far, especially if their opponents are really enjoying Las Vegas they're in town, but the notion that Vegas has been bad and lucky just isn't true.
How sustainable is this level of performance for the Golden Knights? They certainly won't continue winning 73 per cent of their games, and typically in small sample sizes the most reliable data to predict future performance comes from the statistics with more events to build on, so that subpar score-adjusted Corsi might tell us more than the rest does.
However, what's happening here — whether it's through coaching or a nice blend of talent that wasn't evident on paper — is extremely exciting for the Vegas market. The NHL really couldn't have drawn this up any better for their newest team, and if the Golden Knights somehow maintain this level and make the playoffs, you have to imagine Gary Bettman will be dancing in his office.