It's only natural to be impressed by the Vegas Golden Knights.
Just 27 games into their National Hockey League existence the club sits second in the Pacific. It's a perch which both affords a clear path to the postseason and gives them an embarrassingly large edge on several division rivals who undoubtedly expected to be in front of the league's newest team at this point in the year.
Not only are the Knights sitting pretty in the standings, but there is little indication that the bottom is going to drop out. The 5-on-5 shot metrics are solid across the board, and only getting better; during a 7-3-0 run over the last 10 games, Vegas was second in the NHL by raw Corsi and actually led the league by most score-adjusted measures.
Nor can opponents claim that the Golden Knights are enjoying some stretch of beginner's luck.
Injuries felled both the Knights' established starter and their preferred backup goalie; in their place the most common starter has been fourth-tier netminder Maxime Lagace, who couldn't hit a 0.900 save percentage in the minors last year and hasn't come close to it in the majors this season. High-profile KHL signing Vadim Shipachyov flamed out three games into his career, pricey Jason Garrison was banished to the AHL and productive David Perron has been on the shelf for two weeks and counting.
Despite this, Vegas is on pace to be the most successful expansion team since the league doubled from six teams to 12 in 1967. The Knights are seven games over 0.500 already, a mark no recent team has reached: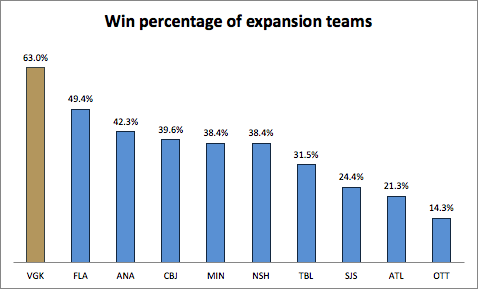 Obviously, the team benefitted from both the salary cap and more favourable expansion rules, both of which allowed the Knights to add more established talent than preceding teams did. This allowed Vegas to load up on futures, including a pile of draft picks between 2017 and 2020 and some young players still on the upswing.
That's not to take anything away from what the team did right.
Some of it was just smart drafting. Nate Schmidt and Brayden McNabb have expectedly done well, but the Knights also gambled on players like Luca Sbisa and Deryk Engelland and been rewarded with shockingly good performances.
Perhaps the strength of the forward corps has made life easier on the team's defencemen. Players like Perron, James Neal and William Karlsson have carried the mail offensively for the Knights. Vegas also took advantage of the folly of returning Florida Panthers' GM Dale Tallon, who was so eager to shed Reilly Smith's $5.0 million cap hit that he sacrificed Jonathan Audy-Marchessault on the altar of expansion.
Marchessault, with 25 points in 24 games, has been the Knights' most prolific forward. At a $750,000 cap hit, he's also one of the league's best bargains. Meanwhile Smith has rebounded from a poor season and is on pace to hit a career-high in points. Just 26 years old, he's in the prime of his career and full value even on a rich, long-term deal.
The result of those decisions and others has been a phenomenally successful NHL debut for the Knights, which ironically raises a new problem: where does the team go from here?
Live stream over 300 marquee regular season games, regional matchups for the Edmonton Oilers, Calgary Flames, Vancouver Canucks and Toronto Maple Leafs, and the entire 2018 Stanley Cup Playoffs.
Initial success has not always been kind to expansion teams. Florida was almost a 0.500 team out of the gate and went on a brilliant Cinderella run in 1996; it has not won a playoff round since. Columbus was a solid first-year team and has still not won a postseason series. Conversely, early failure can lead to later success; the Thrashers died but San Jose and Ottawa translated terrible starts into many years of strong teams (if not a title in either case).
The interesting thing here is the 'how.' The obvious assumption is that top draft picks made the difference but that wasn't the case with San Jose. The Sharks took Pat Falloon, Mike Rathje, Andrei Nazarov and Viktor Kozlov with its first four top-10 picks; some of those guys had decent careers but none was a franchise cornerstone. Ottawa was more fortunate in Alexei Yashin, Alexandre Daigle, Radek Bonk and Bryan Berard, particularly so because it got good returns on trades involving three of those four. Even so, the Senators' greatest player, Daniel Alfredsson, was a lucky strike in the sixth round.
As good as Vegas has been, it still needs to find long-term cornerstone pieces. As good as many of its current players are, it's hard to land franchise talent anywhere other than the draft. That's why the team's emphasis on the draft continues to make sense. The Golden Knights took three players in the top-15 this past summer and made seven top-100 selections. They also currently own 14 picks in the first three rounds over the next three years.
They typical model for an expansion team sees its initial roster as a chrysalis: a protective shell which is ultimately discarded at maturity. The situation in Vegas is a little more complicated, because it has a better roster and a bunch of good young players. There are temptations here that didn't exist for past expansion franchises.
Still, the important thing is the ultimate timeline. Owner Bill Foley set six years as the target before Vegas had played a game; a strong record over a third-season isn't enough to abandon that target. This is a good time to take a wait-and-see approach, perhaps not selling off veterans but resolutely hanging on to those 2018-2020 draft picks.
That way the Golden Knights can enjoy their current success, while still setting the table for the future.