Once in a while, things happen in the playoffs that defy all logic. Steve Mason letting a puck tipped from centre ice slide along the ice and into his net is a good example. No one could have imagined a goal like that going in on a player who has been a great redemption story since arriving in Philadelphia.
That's a random event, and in the playoffs you have to kind of expect those to pop up, but the craziest playoff stories are always the non-random stuff, like coaches out-thinking themselves into danger. That's the case right now for Ken Hitchcock and the St. Louis Blues, who still lead their series against the Chicago Blackhawks 3-2, but failed to close it out in Game 5.
The Blues outplayed the Hawks significantly in Game 5 and battled back from a 3-1 deficit to bring the game to overtime. Yet, there's been a consistent reluctance from the Blues to lean on their best player.
For whatever reason, Vladimir Tarasenko is sixth on the Blues in ice time per game among forwards at just 17:34. You might think that he's not used short-handed and that might make a big difference, but Tarasenko is actually seventh among forwards in even-strength ice time per game at 15:14.
It's undeniable that Ken Hitchcock is a great coach, but while seeking to eliminate the reigning Stanley Cup champions, Troy Brouwer played nearly nine more minutes than Tarasenko. St. Louis is a deep team and it makes sense that some talented players will get less ice time than expected, but these guys aren't even comparable. Let's keep this simple…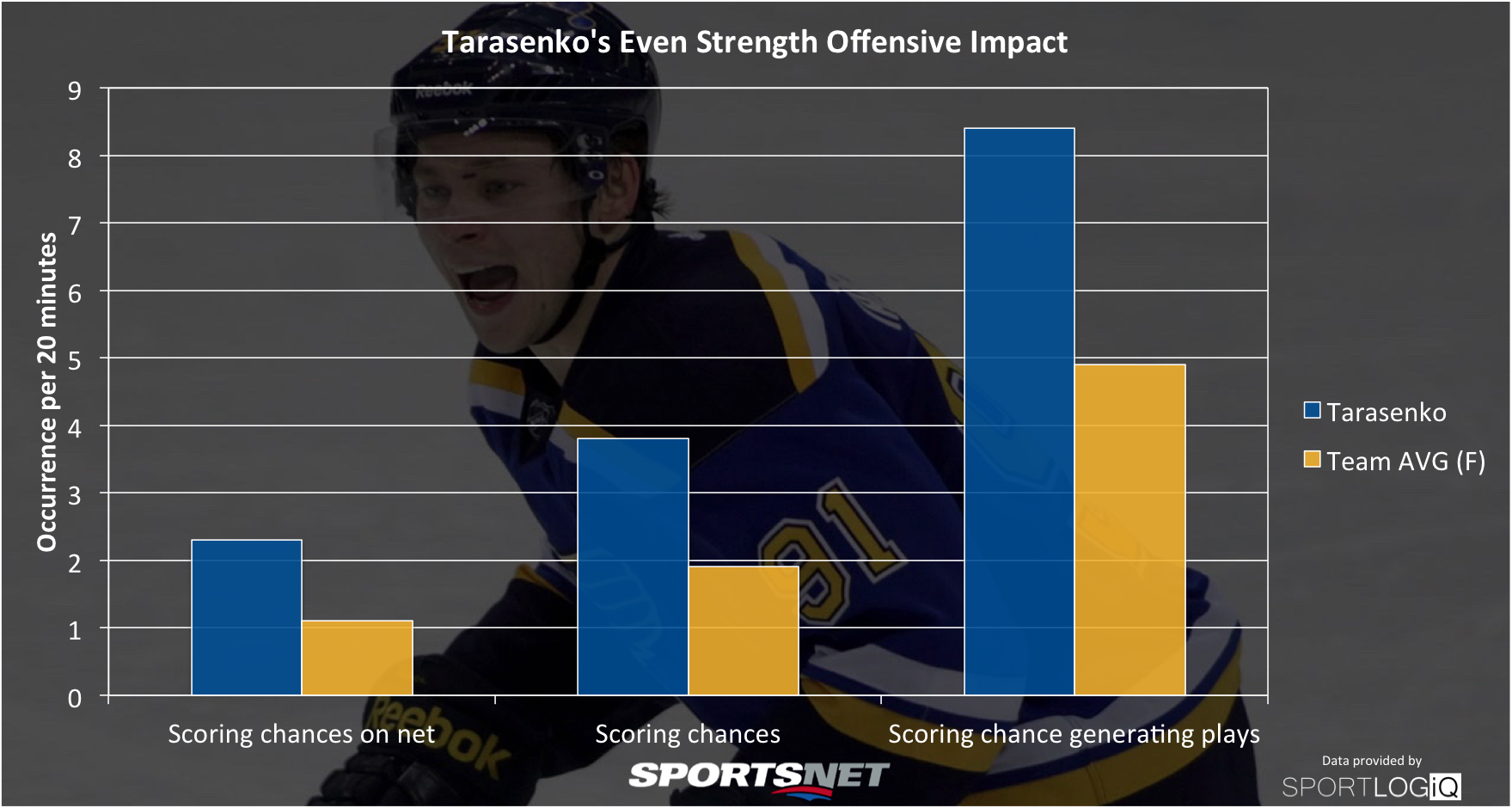 Let's ignore the fact that Tarasenko led the entire NHL in even-strength scoring chances and scoring chance generating plays in the regular season, and look at his playoff performance only. Well… he's performing at the same rate.
The crazy thing is that the Blues are having more trouble generating chances than the Blackhawks are, and Tarasenko is their best offensive weapon by a country mile. With his ice time limited, he's still producing at a point per game clip, and in his young playoff career, he has 13 goals in 18 games.
He's not a guy that you protect and over-coach; he's a guy you unleash on your opponents as often as possible and watch the goals pile up.
There's no doubt that Hitchcock has some reasoning for playing Tarasenko in this way, or more accurately not playing him, but for a team that has continually failed to get over the hump in Round 1, they can't afford to be out-thinking themselves.
Sometimes the solution is simple, and this is a player who can single-handedly take over games.