Legacy.
It can be something you leave behind or something you benefit from. In Wayne Simmonds' case, it's both.
Simmonds is a prime example of a hockey player lifted by his community to heights that allowed him to represent Canada and find success in the NHL. Now, the Philadelphia Flyers forward is calling on his friends and family to help him return the favour through Wayne's Road Hockey Warriors ball hockey tournament in his hometown of Scarborough, Ont.
The annual event was inspired by a promise he made to his parents that he'd give back to the community if he ever made it big. The idea was originally started with childhood friend Brandon Sinclair who, like Simmonds, also benefited from community initiatives with his adolescent hockey career.
Every summer, 160 kids age eight to 12 get to meet and be coached by NHL players, and even watch them play in a celebrity game.
Now in its fifth year, Wayne's Road Hockey Warriors has outfitted 270 local youths with new hockey equipment, and has sponsored the registration fees of 20 children in an effort to encourage kids to choose hockey, just like Simmonds did.
The event's success speaks volumes about Simmonds' dedication to the community, as does the fact that Scarborough remains the player's destination of choice each off-season. (He even bought a home there three years ago.)
The tournament itself isn't about winning. It's about helping tackle one of hockey's biggest barriers of entry, spreading a message of morals and furthering the momentum of the minority player in the NHL.
It's about serving his community—as well as some who make the trip from out of town.
"We drove all the way here for you, so thank you," says a mother of two, who woke up at 4:30 a.m. to bring her daughters to the camp from St. Thomas, Ont.
"I'm here for you so thank you for taking part," was Simmonds' response.
Players like Simmonds—young, enthusiastic, hard working, humble and skilled—are the lifeblood of Canada's game. It's worth celebrating the fact that there are more players who fit those descriptors now than ever before.
As one of 22 black players to play in the NHL last season, he's also helping to grow the game and make it more diverse through his work in Scarborough as well inner-city initiatives in his hockey home of Philadelphia.
In many ways, Simmonds is the new-age power forward in the NHL—a millennial's version of Jarome Iginla, if you will. He's good for about 30 goals, 30 assists and 150 penalty minutes a season, and at just 27 years old (he'll be 28 in August), he's already going into his ninth NHL campaign.
The six-year contract extension he signed with the Flyers in 2012 looks like a steal compared to 2016 prices, especially considering it came at a time when owners were pushing for a salary roll back. Locked up until 2019, the $3.975-million cap hit he carries is one of the most team-friendly deals in the league.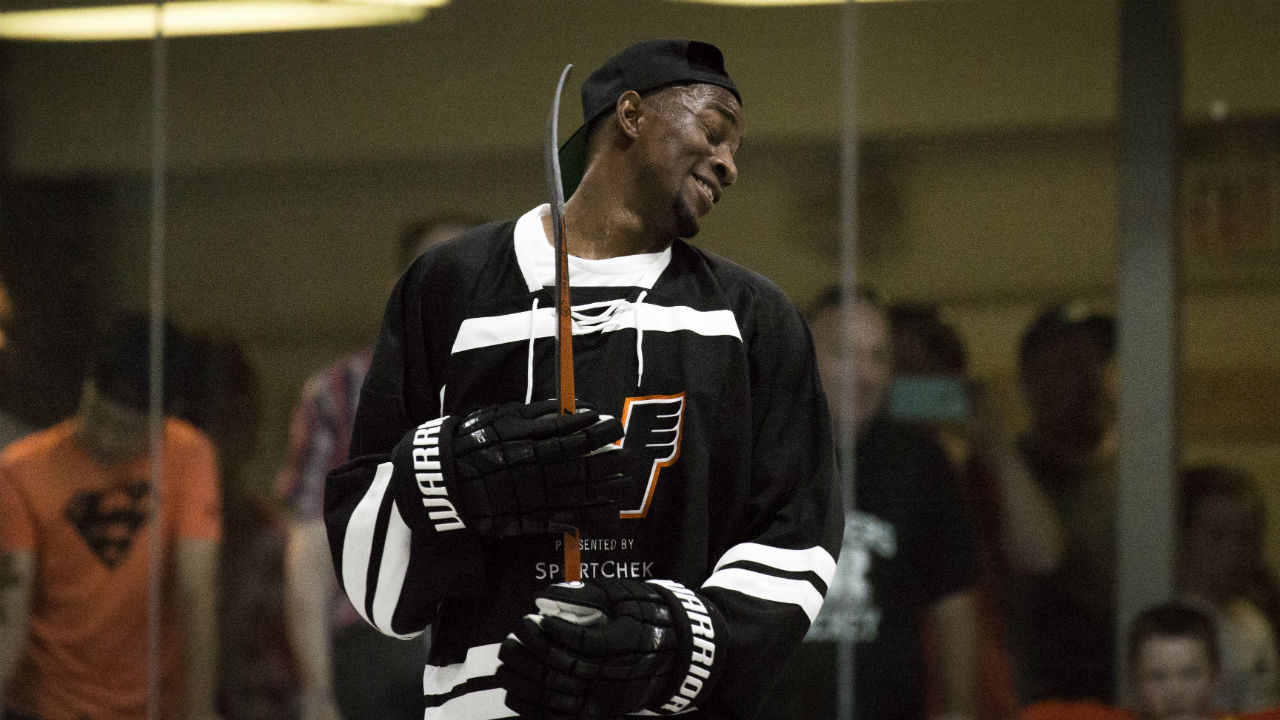 Photo: Scott Simpson
As Simmonds unloads equipment from his trunk at the Scarborough tournament, the buzz begins to build. Kids are fighting for the NHLer's attention, catching their breath as they relentlessly scream his name.
The scene inside is part carnival, part scouting combine; kids test their endurance in a pushup competition next to a bouncy castle three stories high, laughter echoing inside.
Simmonds looks dapper for a tough guy.
"You know I've got to come looking fresh," he says.
Even his hat is produced locally. Everything is kept in the circle. Lifestyle brand Coalition has partnered with Simmonds to create a clothing line inspired by the event. The founders of the Toronto-based line are friends with Simmonds.
As much as this tournament is a platform for Simmonds to exercise his philanthropic muscles, it's also a way for his friends and family to work out their dreams.
His father Cyril is in attendance, connecting with old friends and family and overseeing the proceedings.
Like his son, Cyril is far from an extrovert. He shows his compassion with deeds, not words. Cyril worked in construction to provide for the family of eight. Wayne attributes his strong work ethic back to the summer he awoke at 5 a.m. to work construction with his father in order to help pay for his hockey endeavors.
His mom Wanda has a booming voice. It rings out as she patrols the halls of the arena's atrium.
"If you've got an arm, I've got raffle tickets for you," she declares.
Just like his mother, on this day no task is too small for Wayne. Between interviews, photo ops, autograph signings, discussions with parents, and bro hugs with fellow NHLers who turn up to help, Simmonds can be seen picking up after the campers as though he was a custodian; folding jerseys like he was working retail.
The proud parents would be the first to mention that the village raised Wayne from the scrawny kid on the Toronto Aces to be the OHL star and 61st overall pick by the Los Angeles Kings in the 2007 NHL Draft.
Reverend Lester Willis is Wayne's uncle.
"The beautiful thing is we all had a hand to play. Many people with sole goal of what was best for Wayne," he said. "So when he succeeds we all succeed."
Simmonds' girlfriend Crystal is not just in attendance for moral support—she acts as the backbone of his philanthropic endeavors, seamlessly transitioning from spectator to coordinator so everything goes as planned. Hand steady on a walkie-talkie throughout the afternoon, she's busy putting out the fires so Wayne is free to ignite the kids' dreams.
Hosting this event is a way for Simmonds to pay forward the experience that inspired him. As an adolescent, he attended hockey camps put on in the community by longtime NHL goalie Kevin Weekes and met NHL stars Brad Richards and Anson Carter.
Along with Simmonds, those camps produced NHLers like Devante Smith-Pelly, P.K. Subban, and brothers Anthony and Chris Stewart. A decade later, they're still best friends. There is no "crabs in a bucket" mentality in this crew. Like iron sharpens iron, man sharpens man, the Scarborough "man dem" is all for one.
To watch them in their natural habitat is a sight to behold. Hanging out in the lounge of the McGregor Park Community Centre in North East Toronto, the crew has its own lingo, composed of equal parts patois and hockey speech. You hear as many "mans" and "tings" as you do "buds" and "beauts."
The conversation includes a healthy dose of trash talking and a stream of consciousness that touches on the plight of P.K., the recent violence in the United States, the legendary St. Mike's workouts, the high volume of tough players from Scarborough and the excitement of the kids they'd interacted with that day.
Personally, I never thought I'd see a group of hockey players whose commonality is their West Indian background. However the patois-speaking puck handlers don't feel they have to conform in an ever-evolving league.
"I think the game is getting much more expressive," Simmonds says. "You have guys like P.K. and [Alex] Ovechkin that are helping to bring that out and they aren't being looked down on or hated on as much as they would have been in the past."
Simmonds' east-end hockey circle includes NHL players Darnell Nurse, Mike Cammalleri, Brayden Schenn, Michael Latta, Steve Mason, Luke Gazdic, Mike Liambas, Ray Emery and Zac Rinaldo, as well as NWHLers Hailey Browne and Devon Skeats and Kelly Terry of the CWHL's Toronto Furies.
Simmonds is well aware of how race still plays a part in the game. In 2011 while playing an exhibition game in London, Ont., a banana was tossed at him on the ice while he was approaching the net during a shootout.
He says racism isn't gone from the game.
"I still think there are hints of it. I don't think it's all the way gone. It's not as bad. I don't think there are any individuals that are overtly racist. But systemically I think there are underlying things as you're coming up that kids, from what I see, still have to deal with," he says.
He's hoping a camp like this will help erase any challenges. Ultimately, he's hoping to pass down to the values the game has always represented.
"I think old-school hockey culture has lots of good elements. Parts of old-school hockey culture have made the game what it is today and it is a game I love," he says.
Most of all, he preaches selflessness and leadership. He hopes that maybe one of these kids reaches the heights he has, but that all of them take away life lessons from the game.
He's paying back the debt he feels he owes his community.
I'd say it's paid in full.