We're at the quarter mark of the season and we've passed American Thanksgiving, the date after which 75 per cent of teams inside the National Hockey League's playoff picture hang on to their spots through to Round 1 in April.
Let the record show that Montreal, Ottawa, and Edmonton were all inside the playoff line on Black Friday. Winnipeg was within a point, Calgary within two points, and Vancouver and Toronto each three points out.
I'll go ahead and predict four of those teams end up in the playoffs come spring, which is a major improvement from a 2016 postseason with zero Canadian content. In the meantime, some West Coast Bias grades for the Western Canadian clubs.
Edmonton Oilers — A
The Oilers tied an NHL record with their 10th consecutive playoff miss last season. Today, they are in first place in the Pacific Division and second in the West.. That gets you an "A" from this teacher.
Winnipeg Jets — C
A 9-12-2 mark in their first 23 games isn't good enough for this roster — I have the Jets as a playoff team. But Winnipeg has been let down by its goaltending, the one position even a good club can not survive suffering mediocrity. The Jets have lost five straight now.
Vancouver Canucks — C-minus
Heading into their game at Dallas Friday, the Canucks hadn't won two straight games in over a month. This is a team in limbo that's playing to finish 10th in the West, when it should be finishing last.
Calgary Flames — D-plus
Calgary has a far better roster than the Canucks but are playing in the same neighbourhood as Vancouver these days. Sean Monahan, the injured Johnny Gaudreau, T.J. Brodie, and Brian Elliott — four players who were expected to lead this team — all had brutal first quarters of the season. There are signs of life though — Calgary could be one of those three or four clubs that annually sneaks into the playoffs after being outside on Thanksgiving.
•
Small Fish Pacific
Wondering why the Pacific Division is so weak this season? Heading into play on Friday night, three of the worst four goals differentials in the entire NHL belonged to Calgary (minus-18), Vancouver (minus-17), and Arizona (minus-15).
Next year they'll add an expansion team to the mix in Vegas. It's a realistic expectation for the two Alberta teams to start making the playoffs on a regular basis, while if you're a Canucks fan hoping for a No. 1 overall pick, a weak division could inhibit that.
•
Golden Nicknames
Speaking of the Vegas Golden Knights, a few thoughts about their choice of a name:
The only two major professional hockey teams ever to use the word "Golden" in their names were Charles O. Finley's Oakland/California Golden Seals, and the short-lived World Hockey Association entry, the New York Golden Blades. The Golden Blades relocated to Cherry Hill N.J. and became known as the Jersey Knights. (The Erie Golden Blades played in the Atlantic Coast League from 1982-87.)
The Golden Blades lasted one WHA season, went 32-42-4 in the 1973-74 season with names like Harry Howell and Andre Lacroix, then faded into hockey history. As for the Oakland/California Golden Seals, they live on in my memory as my favourite sweater to wear when playing on the outdoor rinks in Edmonton.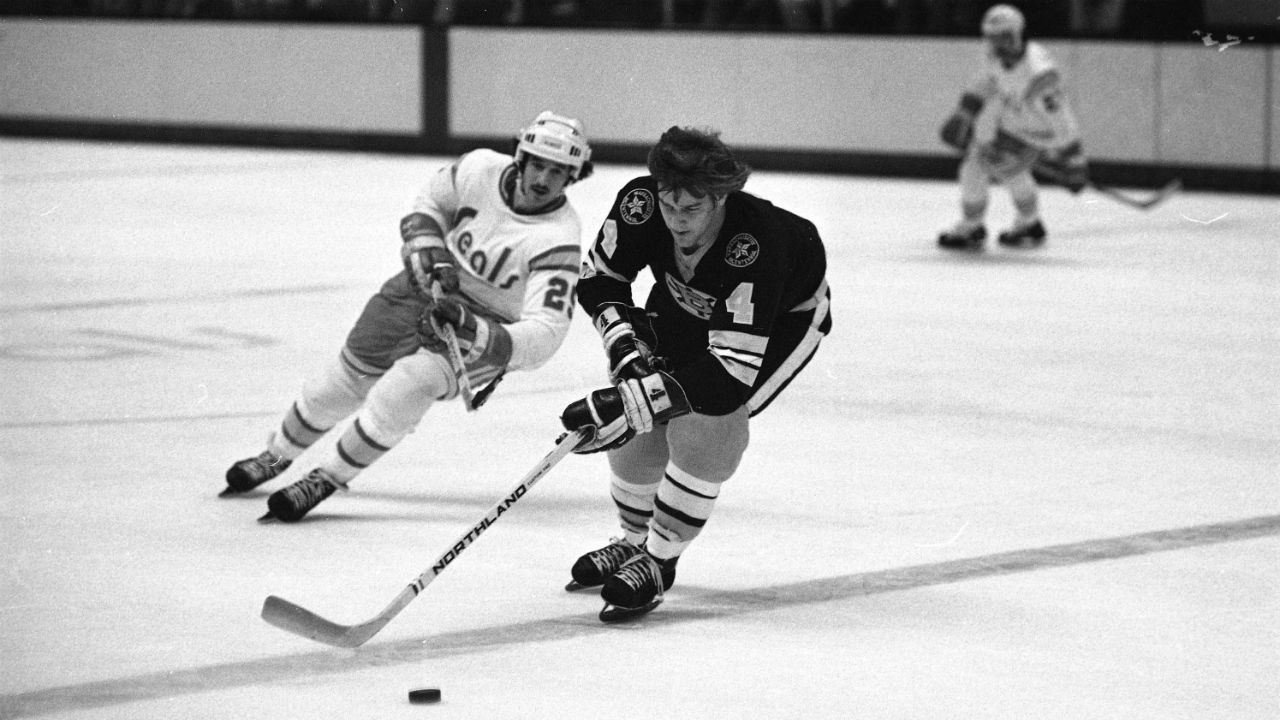 One more thing: in using the name "Vegas" rather than "Las Vegas," does that mean the Golden Knights will be listed after Vancouver and before Washington in the NHL's Guide and Record Book? Will they play the "Angeles Kings?"
"In talking to locals, everyone seems to call it 'Vegas,'" said majority owner Bill Foley. "I also thought 'Las Vegas Golden Knights' was too long. So we shortened it and it sounds great to me."
My prediction: in a few years, there will be a name change. The way the Mighty Ducks of Anaheim became the Anaheim Ducks, the Vegas Golden Knights will become the Las Vegas Knights.
You heard it here first.
•
Flaming Out?
Don't look now but three Calgary Flames — Brodie (minus-12), Gaudreau and Monahan (both minus-10) — are among the bottom eight plus-minus skaters in the NHL. Among 719 players, Brodie's number was the worst heading into play Friday.
None of those players belong in that group but statistical runs can make for strange bedfellows. Think back to two seasons ago when the Flames made the playoffs and over-achieved in nearly every possible statistical category:
• A third period/overtime goals differential of plus-36 and 10 third period comebacks.
• A team shooting percentage of 10.5 per cent (second in the NHL) that allowed Calgary to score the sixth most goals, despite being 28th in shots on goal.
• Calgary's top eight scorers in 2014-15 all had career seasons in points and the Flames made the playoffs with a 24th-ranked Corsi rating of 47.4.
"Our season was like winning the Masters while sinking eighteen 40-foot putts," GM Brad Treliving quipped the following September. If Calgary overachieved that season then they are underachieving this year. Still, the Flames are close enough to the playoffs on U.S. Thanksgiving to be a realistic playoff contender come April.
I'll bet Treliving regrets the decision to put Paul Byron on waivers. They knew Montreal might pick the 5-foot-9 sparkplug up and he has seven goals already for the Habs.
•
Royal Family
Edmonton's Matthew Benning is the latest member of a North Edmonton family that has stocked the NHL with defencemen over the years. His father Brian played 568 games for five teams and uncle Jim manages the Vancouver Canucks after being a 6th overall pick by Toronto back in 1981.
"[Brian] coached me all the way up to Bantam," said Matthew. "The way he saw the game changing, he kind of taught that to me. Supporting the puck, being on the defensive side of the puck."
Something else Brian did for all of his three kids?
"He gave us a right-handed stick when we were really young, my brother, my sister, and I. He knew there were way less right-handed defencemen. I was two years old, just picked that [right-handed] stick up."
Somehow, all the Bennings are defencemen. Even sister Abby, who plays for the University of Alberta Pandas.
"I don't know why," Matt said. "Just the [Benning] mindset. My little brother Michael, he's 14 and he's a good player. More offensive-minded than me."
Benning, 22, grew up in St. Albert — a suburb of Edmonton — playing every second winter with Colton Parayko, who is one year older. Parayko might be a superstar one day. He's really blossomed into a player with the St. Louis Blues.
"He had really big feet when he was a kid, and he was just a little bit clumsy," Benning said. "I knew he was going to be a really good player, but I didn't think he'd be six-foot-five. He was just average sized."