Gary Bettman's recurring parity dream has panned out perfectly for most of this decade. Handfuls of franchises playing meaningful games in late March and early April. Diehard supporters scouring the standings each morning to calculate games in hand and tiebreakers. Casual fans asking, "What does ROW stand for?"
Not this spring.
While three of the divisional races are providing some intrigue at the top and Canadian fans keep tabs to see if their team Lost One for Auston™, the desperate wild card races have essentially come down to two teams in the West (Minnesota and Colorado) and two in the East (Detroit and Philadelphia).
Let's break down the airtight battle being waged by the Minnesota Wild and Colorado Avalanche. Each team has nine games remaining. According to the math wizards at Sports Club Stats, Minnesota has a 50.8% chance of making the post-season. Colorado has a 49.5% chance. It's a coin flip.
But we'll examine some other factors to make our prediction.
Who's hotter?
And not in the Mantas Armalis sense. We're talking momentum.
A better team under new head coach John Torchetti, the Wild are 6-3-1 in March and have won two straight games. Minnesota began the month by thumping the Avs 6-3 and the Wild's 3-2 victory over Chicago Sunday improved their record versus the reigning champs to 3-0 this season.
Since its March 1 loss to Minnesota, Colorado has gone 6-2-0. Fresh off a Western Canadian road trip, the Avs feasted on the weak B.C. and Alberta clubs to establish their current three-game winning streak.
Slight edge: Colorado
Who has the easier schedule?
Seven of Minnesota's remaining nine games are at home, where the Wild have enjoyed most of their success. Though games against the L.A. Kings and the Blackhawks will be tough, Minny gets four games against lottery-bound Canadian teams who would be better served with a loss.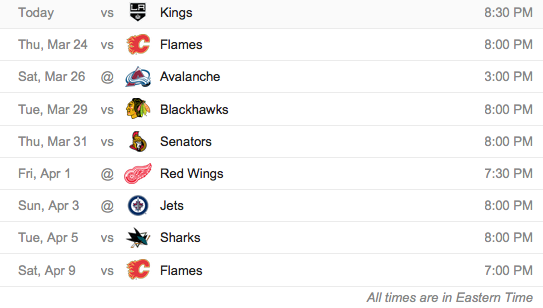 Colorado's remaining slate is brutal. Every one of its final nine comes against a playoff-bound or potentially playoff-bound team. They draw the Predators and Blues twice each, and must visit those Central rivals on the road in a nasty back-to-back. At least Colorado has more home games (five) than road games left, right? Well, the Avs are actually better away from Pepsi Center.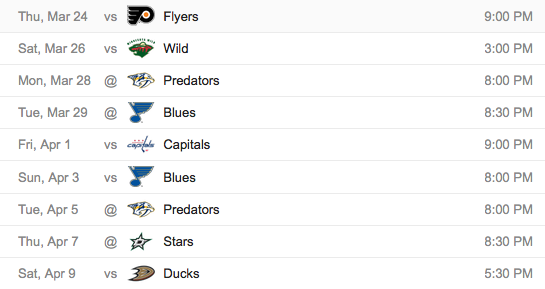 The must-see-TV tilt takes place Saturday afternoon at Pepsi Center, where the Avs and Wild will face off head-to-head for the final time. A "four-point game," as the kids like to call it.
Big edge: Minnesota
Who's healthier?
The Wild are dealing with injuries to depth forward Ryan Carter, backup goalie Darcy Kuemper, and — most important — top-six winger Jason Pominville, who has missed six games with a lower-body ailment but is nearing a return.
Colorado's injuries are much more critical. Star forwards Matt Duchene and Nathan MacKinnon will both miss the next two games — versus Philadelphia and Minnesota — with knee injuries. Deadline acquisition Eric Gelinas is out indefinitely with an elbow injury.
Edge: Minnesota
Who sits prettier in the standings?
The Avalanche have a one-point lead in the standings and own the tie-breaker advantage with four more regulation and overtime wins than the Wild. Patrick Roy & Co. control their own destiny.
Edge: Colorado
Who's better on paper?
The Wild are the only non-playoff team with a positive goal differential (plus-8), while the Avs are the only Western playoff team with a negative differential (minus-6).
The Avs are only slightly better offensively (0.04 goals per game better), while the Wild are better in their own end, allowing 0.27 fewer goals per game. Colorado is superior in both special teams; Minnesota is a significantly better possession team.
In close games (within one goal in the third period), the Avalanche have the worst possession in the league, taking just 44.63% of the shot attempts in those situations.
Edge: Minnesota
Who's feeling more pressure?
Both front offices made significant moves to improve their push for the playoffs. Wild GM Chuck Fletcher replaced long-serving head coach Mike Yeo with John Torchetti, who has taken command. Torchetti has already healthy-scratched veteran Thomas Vanek twice.
Colorado's Joe Sakic rented Shawn Matthias and power-play beast Mikkel Boedker at the trade deadline, shaking up his forward core.
The Wild entered the season expecting to extend their post-season appearance streak to four, while few would've penciled the Avs in the tournament after they finished last in the Central in 2014-15.
We see Colorado as a little lucky to be here, but don't tell Duchene that.
"We have to make it this year. And whether we win (the Stanley Cup) this year or not, it's going to push us forward going forward," Duchene told the Denver Post. "If we don't make it, it's a step backwards."
Still, there's more heat on the older core and the management in Minnesota. The Avs have less to lose, which I see as a benefit.
Edge: Colorado
The verdict
Tough call, but I keep looking at the strength of the opposition down the stretch as the deciding factor here.
Playing the Flames twice is so much preferable to playing the Blues twice.
The points will come easier for Minnesota, who will rally to take Colorado's wild-card spot. The Avalanche, however, will be back in the playoffs for 2017.