The future is now for the Toronto Maple Leafs. With a large number of veteran players pushed out in the lead up to trade deadline day, the Leafs created a number of openings on their roster that have been filled with young, mid-season call-ups.
William Nylander, Kasperi Kapanen, Zach Hyman, Nikita Soshnikov, Brendan Leipsic, Josh Leivo, Viktor Loov, Stuart Percy, Connor Carrick and Garret Sparks are all 25 or younger and have spent significant time in the AHL this season. All of them spent their AHL time with the Toronto Marlies except Carrick, who was with the Hershey Bears in the Washington Capitals organization.
As we look forward to where the kids are at developmentally, it is a challenge to project not only where the future lies, but what they are likely to produce in the NHL for the remainder of this season. Unfortunately, when it comes to mid-season promotions from the AHL, it doesn't necessarily make sense to look at NHL equivalencies for a number of reasons.
Many call-ups are top-line skaters in the AHL, but when they get to the NHL their minutes are significantly reduced and they often play alongside less offensively skilled linemates. Shooting percentages fluctuate massively within a single season at any level, and in fact will often shift in the polar opposite direction when a player is promoted. Thus a player who is shooting the lights out in the minors to "earn" a promotion may see their SH% drop precipitously, while a skater who gets promoted despite not having great shooting luck may suddenly witness an unexpected improvement at the NHL level.
So what does remain useful and predictive within a single year as young skaters are promoted from the AHL to the NHL level? We know that in the NHL, past shot rates are more predictive of future goal scoring than past goals are. Thus it makes sense to explore whether shot rates are sustainable from one level to the next. When we examine a cohort of 25 forwards promoted from the AHL to the NHL mid-year in 2014-15 and 2015-16 we actually see a significant correlation between a player's shot per game rate in the AHL and their shot per 60 rate in the NHL.
The shot rate should be regressed a tad, but generally speaking there is a strong relationship from one level to the next, with the AHL rate explaining around 46 per cent of what we observe in the NHL within the same season.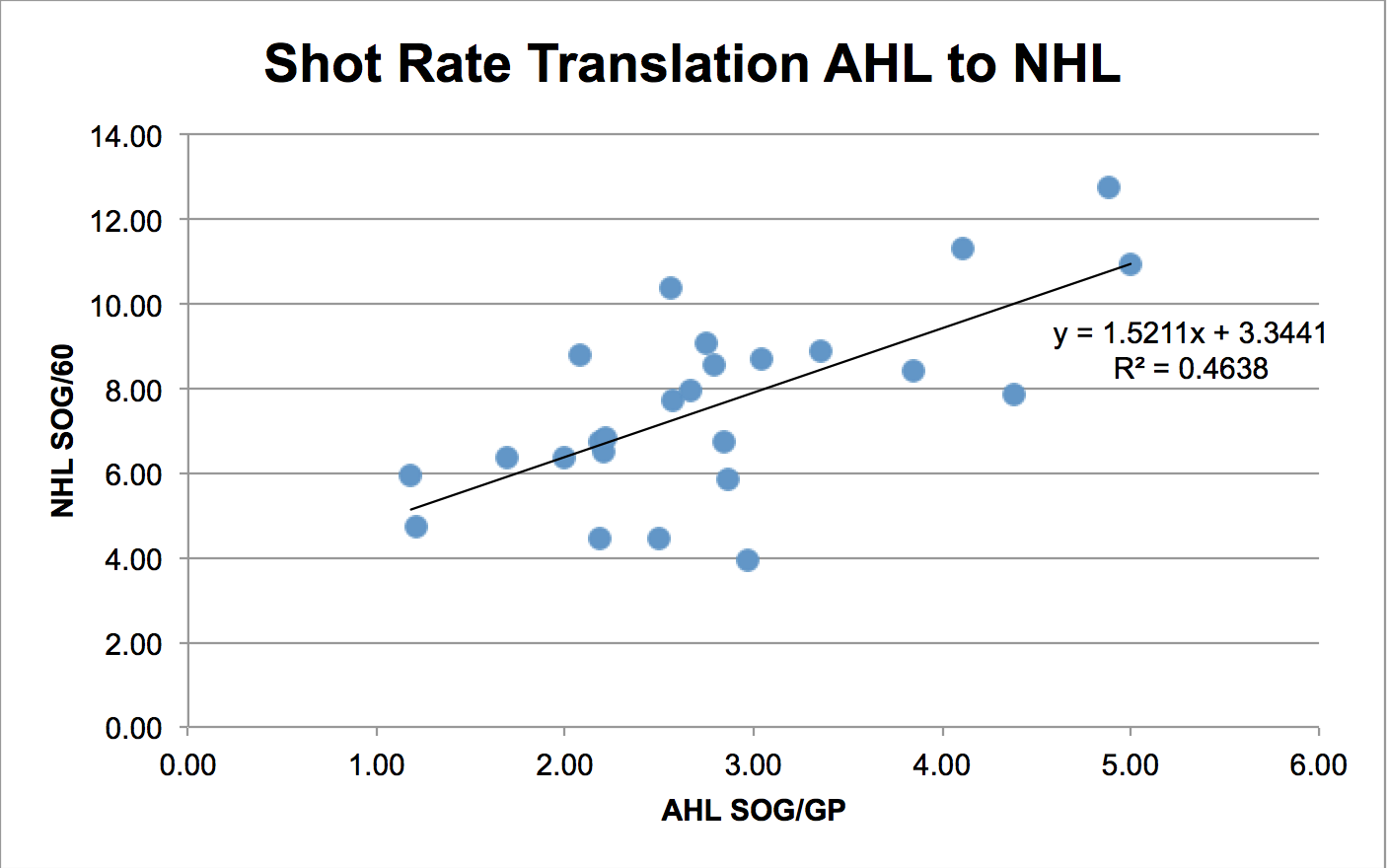 Using this sample of players, we can obtain a formula that lets us project roughly what we should expect from the Leafs forwards who have been called up as they play more NHL games for the remainder of the season. And if we compare it to what we've seen so far, we can attempt to predict how productive they are likely to be.
| Player | AHL SOG/GP | Predicted NHL SOG/60 | Actual NHL SOG/60 | ATOI | Predicted 20GP SOG | Predicted 20GP Goals |
| --- | --- | --- | --- | --- | --- | --- |
| William Nylander | 2.97 | 7.87 | 8.24 | 16:50 | 44 | 5 |
| Josh Leivo | 2.78 | 7.57 | 7.64 | 12:11 | 31 | 4 |
| Brendan Leipsic | 2.54 | 7.21 | 6.49 | 14:46 | 35 | 4 |
| Nikita Soshnikov | 2.38 | 6.96 | 8.78 | 13:35 | 31 | 4 |
| Zach Hyman | 2.24 | 6.75 | 5 | 15:58 | 37 | 4 |
| Kasperi Kapanen | 1.47 | 5.58 | 4.9 | 16:16 | 30 | 4 |
| TOTAL | | | | | | 25 |
Because we know there is almost no correlation between SH% in the first portion of the year and the final 20 games, it may make more sense to just make a rough guess about how the players are likely to perform. The sample of 25 players who earned mid-season promotions that we used to examine shot rates predominantly shot between 10-20 per cent in the AHL, as did all of the Marlies forwards we are looking at. At the NHL level that same group of 25 skaters predominantly ended up shooting between 7 per cent and 16 per cent. Thus if we estimate all of the Marlies call-ups shooting around the midpoint of 12 per cent we can get a decent estimate of how the group is likely to contribute the rest of the way.
Leivo has already scored four goals on the year, so anything else he produces if he gets called back up is gravy. Leipsic scored in his first NHL game, so a few more goals are likely to fall his way. Soshnikov fired home a laser beam of a snap shot in his second game in the league. So, we've already seen this group produce six goals out of an approximate 25 we could realistically anticipate the rest of the way.
Essentially what this suggests is that William Nylander is already a likely 20-plus goal scorer in a full NHL season, while the rest of the group should be able to top 15 if they can sustain decent shooting percentages.
Toronto's NHL roster prior to the call-ups featured two players with 15-plus goals in Leo Komarov and P-A Parenteau. Nazem Kadri is likely going to get up to 18-20 goals on the year when everything is said and done. James van Riemsdyk, Tyler Bozak and Joffrey Lupul were also on track to hit the 15-goal plateau before injuries derailed their seasons.
Fifteen goals in an 80-game season equates to 0.1875 goals per game, and only 197 NHL forwards played 20 or more games and hit the 0.18 goal per game plateau in 2014-15. In other words, being able to score 0.18 goals per game in a full season makes a player a top-six goal scorer on an average NHL team (six forwards x 30 teams = 180).
THE LESSON
All of the players Toronto has promoted already look like they have the potential to be top-six offensive skaters in the NHL, and there are likely more on the horizon in the form of Mitch Marner, Andreas Johnson, Connor Brown, Tobias Lindberg, Dmytro Timashov, Martins Dzierkals and whomever the Leafs select with at least their first pick in this summer's draft.
The prospect pipeline is beginning to produce intriguing talent for Toronto and it will be interesting to see how they fit all the pieces together in the coming months and years.