It isn't hard to figure out the primary reason why the Montreal Canadiens are off to a perfect 7-0 start. Carey Price is 6-0 with a 0.966 save percentage; it's tough to lose often when the starting goalie is allowing just one goal per game. As good as Price has been, though, focusing solely on him misses the dramatic changes in the team in front of him, which will be stunning if they hold or even come close to holding as the season wears on.
Montreal used to be a team that would be out-shot and out-chanced at even-strength and relied on its goaltending to make up the difference. Early in 2015-16, the club has retained its brilliant goaltending, but now it is the Canadiens who are out-shooting and out-chancing their opponents. The result has been an even-strength powerhouse that is a whopping 1.6 goals per game better than their opponents when evenly matched.
It's important not to understate Price's role; he's been glorious and Montreal owns the best five-on-five save percentage in hockey. But the Habs' conversion into a puck possession club has been a vital part to their early-season success and it's worth digging into how they managed it.
Defence has been a big part of it. Consider how the six most-used defencemen at five-on-five this year compare to the same from last season.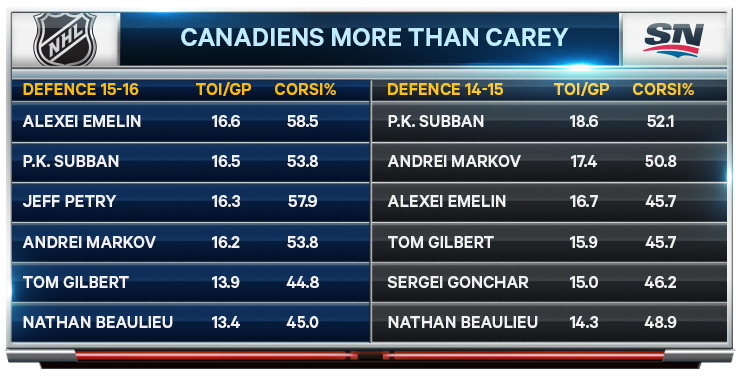 The arrival of Jeff Petry has given Montreal a second defence pairing.
The obvious advantage is that the second pairing now drives puck possession, and given the Petry/Alexei Emelin duo is on the ice about 35 per cent of the time, that's a massive gain that helps all of the team's forwards.
There are other, less obvious, benefits. Last season, P.K. Subban and Andrei Markov faced by far the toughest competition every night, with the club's other four defencemen splitting the rest more or less evenly. That hasn't been the case this season; instead, both of the top two pairings are relatively even in quality of competition with the third pairing facing a lesser class of opponents. That makes life easier for the coaches, who don't need to worry as much about getting burned with a line mismatch. It also makes life easier for the top pairing, which ends up spending less time in those tough assignments.
Up front, the big improvements in puck possession have come from two lines. The first line of Tomas Plekanec, Max Pacioretty and Brendan Gallagher is enjoying a superb start to the season, while the offensive specialty line of Alex Galchenyuk, Lars Eller and Alex Semin has also been very good in the early going.
The Plekanec unit is playing the same role it always has, namely the power-vs.-power assignment that most teams use their top lines for these days. The one big change has been the full-time (so far, anyway) promotion of Pacioretty to this unit. Last season Pacioretty spent a lot of time with David Desharnais, while the youngster Galchenyuk filled this slot. That's a fairly big upgrade, as Pacioretty is one of the top left wingers in the game and has been both a lethal goal scorer and a Corsi hero for ages.
Galchenyuk hasn't been dealt a bad hand, either; there are a lot of things to like about his situation. Michel Therrien has been giving this trio almost twice as many offensive zone as defensive zone starts, which always helps. Galchenyuk is back at his natural centre position, and he's flanked by a pair of strong wingers. Semin's offence comes and goes but he does consistently get the puck to the right end of the rink, while Lars Eller plays a power game and adds defensive conscience.
Montreal's other two lines haven't been bad, either. The Desharnais trio is doing a creditable job in middle-six minutes, while a defensive zone specialty unit (most fourth lines in the league now start shift after shift in the defensive zone) centered by Torrey Mitchell has kept the bleeding to a minimum. But it's the Plekanec and Galchenyuk units that have really driven Montreal's improved puck possession up front.
And, outside of Price, it really is puck possession driving Montreal's crazy run. The league-leading penalty kill has been good, but offset to a large degree by the 22nd-ranked power play.
Nor is Montreal just better at turning its shots to goals than the opposition. Both last season and early this year, roughly 46 per cent of Montreal's shot attempts meet war-on-ice.com's scoring chance definition. That compares to approximately 47 per cent for the Habs' opponents. If anything, the opposition is doing a better job than the Canadiens of turning puck possession into scary shots.
It hasn't mattered because Montreal has enjoyed such a decisive edge on the shot clock. Adjusting for score effects, the Canadiens have averaged 62 shot attempts in an average hour of five-on-five action, as opposed to the opposition's 49. A year ago, those numbers were 52 for Montreal and 55 for the other guys.
It's such a turnaround that skepticism is still warranted at this early point in the year. So far, though, it looks like the personnel additions made late last season and then over the summer have worked out splendidly, and that the adjusted deployment plan of Therrien and his staff has been a success.