Thanks to Allan Walsh, the secret is out with his client Jonathan Drouin and the Tampa Bay Lightning. There were assumptions last season that there was some friction between the organization and the player, especially with Drouin on the sidelines for all but six games during their playoff run in favour of Brenden Morrow.
The Drouin camp requested a trade back in November, and after struggling with lingering injuries he was sent to the American Hockey League this week, something he appears to be taking in stride.
The revelation from Walsh led to a variety of opinions on the subject, from those who felt for Drouin and believed he deserved better opportunities so far in his career, to those who think Drouin hasn't earned the right to complain about playing time. Whether the Lightning and Drouin can resolve their dispute remains to be seen, but what we can look at is who has sturdier ground on which to stand this season.
What we do know is that Drouin leads all Lightning players in even strength points per 60 minutes at 1.66, but is just 12th in terms of Corsi both in terms of raw percentage at 50.4 per cent, and percentage relative to his teammates at -1.5 per cent. This would suggest that his play is lagging behind his production significantly, but is that actually the case?
We can look at a variety of descriptive statistics of Drouin's play and compare them to his teammates on a relative scale.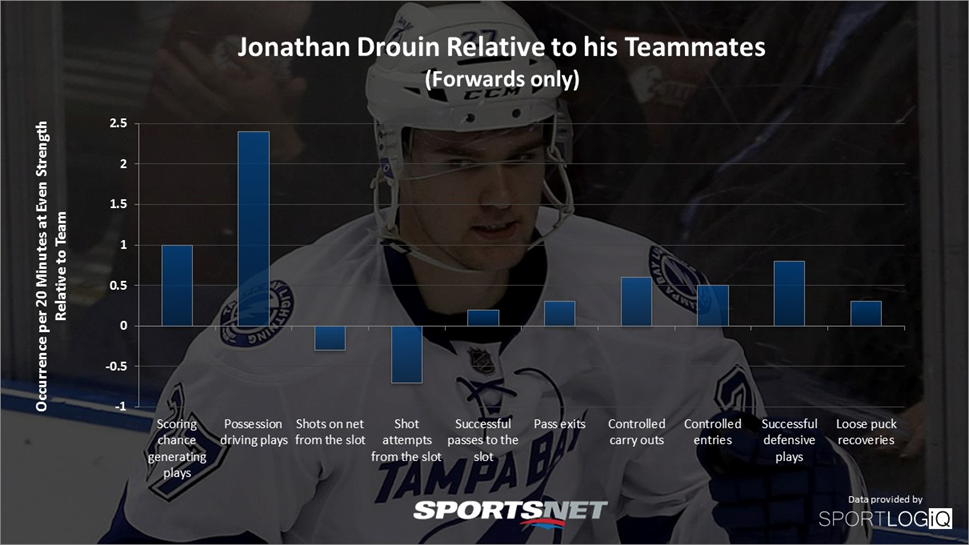 Almost everywhere you look, Drouin is better than team average on the Lightning, but there is one exception: shooting. Drouin has just six goals in his NHL career over 95 games including the playoffs, and a big reason why is he just doesn't shoot very often. In fact the only regulars on the Lightning who shoot less often at even strength than Drouin are defencemen Matt Carle and Andrej Sustr.
However, in every other area of the game, Drouin is actually quite excellent. Only Nikita Kucherov is involved in more scoring chances per 20 minutes played than Drouin is on the Lightning, and no forward makes as many possession driving plays.
Those two statistics alone tell us that individually Drouin is one of the best players on the Lightning at creating scoring opportunities and driving possession, but going deeper we find that he's also above average in important areas such as exiting the defensive zone with control, entering the offensive zone with control, and removing possession from the opponent with successful defensive plays, along with getting the puck back with loose puck recoveries.
Examining Drouin's play in admittedly a very small sample this season – keeping in mind that he has been struggling with injuries most of the season – it's hard to believe that he doesn't get more ice time, and even harder to believe that he's been sent down to the AHL while the Lightning continue to struggle to find the back of the net.
It's not uncommon for organizations to take hard lines with young players to get them to play the way they want to, however in this case, outside of shooting more, I'm not exactly sure what the Lightning are expecting from Drouin. Nearly the entire team is performing worse than they did last season, and though perhaps Drouin isn't making the progress Tampa Bay had in mind, he has still performed at a level above most of the other forwards on the roster.
If player, agent, and team can't resolve the frustration between them, whoever trades for Drouin will be getting a heck of a player who has shown just glimpses of the star he should become.