There is some decent and maybe even good news for Connor McDavid after all.
The 18-year-old, in case you somehow missed it, broke his left clavicle on Tuesday night after sliding awkwardly into the boards and absorbing the weight of a pair of Flyers defencemen.
That's not the good news. But Edmonton Oilers fans, and hockey fans everywhere, can take solace in this fact: A lot of elite athletes have sustained this same injury, and they're all still very elite.
A quick note on the clavicle: It's your collarbone, and expected time of recovery is anywhere from 4-to-12 weeks, depending on the severity of the break. That's according to the University of Calgary's Chris Linder, an athletic therapist in the Sports Medicine Centre.
Linder also says this injury isn't "extremely common" among athletes.
But it does happen, and to some of the best of them. Here's a look at a few, and how they bounced back. Also worth noting: All five of these guys broke their left clavicle. We can't explain that.
PATRICK KANE
He smashed into the boards awkwardly last February following a crosscheck from a Florida Panthers defenceman. Chicago Blackhawks fans immediately gasped and figured their chance at a Stanley Cup run had taken a major blow.
And it really looked like it might: Kane had surgery on that broken left clavicle, and he was expected to be out approximately 12 weeks, according to the team's doctor. He was expected to be out until the Western Conference Final, if Chicago even made it that far.
But Kane came back a little over seven weeks later, just in time for Chicago's first-round playoff matchup against Nashville. And even though he said he wasn't at 100 per cent, Kane had two assists in his return, and seven points in that first series, which Chicago won in six games.
Kane's final stats line en route to that Stanley Cup victory: 23 points in 23 games. So, he bounced back pretty well.
ZACK GREINKE
This was more of an indirect sports injury, on account of a bench-clearing brawl.
But in 2013, the Los Angeles Dodgers right-hander hit San Diego Padres batter Carlos Quentin with a pitch on the shoulder. Then all hell broke loose: Quentin rushed the mound, Greinke charged forward, both players started swinging and suddenly they were at the bottom of a big pile-on of fighting. Greinke came out on the losing side with a broken left clavicle.
Greinke had surgery and was expected to be out eight weeks. He returned a little over a month later, and pitched 5.1 innings, giving up five hits and one earned run (a home run) to record a win. Over his next 10 starts, Grienke went 7-3.
And he's still one of the best pitchers in baseball.
TONY ROMO
The Dallas Cowboys QB is currently on the comeback trail from this same injury. Romo broke his left collarbone—for the second time in his career—in Week 2, after a hit by Philadelphia Eagles linebacker Jordan Hicks.
Cowboys coach Jason Garrett told reporters that Romo was "making progress" in late October. And this week, he's expected to slowly work back into practice. Romo can return to game action as early as Nov. 22 against Miami.
We don't know how he'll fare in his return, but we do know that after he broke it the first time, in 2010, Romo missed the last eight games of the regular season, then returned in 2011 to record the NFL's fourth-best QB rating. Not bad.
AARON RODGERS
The Green Bay Packers QB suffered a small break in his left collarbone in 2013 in a Monday night loss to the Bears.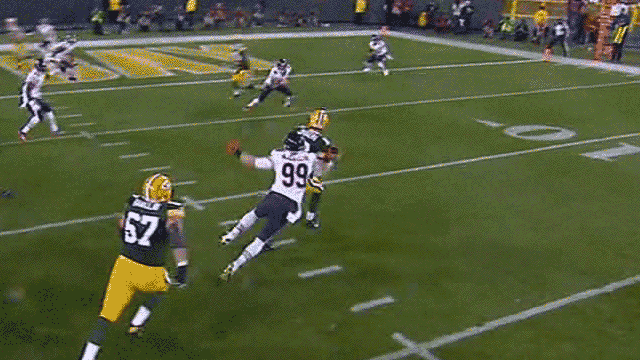 Rodgers was back a little less than two months later, after missing seven weeks of action. In his comeback game—also against Chicago—Rodgers completed 25 of 39 passes for 318 yards, and the Packers won.
Rodgers and the Packers now sit atop the NFC North with a 6-1 record.
CARLOS GOMEZ
In 2011, the then-Milwaukee Brewers centre fielder made a highlight-reel, diving catch and broke his left clavicle in the process.
It literally did not sound good: Ryan Braun was in left field, and he heard it crack.
"It was loud," Braun told reporters.
Gomez, who now plays for the Houston Astros, had surgery and was out from July 21 until Sept. 2. He wasn't consistently back in the lineup until the very end of the regular season.
In 2013, Gomez was named to the All-Star Game for the first time in his seven-year career, and became the first Brewer to win a Gold Glove in 31 years.
All this said, the key takeaway for McDavid—and hockey fans everywhere—is this: If history means anything at all, he can and will be great again, despite that broken left clavicle.