After a startlingly bad October, we took a look at Sidney Crosby's passing game this season compared to the last one. What we found was a huge dip in creating high danger passes that result in great scoring chances for his team, which is his biggest strength.
In October, Crosby produced just five points in 11 games, but since then he has 10 in 13. This is a significant improvement, even if it's still less than what we would expect from him. But has his play bounced back closer to the player we have watched for the last decade?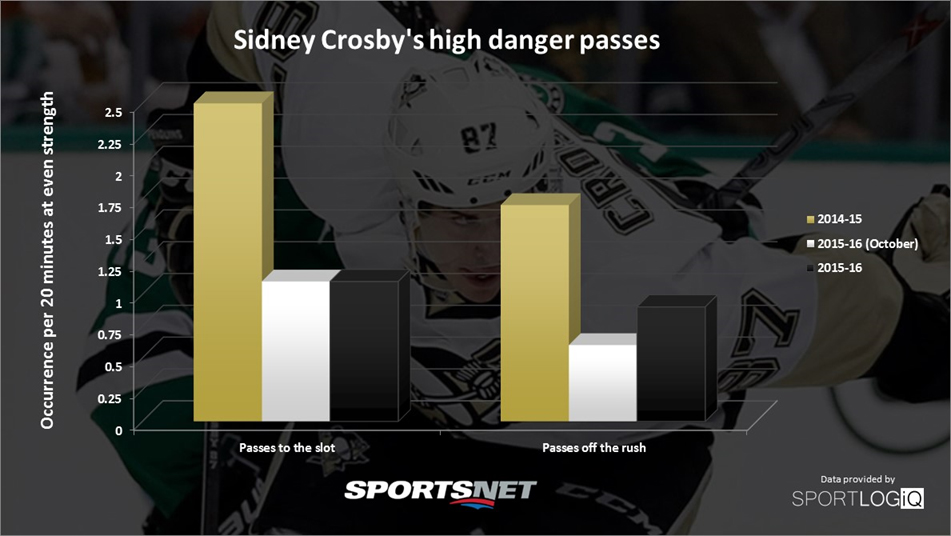 There has been some improvement, though not as much as you may think. Crosby is completing more passes off the rush than earlier in the year, but he only ranks third on the team in that statistic, trailing Phil Kessel and Evgeni Malkin.
Crosby's passes to the slot are still not working, with only Henrik Sedin and Thomas Vanek accumulating more failed passes to the slot than Crosby. In fact his completion rate is just 25 per cent, which is lower than in October, and much lower than the team average rate of 33.9 per cent, which is 25th in the league.
Overall, Crosby's passing game has been alarmingly off, as he has been successful with only 57.4 per cent of his offensive zone passes, one of the worst marks on the Penguins. In all zones, Crosby's pass success rate increases a bit to 62.3 per cent, but that's still below team average for Penguins' forwards, who complete 66.6 per cent of their passes, and a far cry from Evgeni Malkin at 73.9 per cent.
Crosby's poor pass completion rate has led to him turning the puck over 43 per cent of the time he attempts to make a play at even strength, the third-highest mark on the team after Matt Cullen and Pascal Dupuis.
Perhaps even more distressing, Crosby's possession numbers have continued to free fall since October, as he now boasts just a 45.9 per cent Corsi according to Hockey Analysis. If it holds, that'll be the lowest mark in Crosby's entire career and the first time he's been under 50 per cent since 2008-09.
Whatever is going on with Crosby is something the Penguins are going to need to figure out soon, because as good as they are as a team, they aren't a Stanley Cup contender with Crosby at 50 per cent.
This may be a radical idea, but one thing they could try while Crosby is struggling is to put him on Malkin's wing. In years past, the Penguins have put Malkin on Crosby's wing to overload teams, but right now it's Malkin who's running teams over, and Crosby could benefit greatly from playing with him.
It may lead to matchup problems, but short-term pain to get Crosby going is worth it.