It's been a tough season for the Edmonton Oilers on the injury front. The team leads the NHL in man-games lost, and all too often the players on injured reserve have been key contributors. Right winger Jordan Eberle started the year on the injured list, top defenceman Oscar Klefbom is at 20 games and counting, and 2011 No. 1 pick Ryan Nugent-Hopkins has only just left the lineup after breaking his hand blocking a shot.
In terms of both short- and long-term significance, though, it's hard to argue that any of those significant losses hurt more than the absence of Connor McDavid, who has been sidelined for 37 games after an innocent-looking play in a November game against the Philadelphia Flyers went horribly awry.
Just 13 games into his NHL career, McDavid was already a vital component of Edmonton's forward corps and arguably the team's most effective offensive player. Incredibly, he leads the team in scoring efficiency at both even-strength and on the power play.
Leading the Oilers in offensive production might sound to some a little like being the fastest skater in an old-timer's game, but McDavid's numbers over those 13 games are incredible.
Leon Draisaitl, who McDavid is tied with in terms of 5-on-5 scoring efficiency, currently leads the NHL in that category and is ahead of Chicago's Patrick Kane by a whisker. Hall ranks fourth in the entire league. Meanwhile, only 31 players in all of hockey have played at least 100 minutes of 5-on-4 power play and managed better than five points per hour. McDavid's 5.05 points/hour figure is the same scoring efficiency number as Tyler Seguin.
McDavid so far has proven to be much more than just the product of a hype machine. He's been a legitimate offensive difference-maker.
Losing McDavid would have hurt any team in the league, but the Oilers were particularly affected because the skillset he brought was so desperately needed. Neither Edmonton's secondary scoring nor its power play have been the same since he got hurt.
Consider even-strength scoring. In McDavid's absence, the Oilers have had one effective forward line: Hall, Draisaitl and Purcell, all of whom come in at the top of that scoring efficiency list we looked at earlier. Coach Todd McLellan has at times mixed up that unit, but those moves failed to spark other lines and all too often left those players less effective.
McDavid's presence all by itself gave the team a second line. Consider how the five-on-five scoring rates of his two regular collaborators (Benoit Pouliot and Nail Yakupov) change with and without McDavid this season.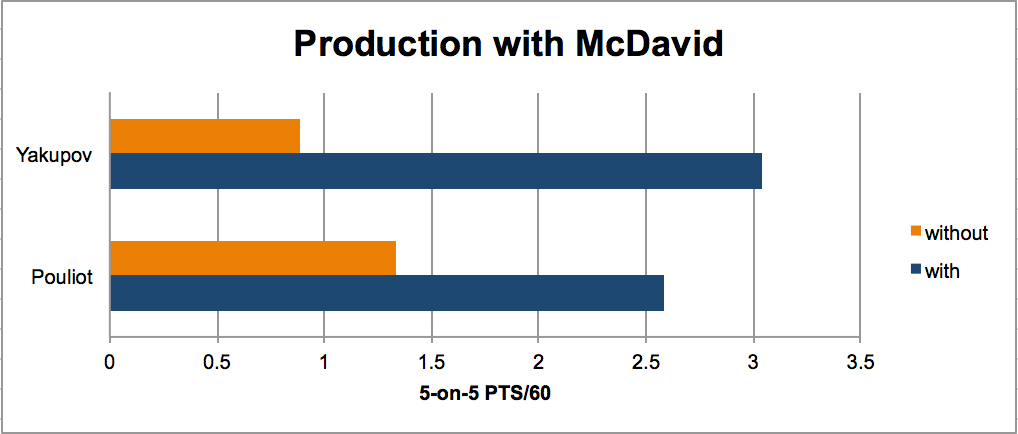 That chart may exaggerate things to some degree; we're only talking about a small sample of minutes (just over two hours with McDavid) and both Pouliot and Yakupov have had injury problems that affected their performance during the time McDavid was out of the lineup. Even so, it's clear that both benefited greatly from McDavid's presence.
The same is true of the power play. Over the season as a whole, Edmonton ranks 22nd in the league in terms of generating unblocked shots, averaging just 65 per hour. With McDavid on the ice, that number improves to 72, which would be good for 12th in the league. Not only does McDavid's scoring touch help, but because he plays the same role as the Oilers' third-best point producer (Nugent-Hopkins) his presence also causes a ripple effect which improves the team's second unit.
Nor is McDavid only improving Edmonton's offence at the cost of an increased number of goals against. His on-ice shot metrics are three per cent better than the team average; he keeps the play in the right end of the rink, which has both an offensive and a defensive benefit.
None of this is likely to save the Oilers from another season outside the playoffs, or pull McDavid back into contention for the Calder Trophy. It's virtually impossible to win major hardware after missing half the season, even assuming that he returns to the ice exactly as game-ready as he left it.
Edmonton, meanwhile, is 10 points out of the race for the final playoff berth in the Pacific, and has played more games than most of its competitors, a list that includes suddenly red-hot Anaheim. McDavid's return is going to be offset somewhat by the recent loss of Nugent-Hopkins, and a weak defence hasn't been helped at all by Klefbom's absence. No matter how good McDavid is, he isn't a silver bullet for the team's combination of problems and injuries.
What McDavid can do is make the team better, and help it avoid the disappointing collapses down the stretch that have happened all too often in recent seasons. He can rejuvenate the power play, he can bolster the second line, and he can help both McLellan and general manager Peter Chiarelli get an accurate picture of what the Oilers look like with a healthy McDavid.
He can also add needed experience himself. McDavid was point-per-game player when he left and the expectation is that he'll be close to that mark again upon his return, but given his age that's likely just scratching the surface of his potential. He needs NHL minutes to grow into the player he should eventually become, and that development is the real objective the rest of the way.