Saturday marks the first time an NHL game will be broadcast in 4K when the Toronto Maple Leafs host the Montreal Canadiens in a featured game on Hockey Night in Canada.
"Rogers 4K NHL broadcasts will bring Canadian hockey fans even closer to the game," NHL commissioner Gary Bettman said in a press release. "This is an exciting evolution of our long-term partnership with Rogers. We're thrilled with this innovative move and what it will mean for hockey fans."
What does that mean for hockey fans and sports fans across Canada?
Here's what you need to know about 4K:
— You can catch Saturday's Leafs-Habs Saturday matchup in 4K on Rogers Channel 999, puck drops at 7 p.m. ET.
— With stunning clarity, you can see every detail: the flex of the hockey stick or the grooves in the ice, the stitches on a baseball, the sweat on the brow, the twitch of a muscle…
— The 4K advantage in live sports is that it's great for super-close zooms (like on the puck), and slow-motion replays – perfect for navigating close calls. If you're an armchair ref, you'll love this!
— 4K offers four-times the resolution of HD (that's four-times the number of pixels in the screen) which gives you greater clarity and sharper resolution.
— You need a 4K TV, a NextBox 4K set-top from Rogers and Rogers cable package to get the games in 4K.
— All 4K programming is on Rogers Channel 999.
— Nearly one third of Canadian households are expected to own a 4K TV by 2019.
— Watching live sports in 4K is great for super-close zooms and slow-motion replays. We can zoom in on key plays up to 500 per cent without motion blur.
— Saturday's game is the first of a 20-game NHL 4K broadcast commitment by Rogers and Sportsnet in 2016.
Upcoming NHL broadcasts in 4K…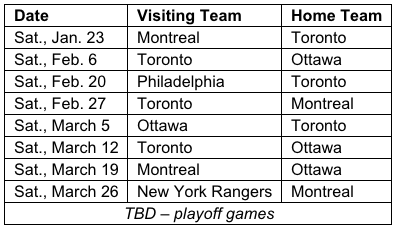 NHL games aren't the only content that will be made available in 4K. Rogers will also broadcast…
— 500 hours of 4K content in 2016
— 100+ hours of 4K movies and TVshows on shomi
— 100 hours of live sports and events
— 81 Toronto Blue Jays home games in 2016
For more information visit the Rogers website.